The digital currency ecosystem is unrelenting in its resurgence as the combined crypto market capitalization has regained $1.18 trillion following a 3.85% surge over the past 24 hours. While Bitcoin (BTC) and most altcoins are seeing a massive upshoot, PEPE, the frog-themed meme coin is leading the growth pace for tokens within its niche after soaring by 38.29% at the time of writing.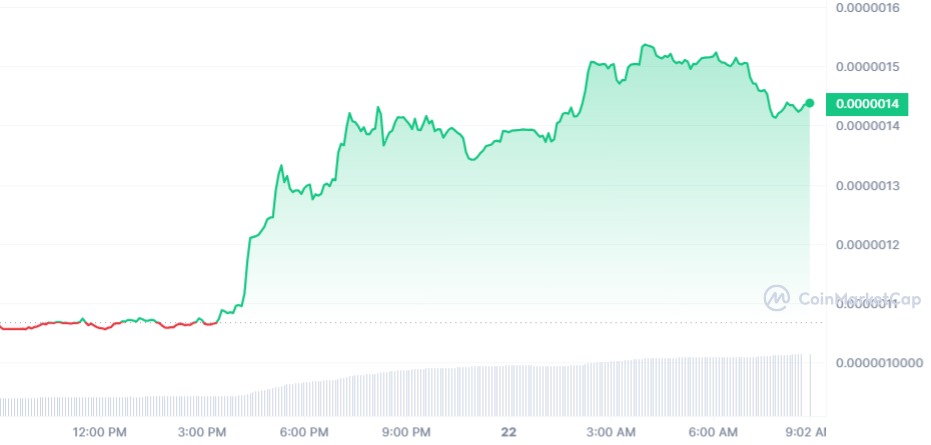 Extreme volatility is not uncommon for meme coins like PEPE, and it has experienced both the positive and the negative sides of the price action. Prior to this current resurgence that has engulfed the entire industry, many traders had lost hope in PEPE, tagging it as a digital currency that has run its course.
The token dropped to a multi-week low, a situation that makes this current price upshoot highly appreciated by holders.
The cryptocurrency is changing hands at a spot price of $0.000001425, a price level that was fueled by the growth in trading volume it recorded in the past 24 hours. Per data from CoinMarketCap, a total of $687 million PEPE tokens have been traded following a jump of about 253% in the past 24 hours.
Can PEPE define pace for meme coins?
Despite being the third largest meme coin in terms of market capitalization, it is doubtful that PEPE can stir corresponding growth among other meme coins in the industry. The digital currency has earned itself a mark in the meme coin world, but altcoins are generally more correlated with Bitcoin, hence, making the growth of PEPE and its influence of little effect.
The PEPE growth has positive sentiment around it, in the heart of retail investors who have tracked the growth of the asset since its inception to date. In all, the meme coin ecosystem is seeing a comprehensive revival, with Dogecoin (DOGE) and Shiba Inu (SHIB) jumping by 5.69% and 10.61%, respectively.