The information provided is accurate as of the time of writing. It is important to note that blockchain is a dynamically evolving system, and variables such as transaction processing speed can fluctuate frequently.
Cardano, the smart contract platform developed by Charles Hoskinson, is currently facing a significant issue. Despite Hoskinson's earlier claims that the Cardano network could theoretically handle up to a staggering one million transactions per second (TPS), the reality is turning out to be quite different. Users are experiencing delays, with some swaps on Cardano-based decentralized exchanges (DEXes) taking up to 30 minutes to complete. Users are currently posting numerous frustrated comments on social networks like Twitter after experiencing difficulties in completing a simple transaction.
Cardano has been hailed as a revolutionary "Ethereum killer," boasting an impressive array of technical capabilities and aiming to deliver an unrivaled user experience. However, the recent problem of time-consuming swaps is a major setback for the network, potentially undermining its position as a leading player in the DeFi sector.
A key factor in a blockchain network's success is its transaction processing speed. The touted "1 million TPS" promise positioned Cardano as a potential game-changer in the industry. In practice, however, reaching such a performance benchmark appears to be a challenging task. The current transaction delays highlight a stark contrast between Cardano's theoretical capabilities and its practical application.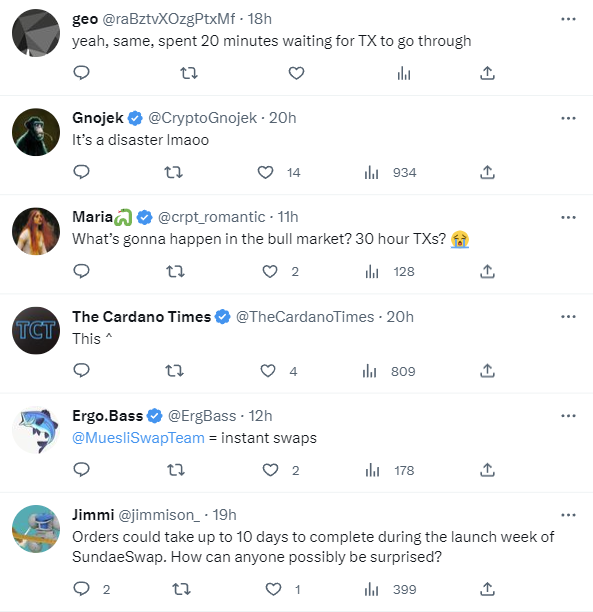 This issue is causing a significant stir among Cardano users, with many suggesting a shift in liquidity toward MuesliSwap, a DEX on the Cardano network. MuesliSwap has managed to maintain faster transaction speeds, providing a more efficient and user-friendly service amid the network's issues.
Have probably done 25+ swaps the last 2 days, none of them delayed, all through in a minute. It's possibly coin specific and it was diff for meme coins but then that's Cardano's tradeoff; rather wait in line with everyone for a short while than pay $25 gas fees

— ADA whale (@cardano_whale) May 23, 2023
It is important to note that the issue is not inherent to any particular exchange, but rather stems from the design of a specific decentralized application (dApp) built on top of the network. As such, even as users gravitate toward MuesliSwap for its relative speed, the overall problem persists and should be addressed at a network level since the decentralized exchange has simply optimized the existing technology.