Shiba Inu has been capturing some of the spotlight on the crypto market. On Monday, Santiment indicated that Shiba Inu's social dominance was up at the start of the week.
Santiment revealed last Wednesday that SHIB was one of the coins with the highest transaction fees, indicating a spike in activity.
A closer examination of the underlying trends indicates that this development for Shiba Inu may have a positive spin, with network growth possibly acting as a catalyst.
Notably, as the release of Shibarium Layer 2 draws closer, new addresses are joining the Shiba Inu ecosystem. Shibarium, a much-anticipated Layer 2 blockchain, is expected to launch following a conference in Toronto in August, according to Shiba Inu lead Shytoshi Kusama.
"The completed Worldpaper will be exhibited, all Shib-branded projects will be published, and Treat will be published in detail for the first time," Kusama stated. "In addition, it is very likely that we will also discuss and release the long-awaited L2 Shibarium."
Shibarium's testnet, "Puppynet," has experienced significant activity recently. Puppyscan reports that 28,423,593 transactions have been made on "Puppynet" as of this writing. A total of 17,061,387 wallet addresses are now available in total. The total number of blocks processed by Shibarium beta Puppynet has also increased and is now at 1,633,137.
BONE sees whopping 145% increase in new addresses
BONE experienced a run-up to highs of $1.49, when Shiba Inu lead Shytoshi Kusama suggested a potential launch date for Shibarium before slightly retreating to $1.33, where it presently trades.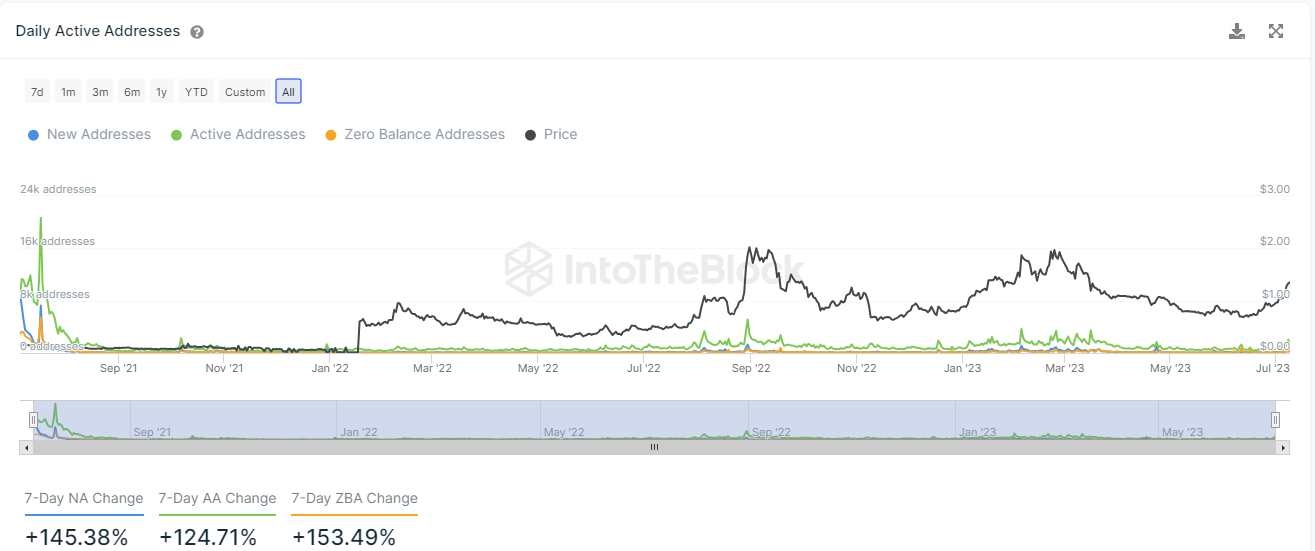 Despite the price decline, BONE has increased by 29% over the past week. The number of new and active addresses for BONE has dramatically increased over the last week.
According to data from IntoTheBlock, new addresses for BONE have increased by 145% over the past seven days, and active addresses have increased by 124% over the same period.
This remains significant as, generally, crypto addresses have been used to fairly track the network's growth and monitor the activities of participants.