For the month of June 2022, the long-awaited US Consumer Price Index numbers are finally made public. According to the statistics, the CPI is estimated to be 9.1%. One of the biggest inflation rates in the last 40 years of US history may be seen around this time.
Inflation data also had an effect on the NASDAQ, Dow Jones, and S&P 500. The Consumer Price Index (CPI) is used to calculate the cost of living in the US. If core inflation is taken into account, it is predicted to be either 0.6 percent on a monthly basis or 5.8 percent annually.
Will The Financial System Be Blown Up?
Bitcoin (BTC) rebounded from overnight lows on July 13 as markets nervously waited for United States inflation data. Previously, the U.S. government had warned that the CPI figures were expected to be "highly elevated," with unofficial projections from other sources indicating a year-on-year inflation increase of nearly 9%.
The U.S. dollar index (DXY), which persisted at little above 108 following a corrective dip from recent twenty-year highs, was biding its time in the meanwhile. TheHappyHawaiian, a user on Reddit and Twitter, said: "We are at the point when the Fed would normally suspend rate rises and begin relaxing again. As they gear up for 75bp in a couple weeks, they will be willfully blowing up the system."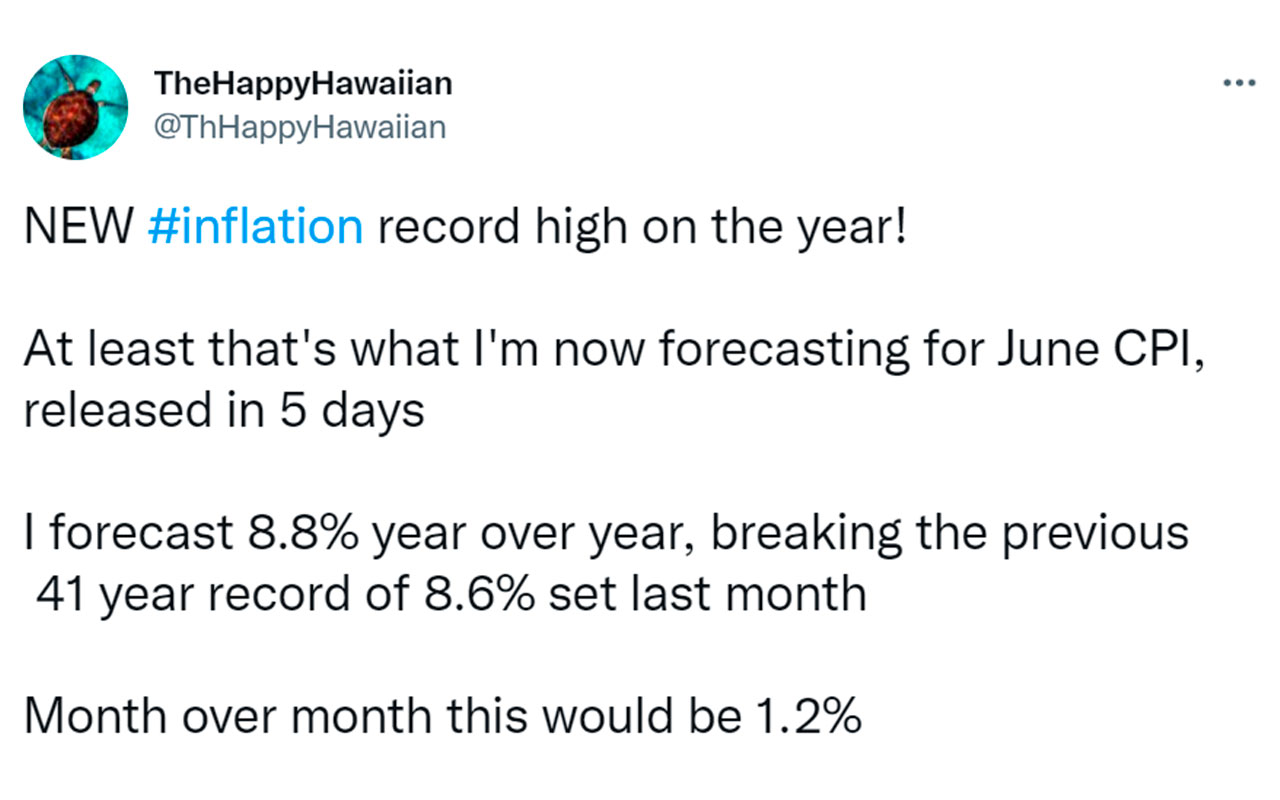 Could Cryptocurrency Become The Harbor against Inflation?
Cryptocurrency, as a decentralized currency, is safe to trade for profit earning. In recent months, prices for all commodities—from food to fuel to housing—have increased quicker and sharper than experts had anticipated. In June, the U.S. Consumer Price Index increased at its quickest rate since 1990. Despite rises in consumer earnings, high inflation has become an indication that the economy is recovering from the pandemic and has decreased consumers' purchasing power.
Important Wall Street figures also said that the inflation hedge idea was the reason why they purchased cryptocurrencies or developed an interest in them. The argument that "bitcoin may be used as a hedge against inflation" is supported by the fact that bitcoin has increased recently while gold, which is frequently employed as an inflation hedge, has underperformed. Considering this trend, BTC may probably gain another leap at price, which is a good chance to profit.
100x Leverage Futures Trading: The Most Popular Tool for Earning Profits
The leap of price however, will cause crypto market volatility. Under such a circumstance, we can properly use the BTC perpetual contracts trading. BTC perpetual contracts trading in Bexplus allows you to maximize your returns by utilizing the power of leverage to multiply your profits. 100x leverage is the most popular at present, which can better help users to earn during market volatility. For example, you predict the BTC price will surge above $20,000, and open a 100 BTC's long position at $19,000, and you only use 1 BTC as margin. When BTC did hit the target price, you will get the profit of ($20,000 – $19,000) * 100 BTC / $20,000 = 5 BTC with the ROI of up to 500%.
Each user is qualified to qualify for the 100% Deposit Bonus, which we are offering both to thank our loyal customers and to welcome new ones. If you deposit 1 BTC, 2 BTC will be credited to your account. Continuing the above example, our initial investment of 100 BTC (with 100x leverage) will grow to 200 BTC, doubling our return on investment to 1000%. With the 100x leverage feature and 100% Bonus offered by Bexplus, traders may maximize their profits in this way.
Popular Crypto Futures Exchange in the Market — Bexplus Exchange
Bexplus Exchange is a Bitcoin-based crypto futures exchange that serves traders worldwide - in just over 200 countries, providing them with proper liquidity, a variety of trading tools and features, while also maintaining security and a safe trading environment. In Bexplus, you can trade 100x leverage futures on various trading pairs: BTC, ETH, ADA, Doge, XRP, etc.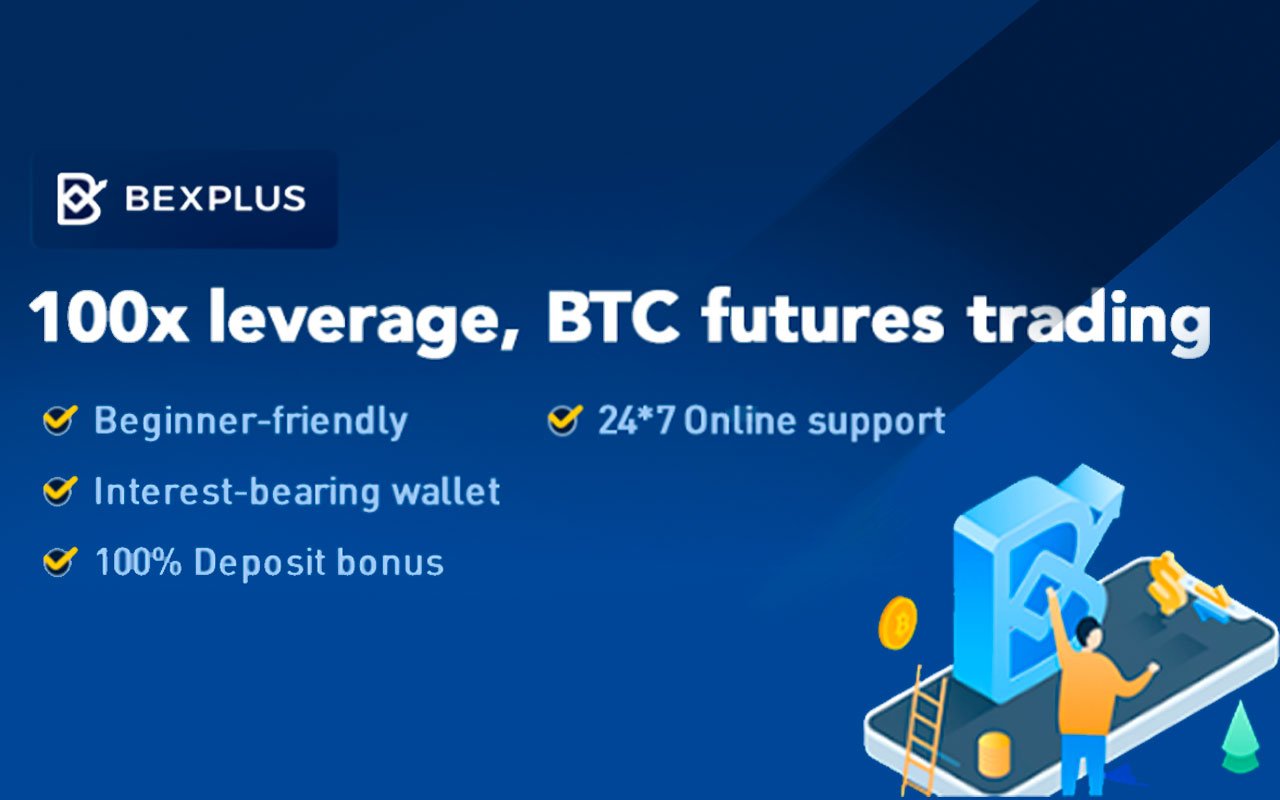 There Are More To Be Explored in Bexplus
Join Bexplus now to make profits with top traders and enjoy 100% deposit bonus! Click Here to Register and explore your own BTC west world!