High-tier Coinbase executive Conor Grogan has taken to Twitter to share information on the only Ethereum wallet that has been completely untouched after purchasing Ethereum during the ICO that took place in 2014.
The Ethers held in this address have by now seen mind-exploding growth of over 5,333x. However, the reason for this is likely not so cheerful.
"One of most mysterious wallets in all of crypto"
Conor Grogan, who is known as simply "Conor" on Twitter, shared that he managed to dig up data on an Ethereum address that has been completely untouched since the ICO by Vitalik Buterin and other co-founders of the second largest blockchain platform in the summer of 2014.
According to the tweet, this wallet, which Grogan referred to as "one of the most mysterious addresses in all of crypto," purchased Ethereum with $75,000 during the initial coin offering and has not made a single transfer since 2014.
Currently, the worth of ETH in this wallet has soared by a whopping 5,333x to constitute more than $400 million now. In Ethereum, this is 250,000 coins.
Aside from that, the address received several Ethereum Classic (ETC) airdrops when this hard fork took place, which are now worth $6.5 million.
One of the most mysterious addresses in all of crypto:
-Bought $75k worth of ETH at the ICO in '14
-Completely untouched wallet; has never made a single transaction
-Wallet now worth $400M+, a 5333x
-Received $6.5M in airdrops just by hodling (a 87x on initial investment alone) pic.twitter.com/wBpw9pQcAB

— Conor (@jconorgrogan) February 26, 2023
However, Conor Grogan believes that the most likely reason for this wallet remaining untouched all these years is that the owner has simply lost their key to it.
Imagine the mental fortitude of holding through multiple bull and bear markets. Though the far more likely outcome is they lost their keys.
Whales grab massive amounts of Ethereum recently
Prominent crypto tracker Whale Alert has noticed five consecutive transfers of Ethereum made from the Binance exchange during the past three hours. Most of them carried 20,000 ETH worth roughly $32,749,766, and one moved 22,110 ETH evaluated at $36,185,060.
These 102,000 ETH were sent from Binance to various anonymous wallets, which could indicate big buys of Ethereum and their shift to cold wallets for long-term storage.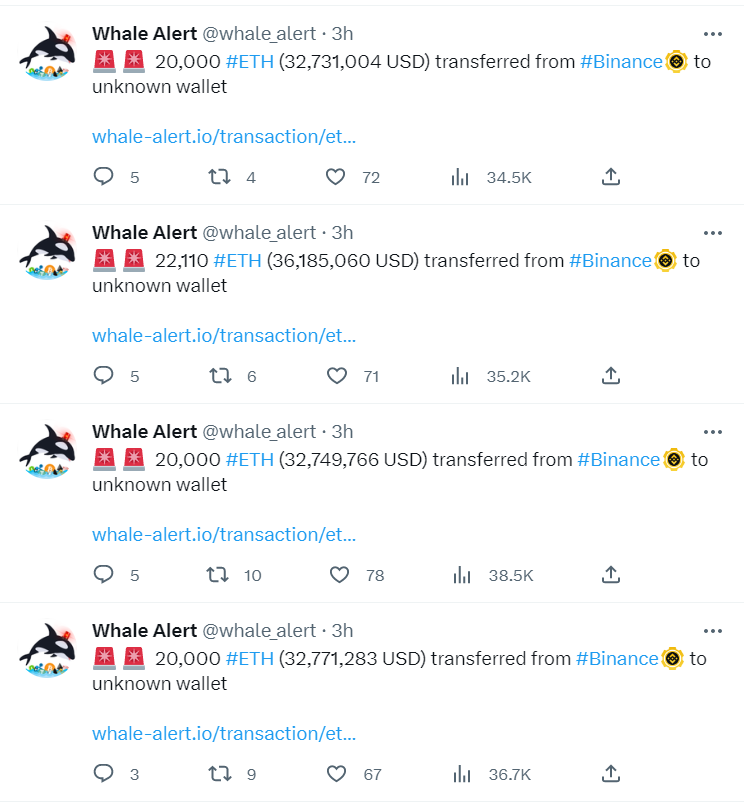 As reported by U.Today, about 10 days ago, a whale bought close to 50,000 Ethereum during the price rises seen by the market just a day before that. Three lumps of ETH — 14,871; 16,535 and 10,214 — coins were bought despite the price increase.
Whales are currently betting on Ethereum ahead of the Shanghai upgrade release.