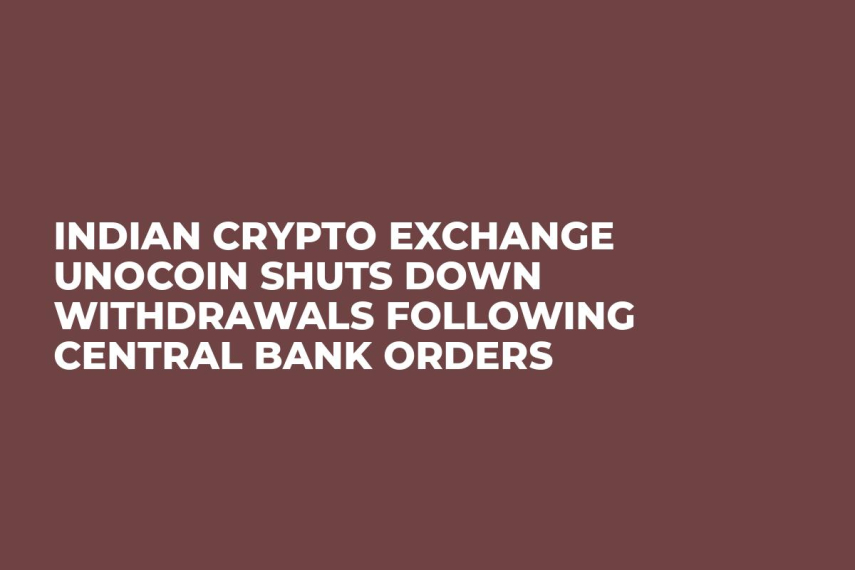 Cover image via U.Today
The Unocoin exchange has suspended deposits/withdrawals in the local fiat currency. This move has been done to comply with the demands of the Reserve Bank of India (RBI) in the run-up to the verdict of the Indian authorities regarding virtual assets and regulations intended to launch in their respect.
Background
In April 2018, RBI gave local banks a three-month notice to stop servicing crypto companies, mainly exchanges that trade virtual coins. Later on, the banking authorities admitted that this move had been made without any proper research.
Still, in three months banks did what they were ordered to do. In return, Indian crypto trading startups sued RBI for laying this ban on them.
The court has postponed the final decision on electronic assets' official status in India until autumn. Meanwhile, trading electronic coins is banned.
Nevertheless, the regulators of India are mulling an option of categorizing crypto as commodities. This solution if implemented could solve the problem and let exchanges go on to work legally.
Alternative ways of trading
To somehow adapt to the current state of affairs, Indian digital exchanges, like Unocoin, are looking for alternative options to continue their operations. One of such workarounds is trading operations with crypto only. Another way which has been found so far is peer-to-peer arrangements for transactions.