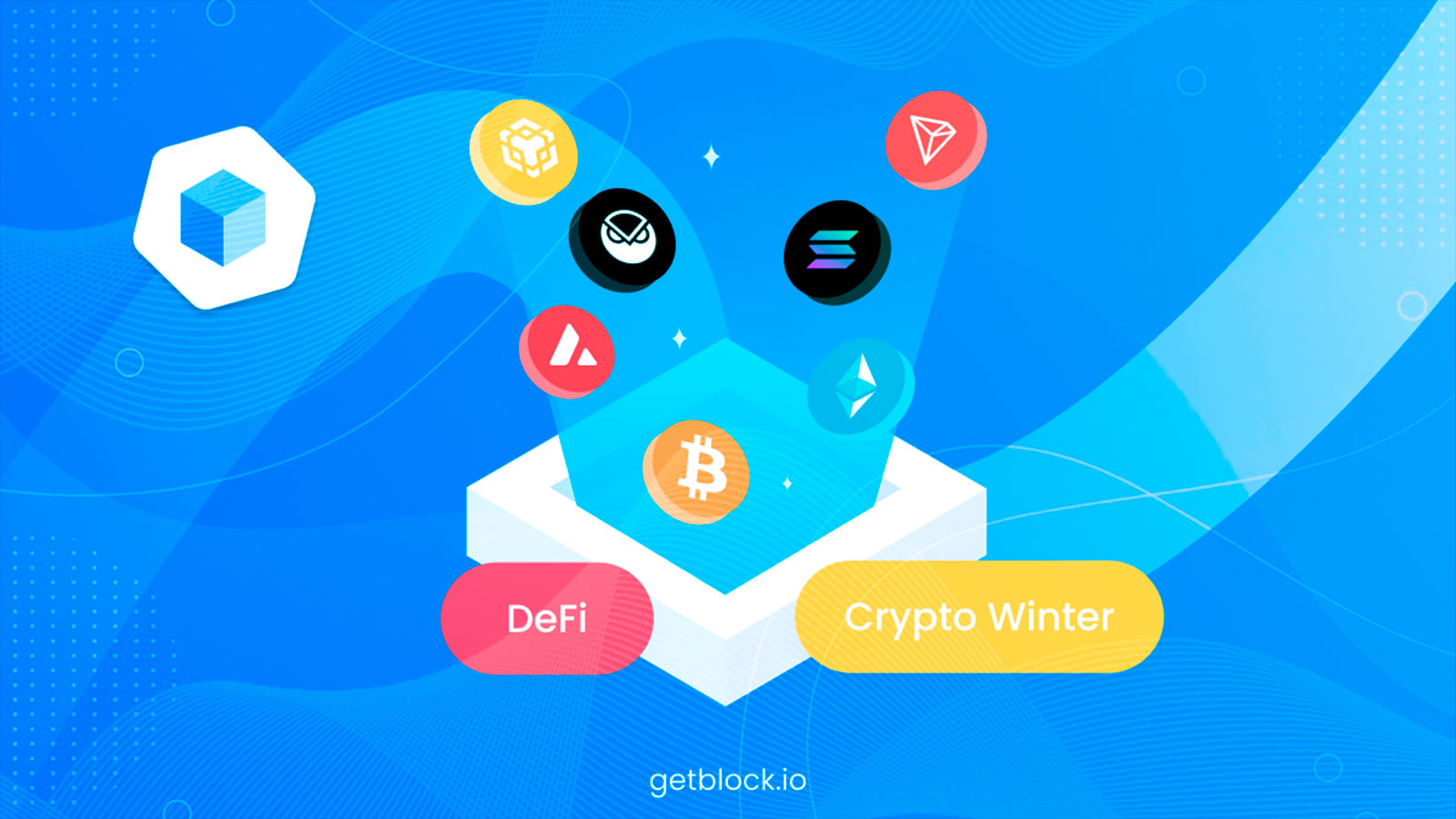 Sponsored
Cover image via www.freepik.com
Since its launch in early 2020, GetBlock, a top-tier blockchain nodes provider, has established itself as a reliable and user-friendly vendor of API endpoints for various dApps.
Decentralized finance protocols or DeFis are backbone elements of the global Web3 ecosystem. As such, supporting DeFis with reliable connection to leading blockchains remains in focus for GetBlock in Q3, 2022.
Building DeFis in Crypto Winter: Challenges and opportunities
In 2022, crypto markets lost over 70% of its peak capitalization due to what many would consider 'Crypto Winter'. In less than eight months, net capitalization of cryptocurrencies dropped from $3 trillion to $899 million, as per CoinGecko's trackers.
This dramatic collapse was even more painful for the DeFi segment: aggregated TVL of all protocols tracked by the DefiLlama dashboard plunged from $253 billion to $72 billion printing almost 72 % drop.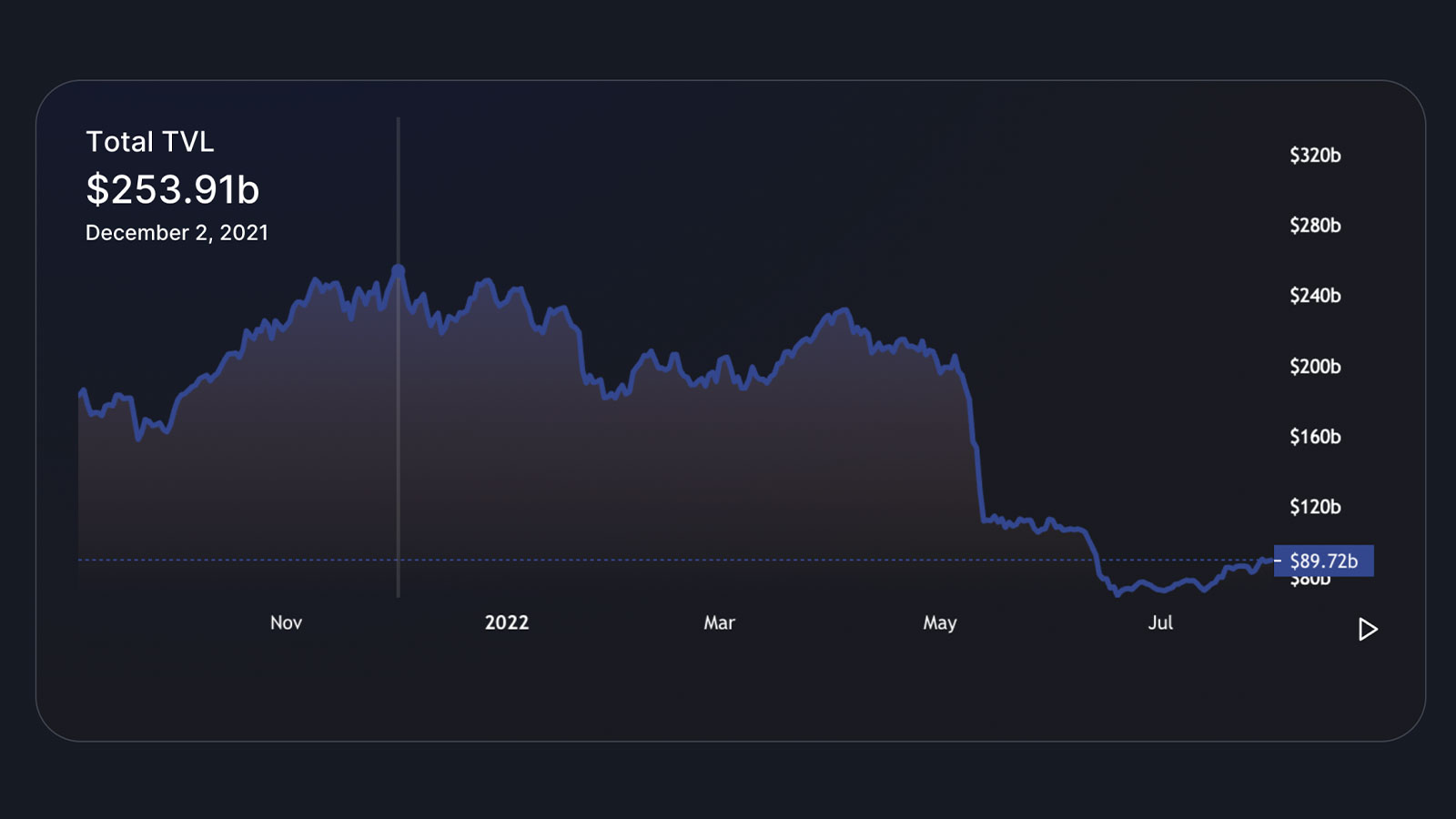 Typically, bearish cycles come with massive outflows of users from DeFis. That's why many protocols are underwater in Q3, 2022. At the same time, starting a new DeFi or scaling existing one amidst 'Crypto Winter' might be a smart bet due to a number of reasons.
First, the 'labor market' in crypto is finally dominated by CEOs, not employees. Vast majority of blockchain teams - from heavyweights like Coinbase and OpenSea to small startups - are on hiring freeze while almost all of them cut their workforce by 20-25 %. As such, markets are saturated with skilled professionals with sober salary expectations; this situation was impossible a year ago.
Then, reduced transactional pressure on mainstream blockchains - Ethereum, Polygon, BNB Chain - results in unbelievably low gas fees. For instance, median Ethereum (ETH) transaction fees dropped below $2 for the first time since early Q4, 2020. That's why there's no better time to test new applications without triple-digit swap commissions.
Last but not least, when euphoria is gone and dust settled, the right moment has come to create valuable Web3 protocols instead of trying to explore the hype around next 'Apes' and 'Mutants'. Bear markets allow real innovators to build in silence without the necessity to catch up with this or that hype.
GetBlock, a Blockchain-as-a-Service heavyweight, is ready to fuel the next generation of disruptive crypto products with a reliable and resource-efficient blockchain APIs stack.
GetBlock offers minimal latency and unlimited requests for DeFis
In its operations, every mainstream DeFi protocol interacts with blockchains through APIs; as such, secure and cost-efficient technical backend is a must for systems of this type. Here's when GetBock comes into play.
As per the analysis of GetBlock's team, high speed is a top priority for DeFis. As such, DeFi teams are largely interested in booting dedicated nodes with an unlimited number of requests. This is a premium service by GetBlock designed for scalable and high-performance applications.
Popularity of GetBlock's services for DeFi protocols started rocketing in Q2, 2021. BNB Chain or BSC (formerly Binance Smart Chain) is the most used smart contracts platform for DeFis on-boarding.
GetBlock officers are ready to support DeFi teams with all required guidelines for API connections. For different use-cases, GetBlock can provide either a regular API or customized virtual machine.
Largely, developers are interested in working with servers located near its operational headquarters; this reduces transactional latency and guarantees minimal ping. As GetBlock created a geographically distributed ecosystem of servers (Asia, Europe etc.), it can find the server that fits better for teams from various regions.
All in all, GetBlock merges the benefits of a battle-tested technical basis with tailored solutions for every single dApp.
From request to mainnet in 15 minutes: Disruptive power of GetBlock
On turbulent cryptocurrency markets, it is crucial for every team to deliver on its roadmap to retain credibility and users' interest. That's why GetBlock is focused on really fast on-boarding of new clients.
For instance, in some cases, it takes only 15 minutes between the first request and 'hello world' moment of the new dApp. For BNB Chain (BSC), a maximum period of dApps roll-out doesn't exceed 24-48 hours; it depends on the complexity of dApp and current availability of requested nodes.
Besides DeFis, GetBlock offers endpoints for trading bots, NFT marketplaces, Web3 social media platforms, Play-to-Earn/ GameFi protocols and so on. GetBlock offers shared and dedicated nodes of 40+ blockchains including Polygon (MATIC), BNB Chain (BSC), Solana (SOL), Ethereum (ETH), Bitcoin (BTC), and so on.