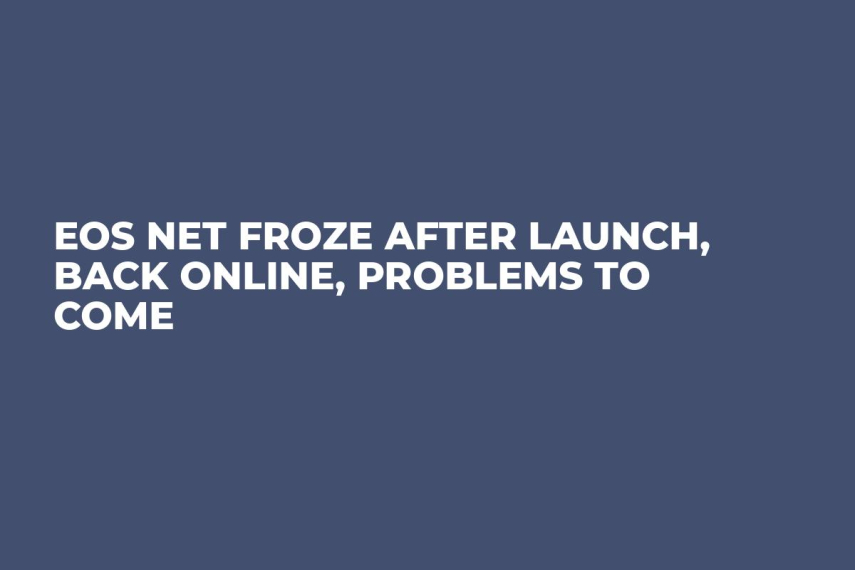 Cover image via U.Today
Even with $4 bln in capital raised in the largest ever ICO, EOS suffered from a glitch that took down its new Mainnet, the decentralized system that runs its Blockchain and froze all transactions.
Hard days for crypto
It's hard not to be critical of EOS, since it has been so well funded and vying for dominance in the smart contracts industry, with a goal to unseat Ethereum as the world's largest smart contract-based Blockchain. The tweets on Twitter have been unrelenting, chastising the company for the freeze and poking fun at the crypto market as a whole. One user wrote, "WHEN PEOPLE ASK ME HOW MY #CRYPTO INVESTMENTS ARE GOING I JUST TELL THEM I'VE BEEN HACKED. I CAN'T BRING MYSELF TO TELL PEOPLE HOW REKD I REALLY AM." This tweet really brings to light just how bad the crypto market has been suffering this year and over the past week. HODLs continue to hold but to what avail?
The big freeze broken down
According to a tweet by EOS, the development team was alerted to a bug which caused network-wide transaction freezing. A few hours later, the development posted an update that the problem had been identified. Block.one, the creator of EOS, was able to develop a software patch for the bug. The problem was a bug in the code that controlled how deferred transactions were handled. The disruption has not really affected the price, upon the news of the freeze, EOS token prices fell about five percent. For such a big event, the reaction was subtle, demonstrating that there is a high amount of investor confidence.
One problem leads to another
The most recent software challenge demonstrates that the launch of the highly anticipated network has faced several stumbling blocks ranging from technical glitches to user distrust over third-party software. Voting has been another issues affecting the company. While EOS has been suffered through some issues, not every company can be lucky enough to be an overnight success. Mainnet is up and running again and all is well with EOS for the time being.
EOS Stats
On June 1, EOS completed its year-long Initial Coin Offering (ICO), raising an estimated $4 bln to become the world's largest ICO to date. EOS is currently the fifth largest cryptocurrency, with a market cap $9.4 bln, and daily trade volumes topped $715 million. according to CoinMarketCap. It has a circulating supply of 896,149,492 EOS with a total supply of 900,000,000. EOS is written in C++ and has been designed for easy transferability. In other words, Companies that have blockchains running on Ethereum can easily copy and paste into EOS, making it a cinch to switch platforms.