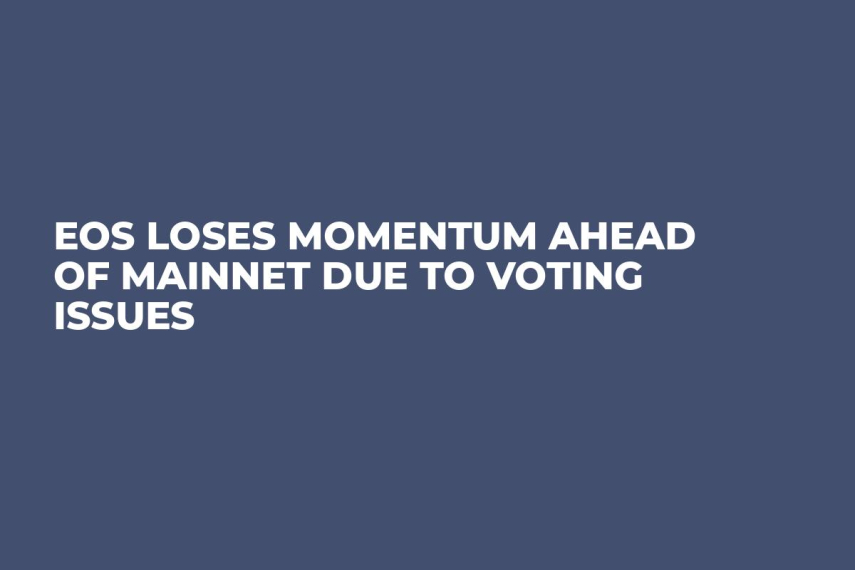 Cover image via U.Today
While analysts expect the EOS uptick to continue, some say it may be losing steam ahead of its transition to the mainnet on June 2 due to block validation voting issues.
Amid detection of security flaw by Qihoo 360, China-based internet security firm, EOS has recovered nearly nine percent to $11.90 from $10.83 since yesterday's security breach.
Strong investor enthusiasm surrounding the transfer to its mainnet is one reason the coin has continued to rally, experts say.
Heralded as the "Ethereum killer," EOS nearly doubled its market capitalization to $11 from $5.6 bln in the last three months, according to data compiled by Coinmarketcap.
However, in the past week, the coin has hovered within the $10 - $13 range, possibly due to the confusion over the voting procedure for block producers.
The move to Delegated Proof of Stake of twenty-one block producers is a radical departure from how other blockchains, like Ethereum, function and the voting for these supernodes, which begins on June 2, is causing a heated debate.
Crypto community members have raised concerns that voter turnout might be low, and the voting process may give a few people too much influence.
Voters will need to make educated decisions on block producers in advance. The process entails registering tokens, researching block producers, then staking tokens over a three-day period to vote.
While it's a lot to ask from casual investors, their participation is critical to the platform's long-term viability because 15 percent of all tokens must vote at launch or the chain will not be considered valid.
Further, with only twenty-one supernodes, the risk of excessive influence is higher and could prompt the creation of groups of people to promote voting for their nodes based on their self-interests, experts say.
EOS voting system has also been criticized for attributing higher weights to wallets with more tokens, but the company says it's only natural that those who are more invested should have a higher weight.
Thomas Cox, vice president of product, wrote in a company blog post:
"Blockchains don't run prisons, and they can't prosecute people for violent crimes. The very reasons that make 'one person, one vote' so important in a real-world government, are simply not present in a property based blockchain."
While effects of the voting process remain to be seen, experts say the that the EOS price outlook will turn bearish only if it dips below $10.33 and a bullish outlook will be set if it moves beyond $13.45.