In late February 2019, Bitcoin spiked and managed to take the $4,280 price spot. A little later, on March 4, it made a retracement to the $3,815 mark on charts. So, will Bitcoin be able to get over the $4,000 point in March this year?
BTC performance in 2019 so far
Since the beginning of 2019, the major cryptocurrency has been performing poorly. At the time of writing, the year-to-date performance totals around -2.06 percent. Presently, the BTC quotes are still trading in a narrow corridor between $4,000 and $3,800.
BTC price forecasts
The LongForecast.com site suggests a neutral and conservative scenario for March 2019, saying that the open $3,827 price may jump within the range between the low of $3,278 and a high of $4,371. The close price, it says, will be $4,048 with a monthly return of +5.8 percent.
Other crypto analytical websites offer various scenarios: some are bullish and some are bearish. They all provide suggested lows and highs for the Bitcoin price in March, where the highest rate BTC can achieve is $4,262, according to data from WalletInvestor.com.
Technical analysis
As a reminder, the Bitcoin price prediction we are offering is no investment recommendation but just our opinion, concluded through technical analysis.
Here is what daily and weekly graphs say about the way the Bitcoin price will move in 2019.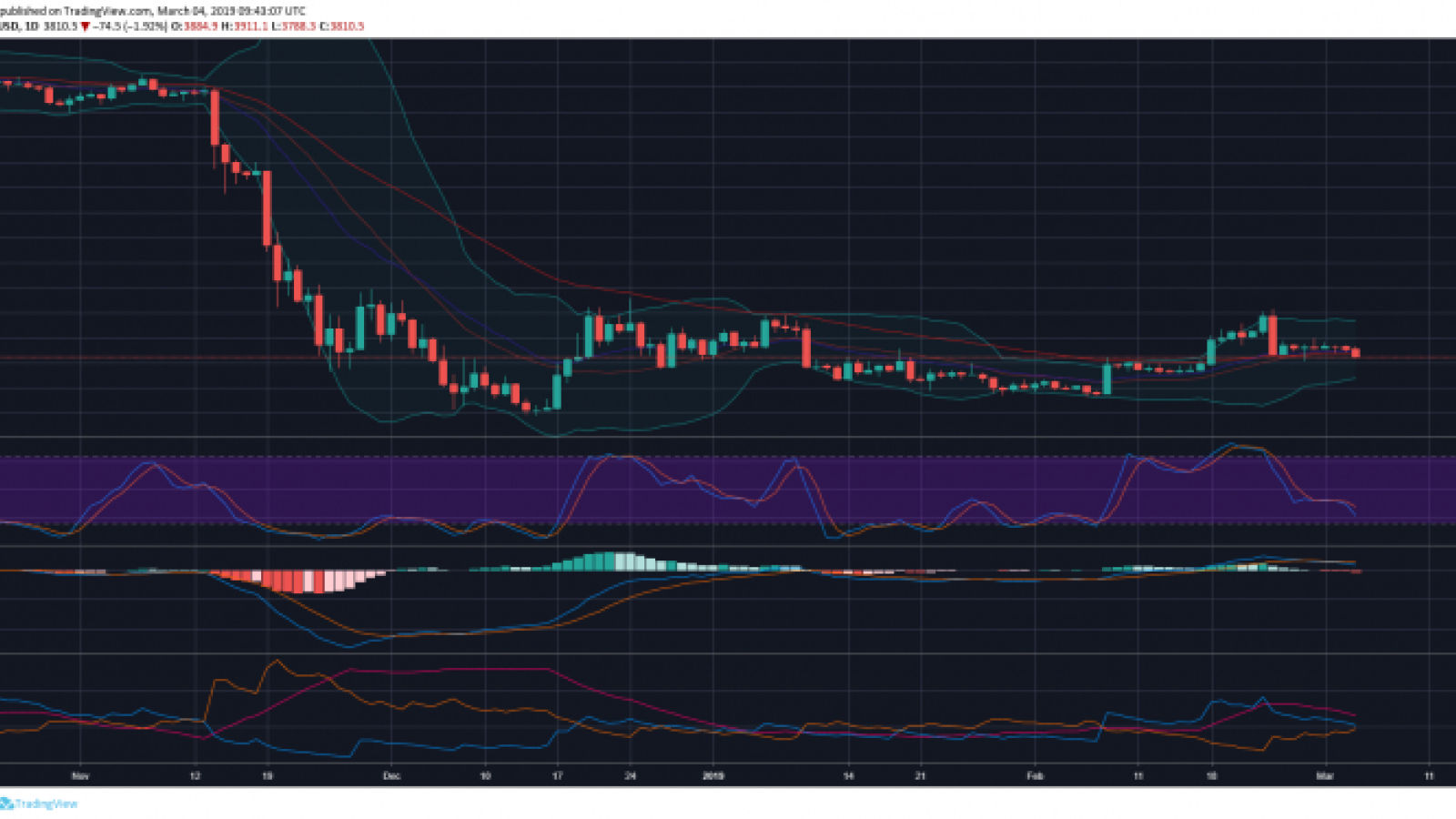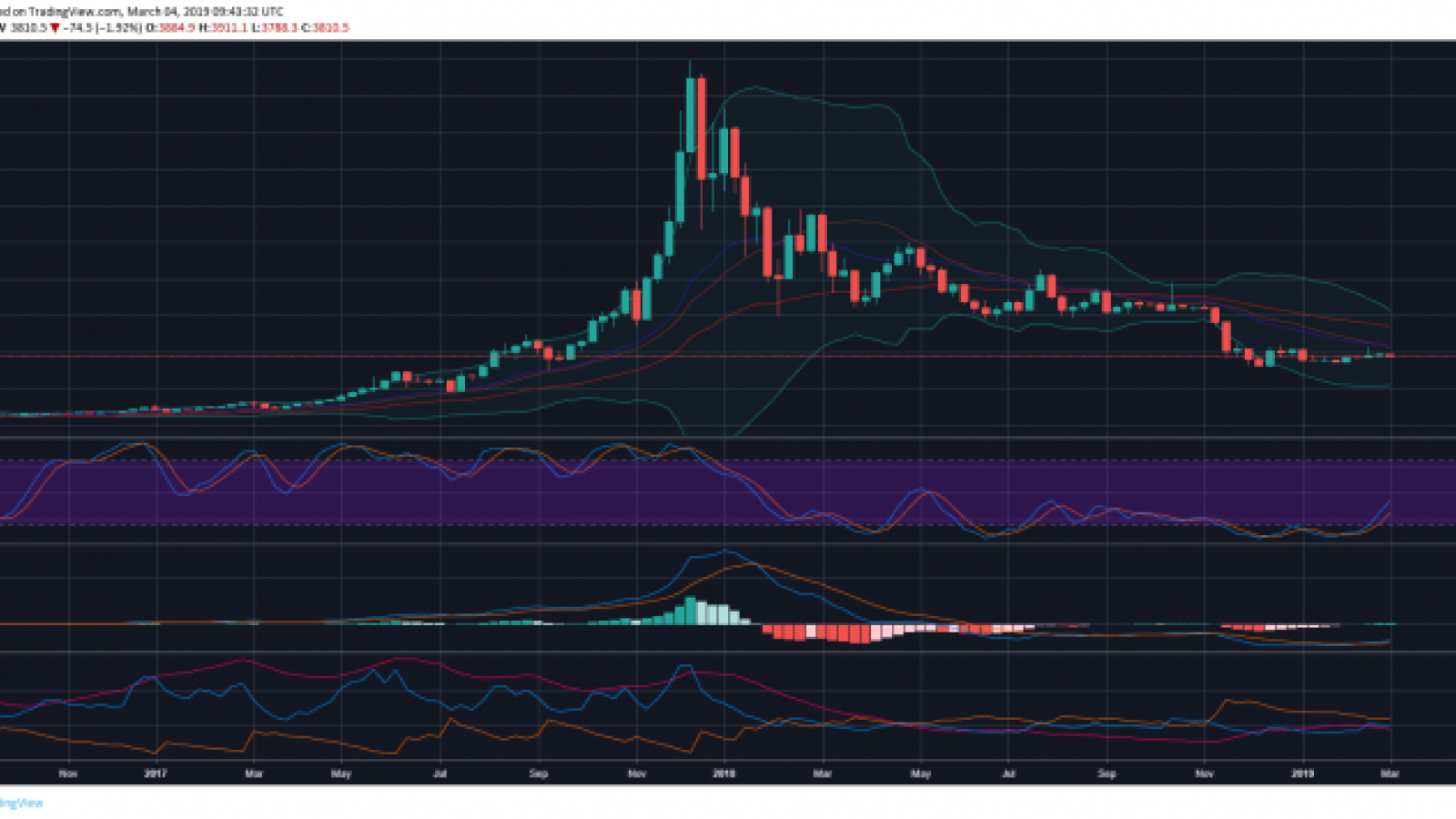 Bitcoin price forecast – bullish scenario
The following levels offer strong support: $3,650, $3,750 and $3,430, thus Bitcoin will have a hard time going under these price marks in March. We have noticed a phase of consolidation.
Besides, seeing that both the 20-period EMA and 50-period EMA have been going flat, we can say that Bitcoin may conduct a breakthrough at some point in March. However, the trend that made Bitcoin spike in February seems to have left the market by now.
The highest point we expect Bitcoin to reach in March 2019 is something between $4,175 and $4,220 – at that part of the charts, the daily upper Bollinger Band should set up a point of resistance and probably will allow fixing some profits.
On the weekly graph, a bullish MACD crossover can be seen, and Stochastics indicator (14,3,3) is heading upwards.
Bitcoin price forecast – bearish scenario
The present trend has changed from a downward trend to range-bound with both 50-day EMA and 20-day EMA being flat after a brief ascend. Bitcoin is trying to hold and has not yet closed above the 20-day price EMA or the 50-day EMA.
In our previous technical analysis article, we said that all brief-term rallies could end soon. So this proved to be true after the rally took the Bitcoin price up to the $4,270 price point.
MACD indicator on the daily graph has shown a bearish crossover, and the Stochastics indicator is heading towards lower levels with no signs of any bullish crossover.
On Feb 24, a big bearish candle formed on charts, showing that here at the price point of $4,270, bears are putting great pressure on the Bitcoin price.
If Bitcoin fails to close above $3,900 in March, a downtrend may take it down to the $3,590-$3,400 marks.
Will bulls or bears win in March?
Since Bitcoin is currently consolidating, both scenarios are likely to happen, but we reckon that the bearish one is more probable at the moment.