Data provided by Glassnode shows that Bitcoin, the leading cryptocurrency by market cap, could enter bearish territory if its fundamentals don't improve in the nearest future.
The GNI index, which describes the overall state of the Bitcoin blockchain, has slipped to 60 this week.
This represents a 17.8 percent week-over-week decrease, which also coincided with the BTC price dropping below the $9,000 level.
The GNI dropped 13 points this week and with $BTC no longer testing $10k, we may be seeing a regression back into bearish territory if #Bitcoin's on-chain activity and overall market health continue to decline.

Read more in the latest Week On–Chain ?https://t.co/B8hZlmPsCo pic.twitter.com/eEXgItQoHX

— glassnode (@glassnode) May 25, 2020
Weakening fundamentals
While the price of Bitcoin can certainly deviate from its fundamentals, increasing on-chain activity is inextricably linked to a sustained bull run. Vice versa, the asset's price momentum tends to wane in tandem with declining blockchain measurements.
The above-mentioned index takes into account such metrics as network health, liquidity, and sentiment in order to determine how strong Bitcoin's fundamentals are.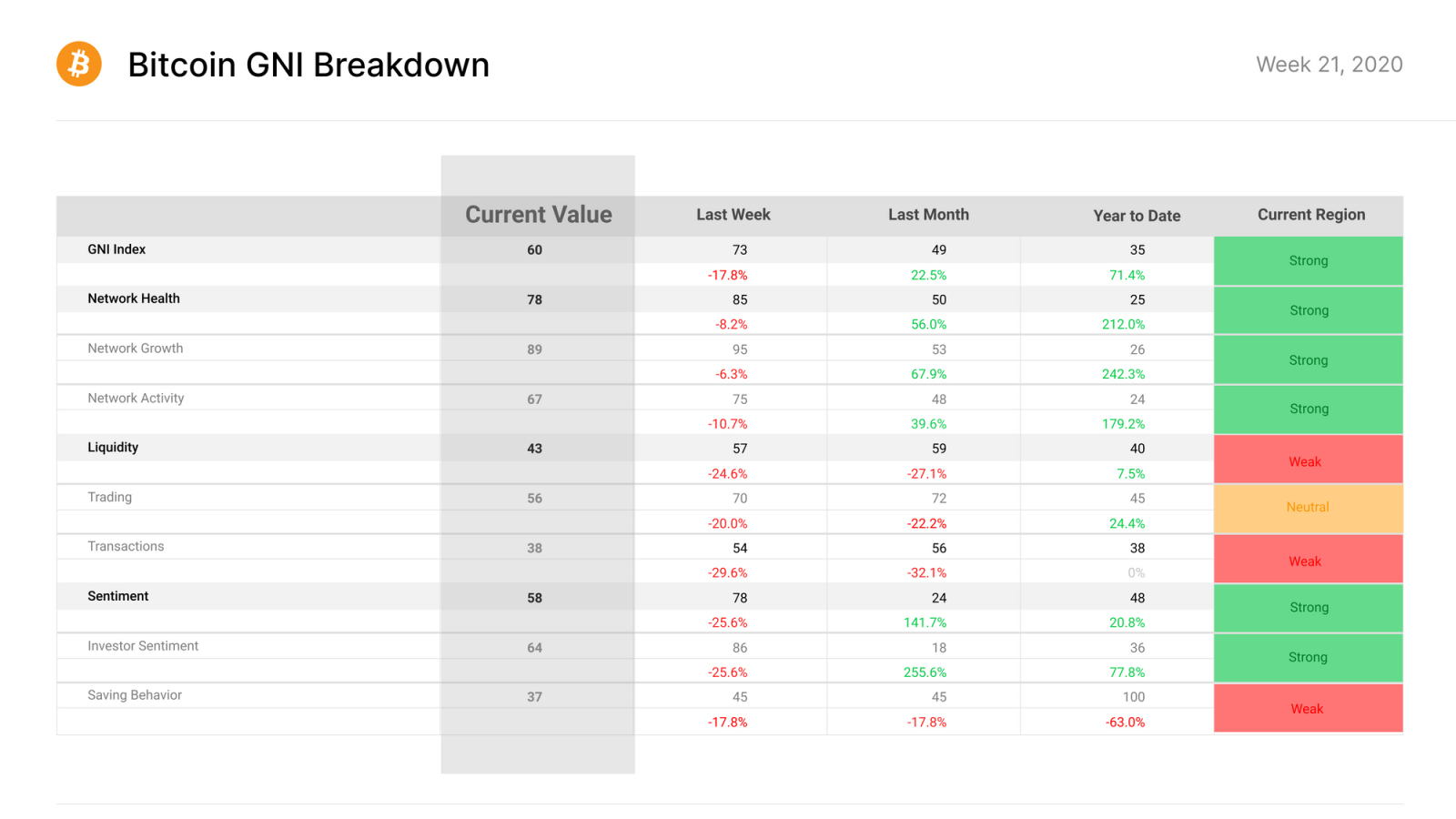 All three of these values have declined with sentiment taking the biggest hit out of them (a 20 point decline). Glassnode attributes this to the trifecta of decreasing economic activity, the latest BTC price dip, and slowing accumulation.
Bears in control?
The GNI compass, which combines on-chain fundamentals with the prevalent price trend, makes it easier for traders and investors to determine where Bitcoin is headed next.

Glassnode predicts that Bitcoin could dip into the bearish territory if fundamentals do not improve in the next few weeks.

As of now, the bulls don't seem to be ready to re-test the $10,000 anytime soon, and the recent drop to $8,700 could inflict even more pain.
However, the firm also points out that such periods of bearishness was supposed to be expected after the third supply cut that happened earlier this May.

In 2016, BTC dropped roughly 30 percent in less than a month after its second 50 percent reward reduction in July 2016.