On Sunday, the Bitcoin rate jumped from $3,600 and has been rising to the current price of $3,967 on Coinmarketcap. Some other sources are even showing $3,900, such as the Bitstamp exchange, located in Luxembourg.
Ripple, Ethereum
Among coins in the top-ten category, high gains are shown by XRP and Ethereum. Ripple has risen by around 10 percent.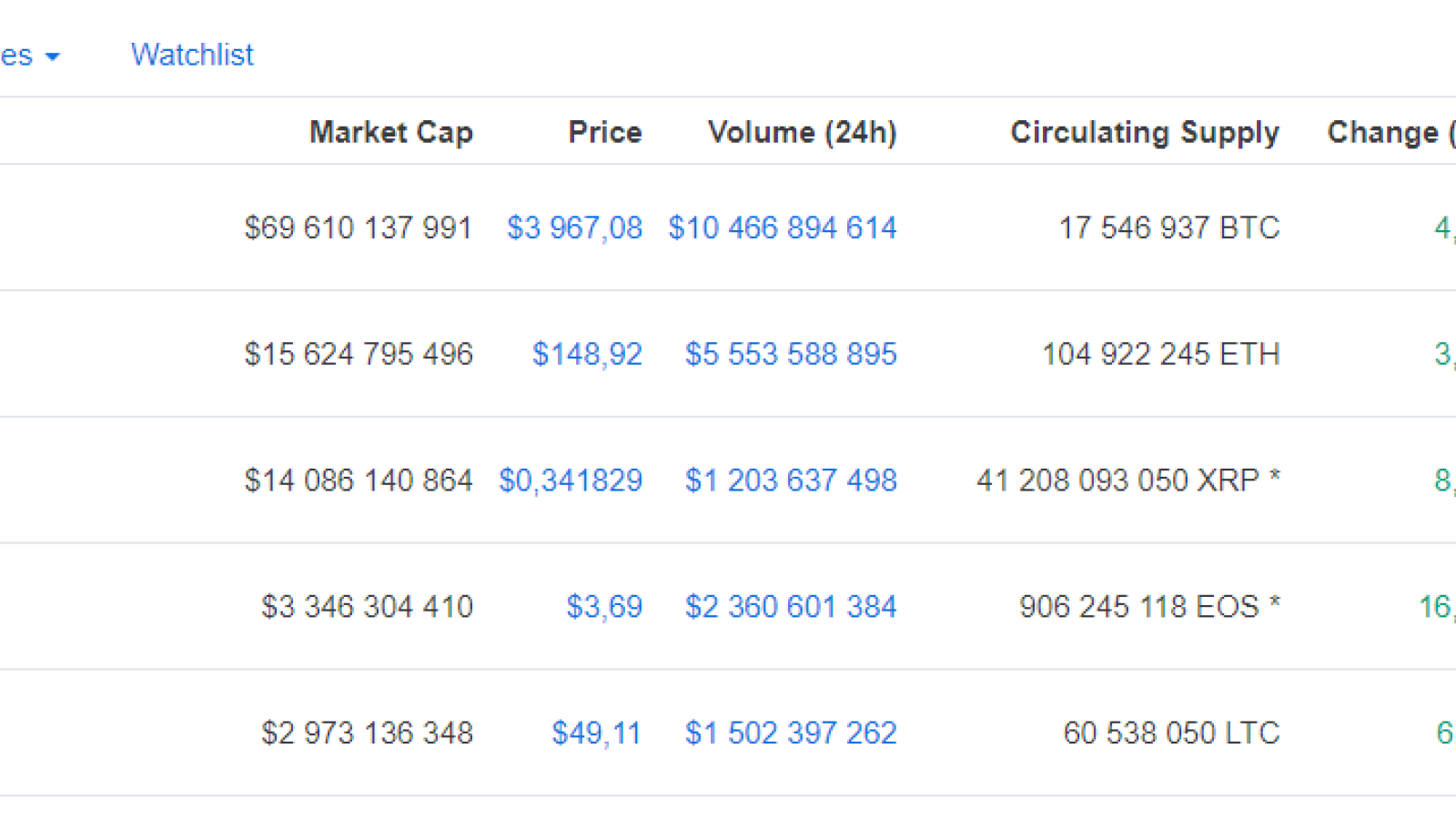 Ethereum started appreciating back on Sunday, when the crypto community again began betting on Ethereum's Constantinople hard fork, which so far has been delayed and according to the new plan is about to occur on Feb 27. Based on this upgrade, later this year Ethereum will change its current proof-of-work algorithm to proof-of-stake.
Presently, XRP is trading at $0.3418, having risen 8.78 percent. Ethereum stands at $148.92.
Expert's comment
An eToro top manager, Mati Greenspan, has commented on the current situation in the market, saying that the community is questioning whether the momentum will continue, letting Bitcoin, XRP, Ethereum and other altcoins keep ascending.
As per him, the market has added $8 bln over the last day. Its current volume totals more than $36 bln – this is a high that was last noticed in spring last year. However, he added, Bitcoin must take the $5,000 – until it happens, a bearish U-turn can happen at any moment.
Wall Street gurus keep their faith
Despite the overall bearish dominance, last week several big-names from the crypto financial world predicted that Bitcoin along with the rest of the crypto company will regain the highs they reached in December 2017.
Among them are the crypto investor and billionaire Tim Draper, CEO of Grayscale Barry Silbert, and long-term BTC supporter Mike Novogratz, the founder of the Galaxy Digital crypto investment fund.
Tim Draper even expressed the thought that the recently announced launch of JP Morgan's digital JPM Coin will provoke a further interest in Bitcoin and the crypto market in general.