Over the weekend, bulls enjoyed a brief rise of the Bitcoin rate and then saw it plunge again, following the major bearish trend. However, now BTC is in the green once again, trading at $3,540 after a small rise.
EOS shows the biggest gains
Even though there are four coins in the green in the top-10 club at the moment (BTC, ETH, EOS and BCH SV), EOS is demonstrating the biggest rise. At the time of writing, the coin is trading at $1.95, showing a 7.35-percent rise, whereas a short while ago, the growth of the asset was 10.02 percent. Presently, EOS is occupying the 7th position on the top-100 list. The current market cap of the token is $1 768 460 297.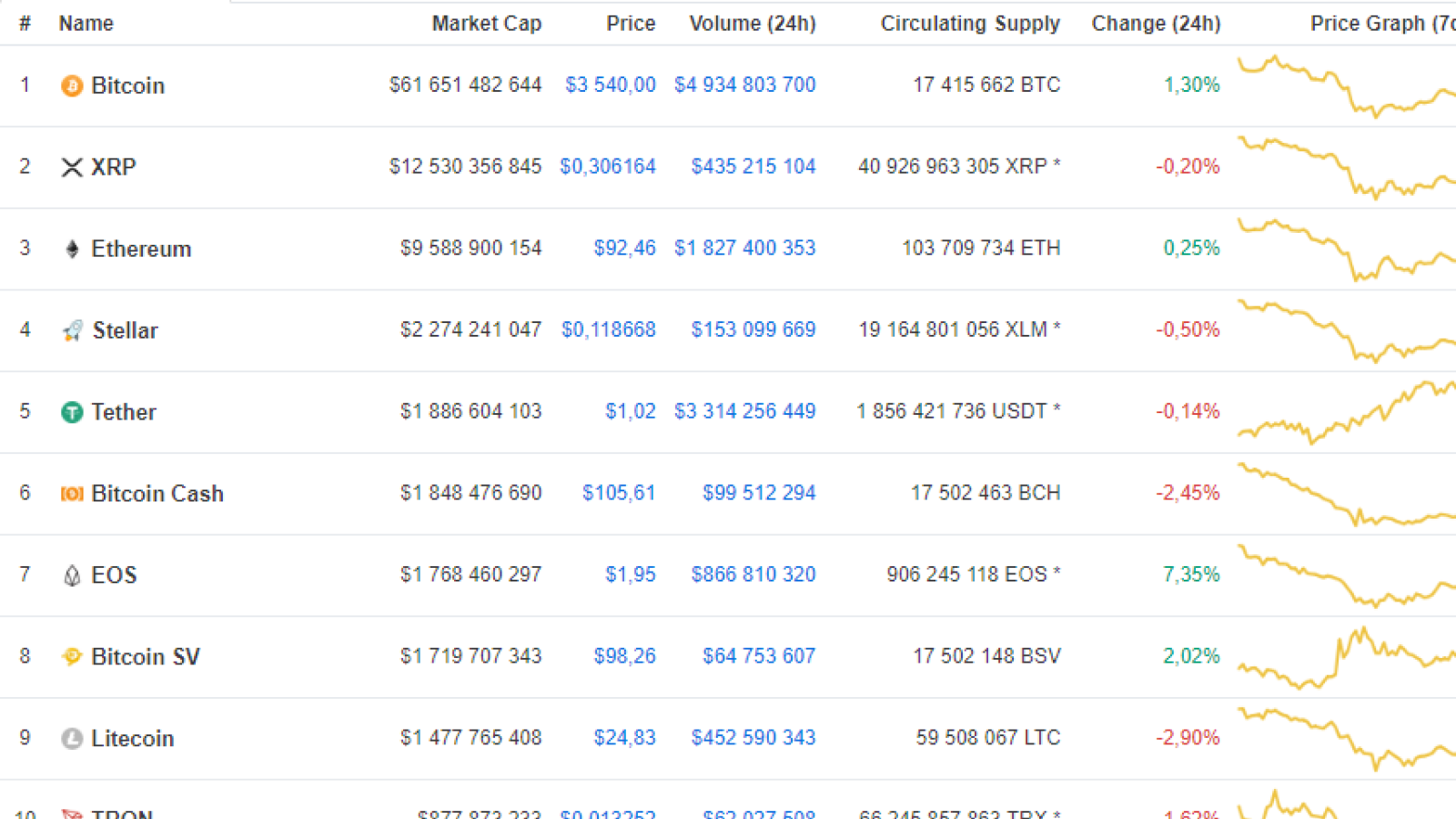 Most EOS trades are conducted on the OKEx exchange with its total EOS trade equaling nearly $104.150 mln.
Experts believe that the sudden EOS rise can be caused by the recent listing on the Coinbase platform. It had announced their plans to add the coin back in September. Among the other recently listed assets by the exchange are XLM and ADA.
No day without BCH and BCH SV shifting against each other
As U.Today reported earlier, over the weekend BCH and its rival BCH SV kept changing positions trying to push each other out from position 6 on the top-10 list.
On Monday morning, the situation is that BCH has managed to overtake the forked coin. Currently, BCH is on position 6 and BCH SV has rolled back to place 8, keeping EOS between them. Nevertheless, BCH is in the red (-2.45 percent) and BCH SV is rising, showing a 2.02-percent gain.
Tron is also showing signs of success; the coin seems to have firmly fixed itself on the tenth place of the assets with the largest market cap.
Last week, Justin Sun, the CEO of Tron, offered to create a fund of support for EOS and ETH dApp developers requiring only on condition they should comply with – take their dApps to the Tron mainnet.