The most recent Bitcoin price forecast from Tyler Winklevoss, one of the Gemini exchange founders and a twin brother of Cameron Winklevoss says that if BTC can reach $10,000 it may well go up to $15,000.
John McAfee, known to despise such small figures when it comes to predicting the price of Bitcoin, immediately responded with…trolling.
McAfee keeps going about $1 mln per 1 BTC
John McAfee has always been the most optimistic of all crypto fans about the Bitcoin price and the milestones it may reach in the future.
Few people agree with him on the future BTC price hitting $1 mln. However, many do believe that Bitcoin can go much higher than back in late 2017.
Tyler Winklevoss has recently tweeted that he expects Bitcoin to surpass $15,000 if it can go over $10,000.
McAfee responded, saying that if BTC can hit $100,000, it may well reach and even surpass $1 mln.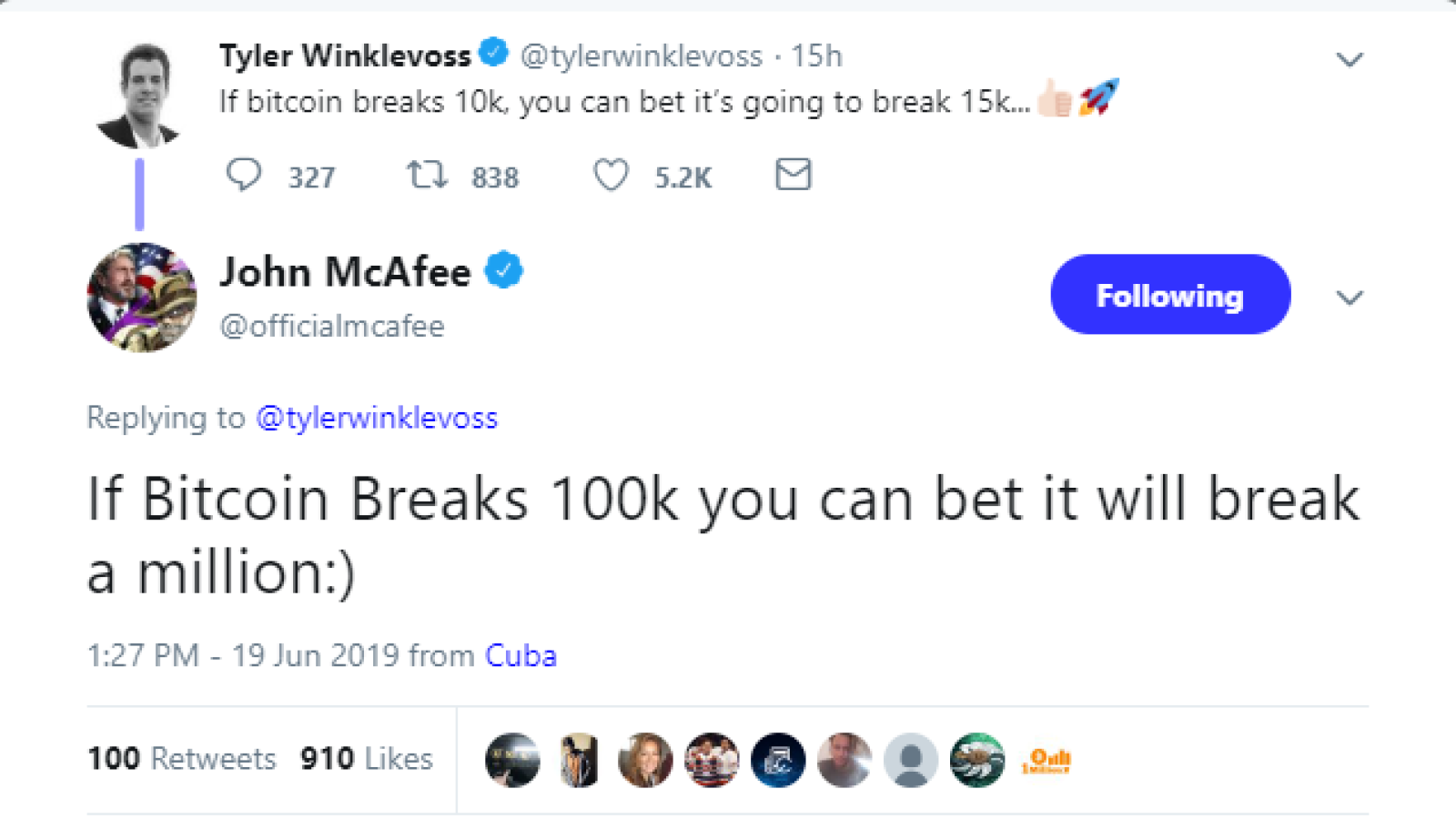 The trolling must go on
However, that was not the end of the friendly trolling from the former antivirus software magnate. Using a photo of a "Bitcoin Billionaire" book that the twins had sent him as a present with a personal message handwritten inside the cover, McAfee tweeted that the two twins are only powerful together.
Cameron's power is reflected in the fact that he doesn't even need a first name in his Twitter handle.
Tyler has more Twitter followers but Cameron gives Tyler the power, McAfee wrote.
Still, as many believe, McAfee should be more worried about his 'exile' that has driven him to Cuba, rather than Bitcoin and trolling his friends on social media.
I would like to acknowledge @winklevoss as the true power within the Winklevoss Twins. While Tyler (@tylerwinklevoss) does have more followers (purchased from a bot company), Cameron's power is reflected in the fact that he doesn't even need a first name in his Twitter handle:) pic.twitter.com/WZwV3FaT1c

— John McAfee (@officialmcafee) June 19, 2019