In a recent blog post, crypto expert and a co-founder of Morgan Creek Digital has shared his recent forecast for the Bitcoin price - $100,000 by 31 December 2021.
Curiously, the well-known notorious US presidential candidate on the run from IRS John McAfee has made a much higher mark for the Bitcoin price to reach on this date - $1 mln.
McAfee even said that unless it happens, he will eat his penis on the US national TV.
If Pompliano proves to be right then Mr John McAfee is doomed and the world will be in for an exciting TV show featuring McAfee and some of his intimate body parts.
Previous BTC forecast by 'Pomp'
In the blog post, Pompliano refers to one of his earlier BTC price predictions in late summer last year, when he wrote to Morgan Creek's investors that before Bitcoin hits $10,000 it will likely drop to $3,000. Back then, Bitcoin was trading at $6,770.
On August 24, 2018 I called for Bitcoin to drop 50% to $3k before rallying back over $10k.

That call was deadly accurate and allowed Morgan Creek Digital to buy the dip.

Here is my next price target.https://t.co/KzhRO7u2Vi

— Pomp ? (@APompliano) June 24, 2019
Investors responded to that prediction skeptically, however, it proved to be correct – Bitcoin kept decreasing below $3,000 in December 2018 and surged to over $10,000 only at the end of last week.
'Bitcoin to hit $100,000'
Now that a BTC bullish market has resumed, Anthony Pompliano has made another forecast - $100,000 by 31 December 2021. He said, though, that the forecast could not be 100 percent accurate.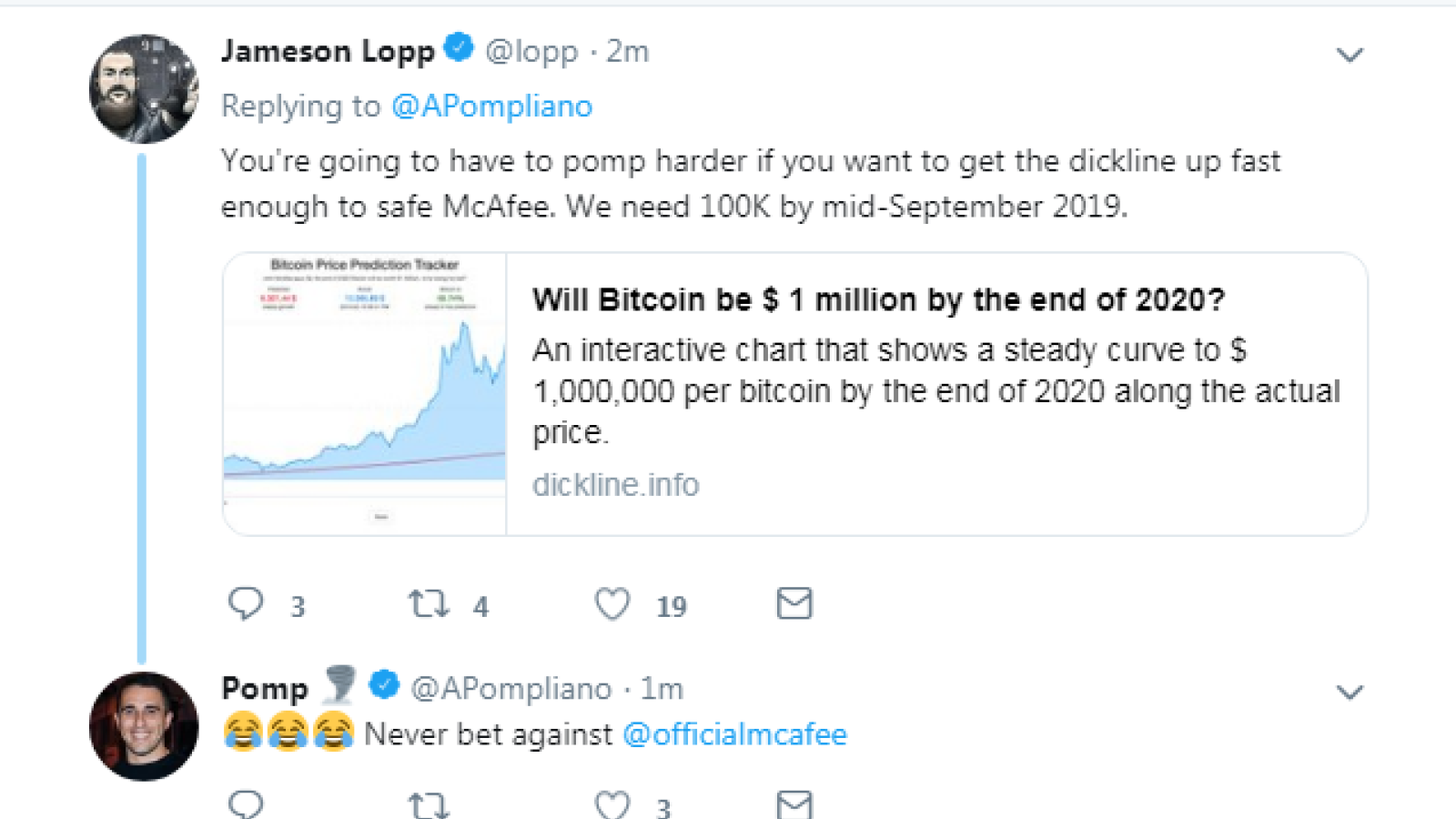 While going into details regarding the new forecast, 'Pomp' named several things to pay attention to. Among them are:
The price appreciation will be driven by a very simple idea — supply/demand economics remains a valid market price determinant."
The increase in demand for Bitcoin will come from a variety of sources and will be due to various factors. These include large scale institutional adoption, multiple ETF and retail product approvals, increased global instability, lack of performance in traditional markets, and the continued manipulation of markets, economies, and currencies by governments around the world."
Pompliano does warn the readers, however, that splashes of volatility on the way to the $100,000 mark are unavoidable and rollbacks of 20-30 percent from new highs should be expected.