American whistleblower Edward Snowden took to Twitter to post the viral Bitcoin price prediction that originated on a 4chan imageboard on Oct. 26.
October 26, 2019
An anonymous poster who attached an image that depicts anime character Asuka with a smug-looking face predicted Bitcoin's price action throughout 2019 with incredible accuracy back in January.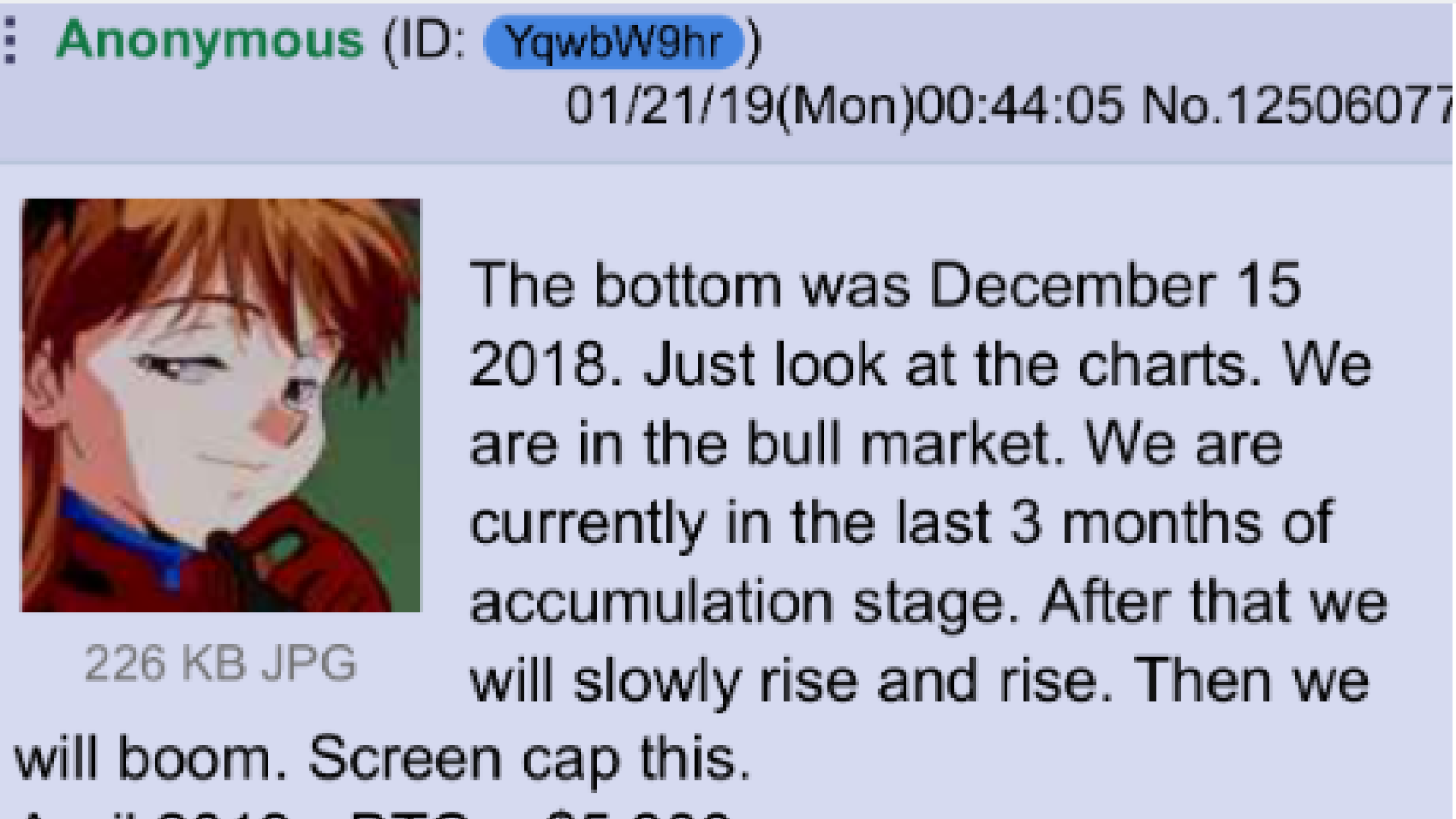 So far, he has been spot-on with all of his calls. The price of Bitcoin indeed reached a new bottom in December 2018 when it tanked all the way to $3,100, the level that seemed impossible after the crypto craze that took place just one year ago.
When it was all doom and gloom in the industry, Bitcoin suddenly skyrocketed by 20 percent on Apr. 2, which allowed fulfilling the first target right off the bat.
The second target seemed less realistic given that Bitcoin surged to $13,700 in June, but it eventually corrected like clockwork to the $9,200 level. The most interesting part is that it turned out to be the lowest point for BTC in July.

Ahead of the Bakkt launch, many expected a massive price boost that would help Bitcoin to break out of the descending triangle and easily hit the October target. However, the market made a completely oppositive move with Bitcoin dropping like a rock to $8,000 on Sept. 25.
The top coin witnessed an even deeper correction to $7,400 on Oct. 25, which emboldened Bitcoin naysayers to make outlandishly bearish price predictions.

When the Asuka prediction seemed to be dead and forgotten, Bitcoin suddenly made another U-turn and pumped by a staggering 40 percent in one single day all the way to $10,400 on Oct. 25 (its third biggest daily price increase ever).
With only five days left until the end of this tumultuous month, we are about to find out whether the great Asuka prophecy will live on.