On Monday evening, Bitcoin price all of a sudden went below $8,000 and dropped nearly $1,000, taking just minutes to do that. Over the last 24 hours, BTC has shred 8 percent, however, the price is growing a little at the time of writing this article.
Still, despite the slide, the Bitcoin rate is still up around double from where it started as the year began.
In its recent piece, Forbes goes into the details of yesterday's Bitcoin price drop.
A crypto whale going for a sell-off
The sell-off that 'dropped' the Bitcoin price $1,000 last night, states Forbes, was due to a Bitcoin whale selling a large amount of BTC. This funds transaction was recorded by the Twitter Whale Alert account, which follows blockchain financial transaction and makes them public knowledge.
The Whale Alert post suggests that a major BTC holder moved about 25,000 BTC (an equivalent of $200 mln) from a wallet to the Coinbase crypto exchange.
? ? ? ? ? ? ? ? ? ? 25,160 #BTC (213,365,388 USD) transferred from unknown wallet to #Coinbase

Tx: https://t.co/qOcVbVSg0b

— Whale Alert (@whale_alert) June 3, 2019
Soon after that, 14,000 BTC (worth $112 mln) was sent from Coinbase to a crypto wallet and the next transaction saw 11,000 BTC leave the exchange (an amount of crypto evaluated at $88 mln).
Big BTC transfers explained
Redditor u/makoveli suggests it was a Bitcoin whale who first sold 25,000 BTC to make an easy $215 mln and then, seeing Bitcoin's price drop, bought it back again, returning their crypto and having $15 mln more than previously.
If you do a little math and follow the timeline, it's not hard to see that someone dumped 25,000 bitcoin for $215 million and bought it back shortly after for $200 million. In doing so, they pocketed $15 million and walked away with the same amount of bitcoin as they started with.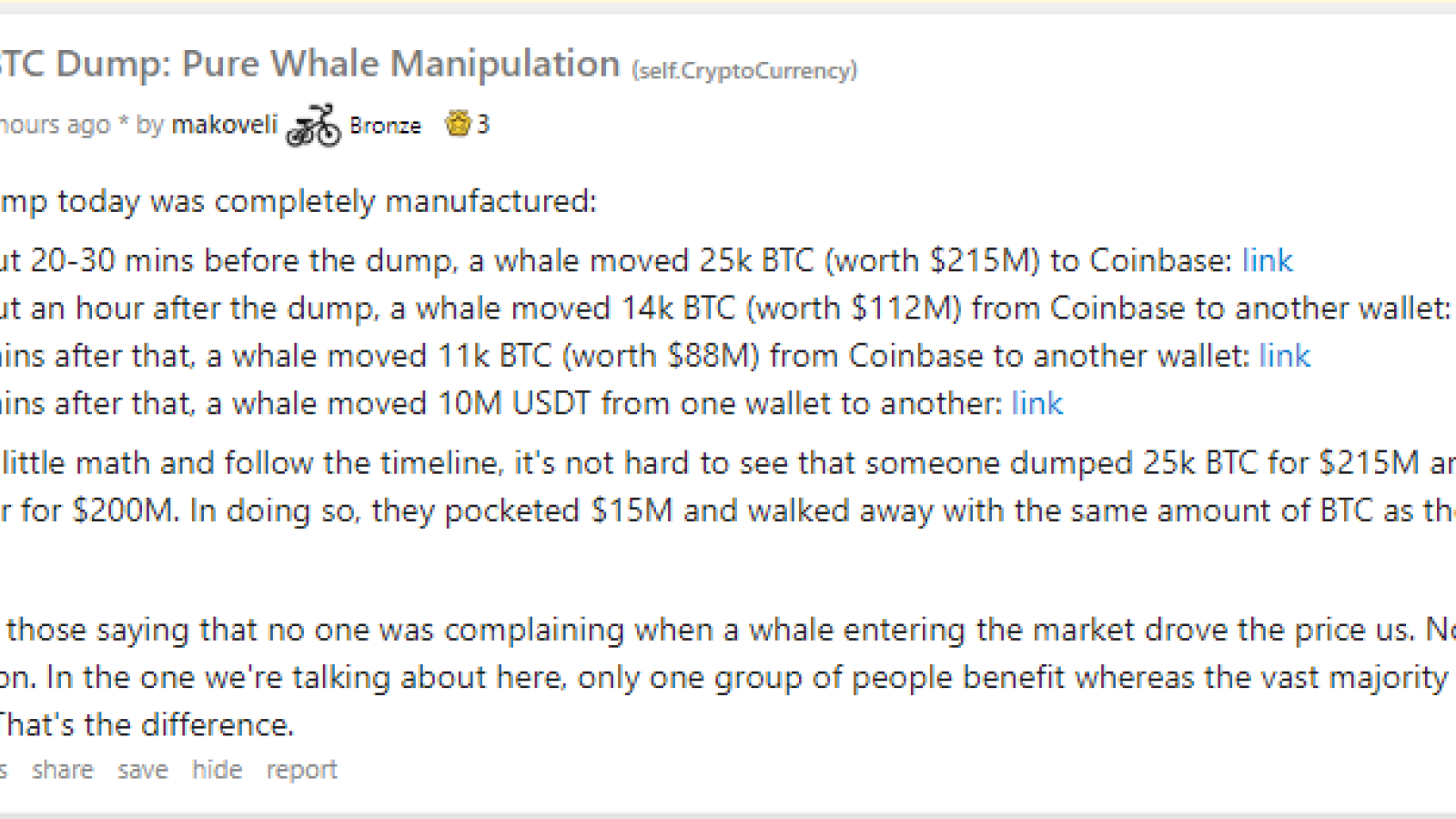 At press time, Bitcoin is trading at $8,037, showing a 5.62-percent decline.