In his recent tweet, savvy commodity trader Peter Brandt has posted a chart of how the purchasing power of 100 U.S. dollars has been plunging since 1947.
The veteran trader has called it a "sure-thing trade," stating that this is the only trade he has absolute confidence about. The USD, as well as other fiat currencies, will continue to lose their purchasing power over time.
The sure-thing trade!!!!!!!

The only trade in which I have ABSOLUTE confidence in is that the purchasing power of the U.S. Dollar (and all fiat currencies) will continue to erode pic.twitter.com/wnVhRHZ8oI

— Peter Brandt (@PeterLBrandt) January 27, 2022
In the comment thread, Twitter users began stating that Bitcoin solves this problem. Due to the pandemic that began two years ago, the U.S. government alone printed more than $6 trillion in 2020 and continues this policy of tapering.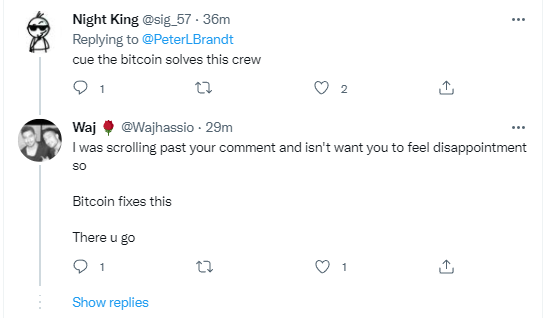 Central banks in other countries have been behaving in the same way. Bitcoin was created in 2009 after the mortgage market crisis as an alternative to fiat currencies controlled by banks and easily printed.
Unlike the USD or other fiat currencies, Bitcoin has a fixed supply of 21 million, over 18 million of which is already in circulation. In November this year, Bitcoin was up 402% (hitting the $68,800 all-time high) since November 2020, when it traded at $15,500.
Even now, when BTC is down almost 50% from last year's historic peak, it remains 206% up since November 2020.
Many in the crypto community believe that BTC will finally be adopted as an official currency by central banks or by whole countries (El Salvador has done that already). Big-name finance experts and investors like Mike Novogratz and Anthony Scaramucci are confident that BTC is a store-of-value, not a means of payment, and will most likely remain that.