A while ago, a post appeared on Reddit with a quote from Tether Ltd, stating that USDT has never been totally dollar-backed.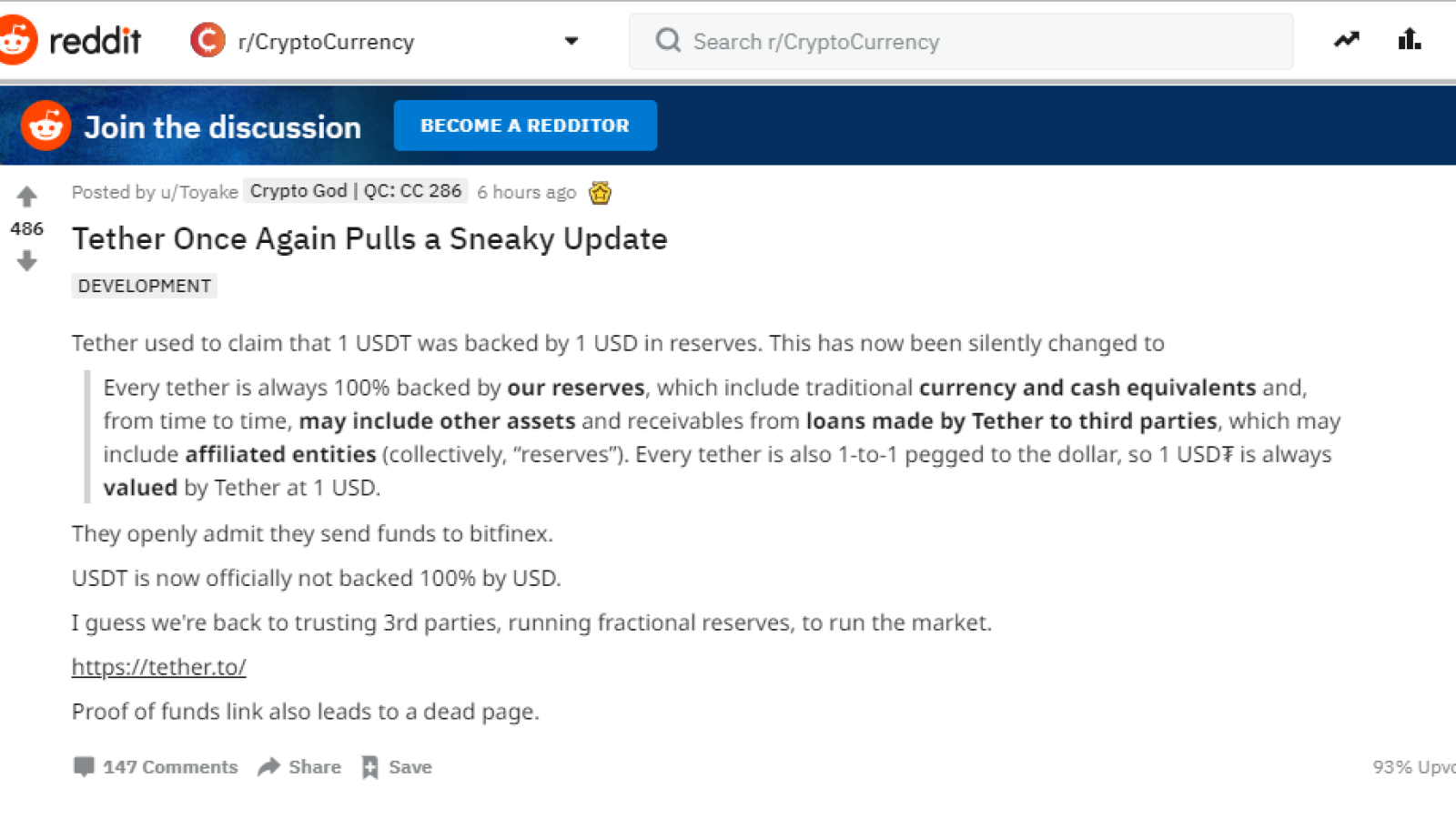 Has Tether been pulling crypto investors' legs?
The Reddit post shows a quote from a Tether announcement and states that previously, USDT was backed by Tether's reserves, which means cash equivalents, traditional assets and profits from USDT loans to third parties.
Prominent crypto observer and expert Joseph Young shared this post on Twitter, commenting that Tether now owes an explanation to its community.
This is a very concerning update by Tether, I think the community is owned an official statement from the Tether team pic.twitter.com/b6TxbNF8Sz

— Joseph Young (@iamjosephyoung) March 14, 2019
Previous reports sort of confirmed Tether was fully backed
Tether has always been suspected of unfair play, especially after it came to light that the Bitfinex exchange and Tether Ltd have the same management team and the same banking partners.
At one point, there were reports that the Bitcoin ATH in December 2017 was largely manipulated by USDT trading against BTC.
A while ago, U.Today reported that Bloomberg News analysts had been allowed to see banking documentation of Tether for a certain period in the past and they confirmed that back then – that is, winter 2018 and autumn 2017 – Tether had enough USD in its bank accounts to fully back their USDT coins.
Providing that the quote in the Reddit post is genuine, Tether has now finally decided to get things straight for its investors.
Curiously enough, recently Tether teamed up with Tron to make another stablecoin – a Tron-based one. Both the Tron Foundation and Tether Ltd were happy about the collaboration, promising it to be beneficial for the crypto community and industry overall.
User response on Reddit
The post provoked a storm of indignant comments regarding Tether. Some even took this as a sign of the approaching collapse of the whole crypto industry, and began posting traditional warnings about crypto volatility and instability, saying 'do not invest more than you can afford to lose'.
Advice was also offered not to expect to get a healthy pension off returns on crypto.