On Sept. 5th, the market continues its descending movement. As you can see from the chart provided by Datalight, the top 10 market cap coins were also hit by another red wave. However, despite the overall bearish market some coins have manage to 'put on some fat' on charts.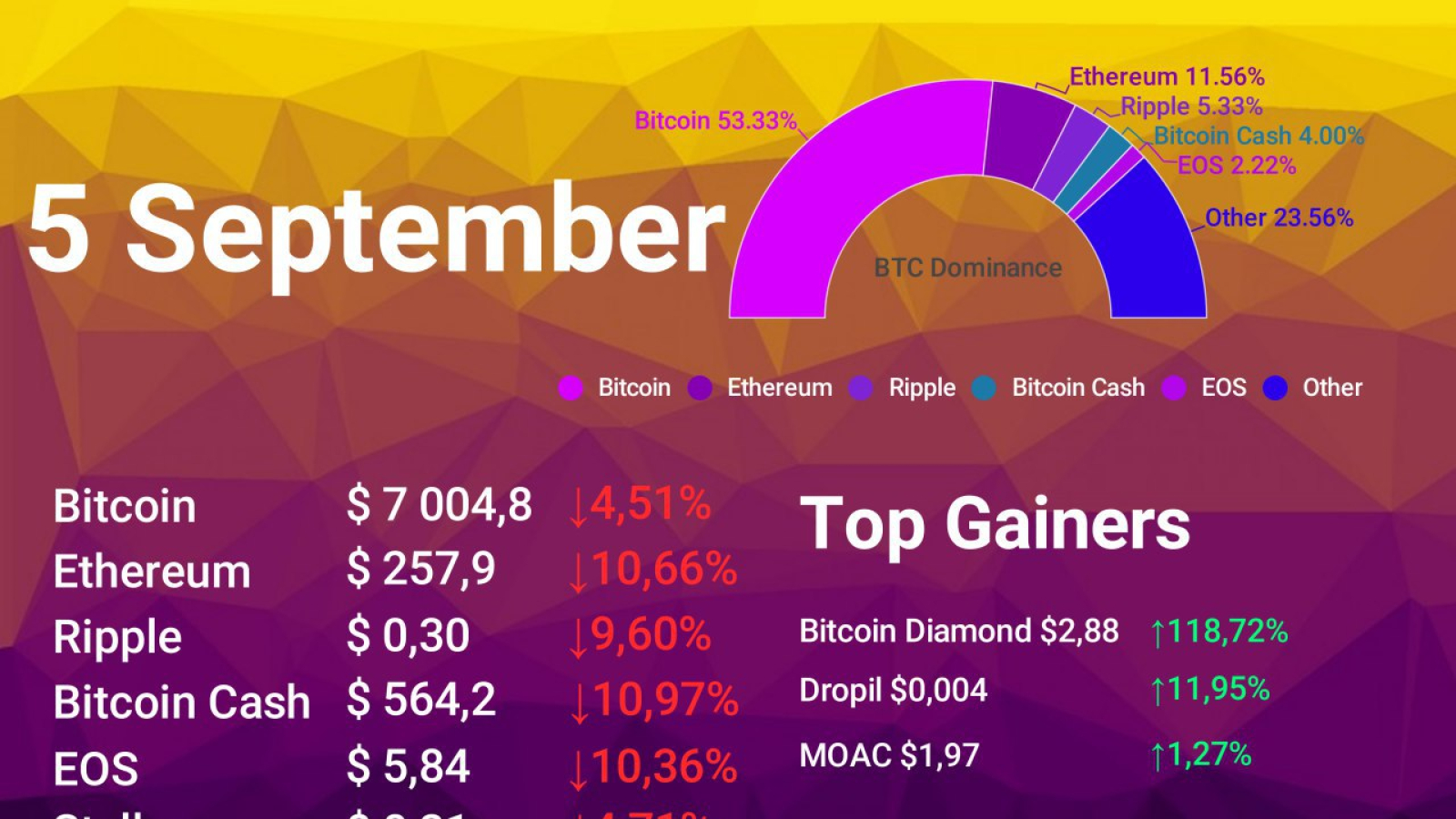 Today we offer you a 'top-three' category of coins.
Top gainers
These are Bitcoin Diamond (BCD), Dropil (DROP) and MOAC.
The reason why Bitcoin Diamond is the top gainer today is that the coin has been added to the Binance exchange. Listing on any big crypto exchange, especially on the largest one, Binance, always makes tokens rise significantly. This has happened this summer to Nexus and DENT.
The former gained 18 percent, the latter added slightly over 133 percent, which is quite a lot for an altcoin. The similar situation is with Bitcoin Diamond today– it has soared over 118 percent.
Dropil and MOAC have not risen significantly. Most likely, their spike is the result of either a release of an update or listing on some little-known exchange.
Top losers
These folks today are Holo (HOT), BitcoinDark (BTCD) and Wanchain (WAN).
On Sept. 4th BTCD, this former BTC competitor but now an abandoned project, showed a massive rise by 300 percent just within 24 hours. The majority of Twitter users believe that this was an ordinary pump-and-dump scheme at work. Now that the coin has lost almost 20 percent, this could indeed be the reverse of the 'pump stick' when those who pumped the coin are now selling it to fix profits.
As for HOT, recently U.Today reported this coin to be in the 'green list'– the one showing coins which gained a large amount of Reddit followers in August. Still, being among Redditors' favorite does not ensure a coin from decreasing.
Finally...
It is a fact that the crypto market is too volatile and unpredictable, so it is impossible, unfortunately, to analyze all factors that lead to coins' going down. Especially those which are far from the top 20 list.