On Thursday, Jan. 31, the NEM Foundation addressed its community on the NEM forum site with several pieces of news, both good and bad, but remaining optimistic all in all.
Things are going bad for NEM
The message goes on to say that after the general decline of the crypto market, it turned out that NEM's promotional strategy was not helping to raise the XEM rate much or promote the platform.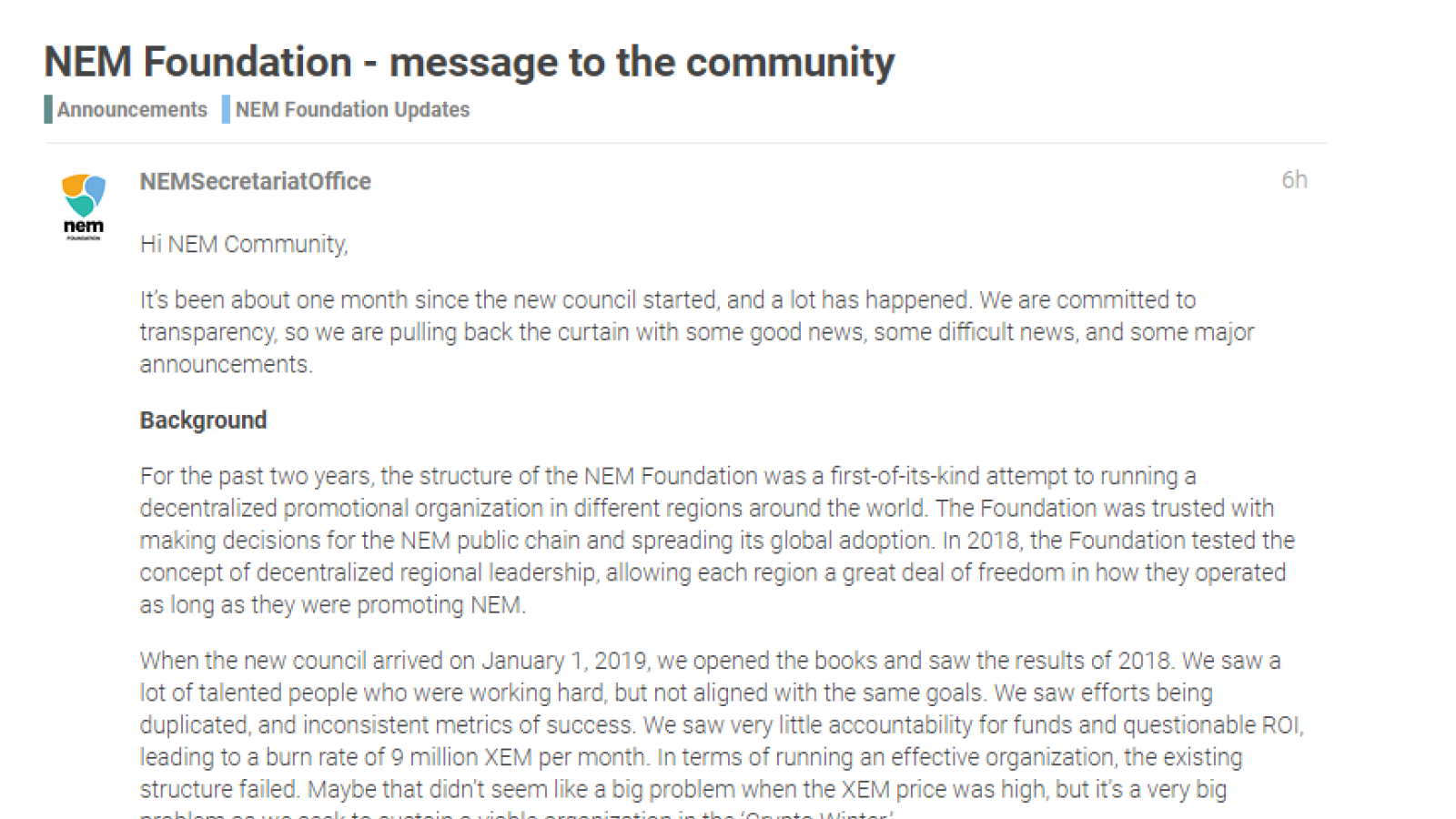 The results were the opposite. After the foundation allowed the community to split into regional branches, audits have shown that there have been no clear and mutually followed strategy. Accounting for the allocated funds were murky and the returns on investments were questionable, along with burning through approximately 9 mln XEM on a monthly basis.
The existing structure of the foundation has failed, it seems, as the foundation intends to implement some forced changes.
Plans to avoid bankruptcy
Since Jan. 1, NEM has gathered a new council for decision-making regarding the foundation's further strategy.
The NEM Foundation has decided to change from its promotional-oriented strategy to a product-focused one. Regional teams have been eliminated and new ones have been made, headed by Chief Technology Officer, Chief of Product Management, Chief Financial Officer, Chief Business Development Officer, Chief Operations Officer, Chief Marketing Officer, and Chief Revenue Officer.
The 202 members of the NEM Foundation are now going to vote on conducting some layoffs across the 150 employees of the company. It will also vote on asking the NEM community to fund further work with around $7.5 mln – the price of 160 XEM coins.
Current XEM market stance
At the time of writing, XEM is going for $0.045067, having demonstrated a decrease by 4.83 percent. The coin is holding position #18 on Coinmarketcap.
The daily trading volume of the token totals $17 122 016.