A crypto enthusiast, Whale Alert, has published some data on his Twitter account that shows several big XLM transfers – from 1 mln XLM – this took place after the global announcement that IBM is launching its Stellar-powered payment system and getting six global banks to use it with XLM as the bridge currency.
These large XLM transactions are not fake. The transfered amount is being transferred in segments of 10,000,000 XLM to the address below. It is not clear why it is being split up. https://t.co/h3VHhpZCKK

— Whale Alert (@whale_alert) March 19, 2019
Huge amounts of XLM transferred
In his tweet, Whale Alert writes that the first transaction totalled 1 bln XLM and was sent to an unidentified wallet on Wednesday, March 20. The second payment was made from the GDKI wallet to GDQP and was conducted by the latter.
This second transaction carried slightly over 1 bln XLM too and occurred virtually a few minutes after the first one.
Both transfers carried around $111-mln worth in XLM. The Stellar site claims that the GDKI wallet platform is the biggest XLM holder, storing over 43 bln XLM.
A Coinbase wallet involved
The wallet that received the first XLM transfer is located on the Coinbase exchange and at present it holds 39.9999 XLM. The wallet from where the transfer was made, GDKI, was made in early August 2016. Back then its XLM balance totalled over 47 bln Stellar tokens but has diminished since then.
XLM vs. XRP
The Stellar community has been so intrigued that it began suggesting various theories regarding the transfers.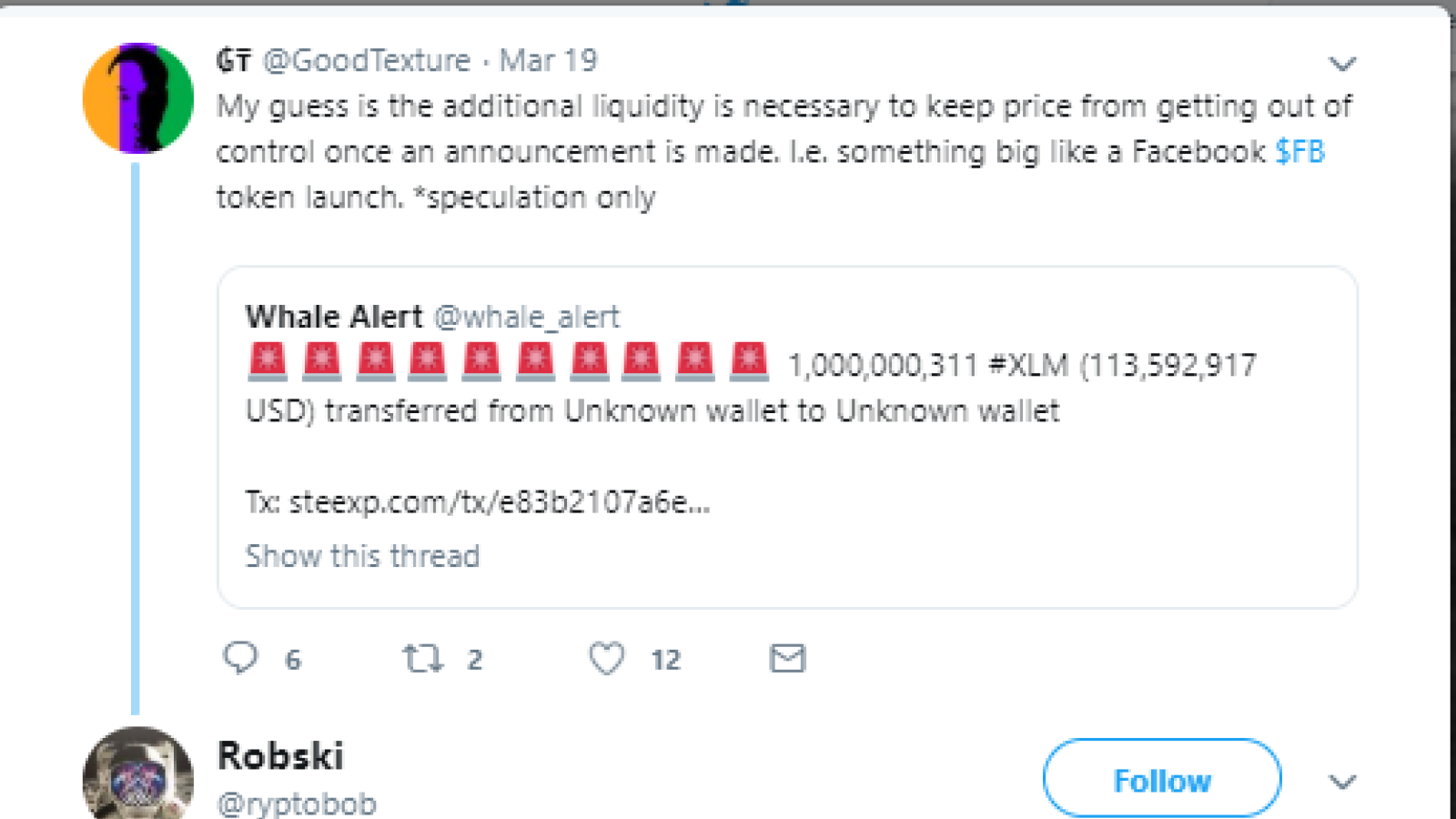 Stellar is a direct rival of Ripple and its XRP, so this move made by the global giant IBM and crypto heavyweight Stellar Lumens has got many crypto fans curious about which will finally get a massive adoption earlier: XLM or XRP.
XLM market stance
At press time, XLM is holding on to position #8 of the top-ten list. The coin is going for $0.1118. At the moment, Stellar is the only coin that is showing a drop among the top ten assets.