In a series of tweets on April 17, the controversial John McAfee, world famous for his love of global attention, announced that he is aware of who the real Satoshi Nakamoto is.
What is more, McAfee allegedly has been covering up his identity all these ten years, but now he has decided to speak the truth and save the world from Craig Wright and the rest of the self-proclaimed Bitcoin inventors.
I protected the identity of Satoshi. It's time, though, that this be put to bed. Imposters claim to be him, we are spending time and energy in search of him - It's a waste. Every day I will narrow down the identity of Satoshi until he reveals himself, or I reveal him.

— John McAfee (@officialmcafee) April 17, 2019
John McAfee knows everything about anything
The founder of the McAfee antivirus has become one of the most influential figures in the crypto space.
Previously, he was promoting ICOs and various dubious altcoins on his Twitter account, allegedly getting well paid for that. Besides, McAfee is a prominent Bitcoin bull. The crypto community has already forgotten his semi-joke promise of eating his penis publicly unless BTC hits $1 mln within the coming few years.
Still, the crypto baron seems to have found one more way to attract public attention – he claims to be aware of who the real Satoshi is. And he promises to reveal this person, unless he comes forward himself.
'Satoshi is a group of people'
The real Satoshi Nakamoto is a group of people, claims McAfee. However, the famous Bitcoin white paper was written by only one of them who currently resides in the US.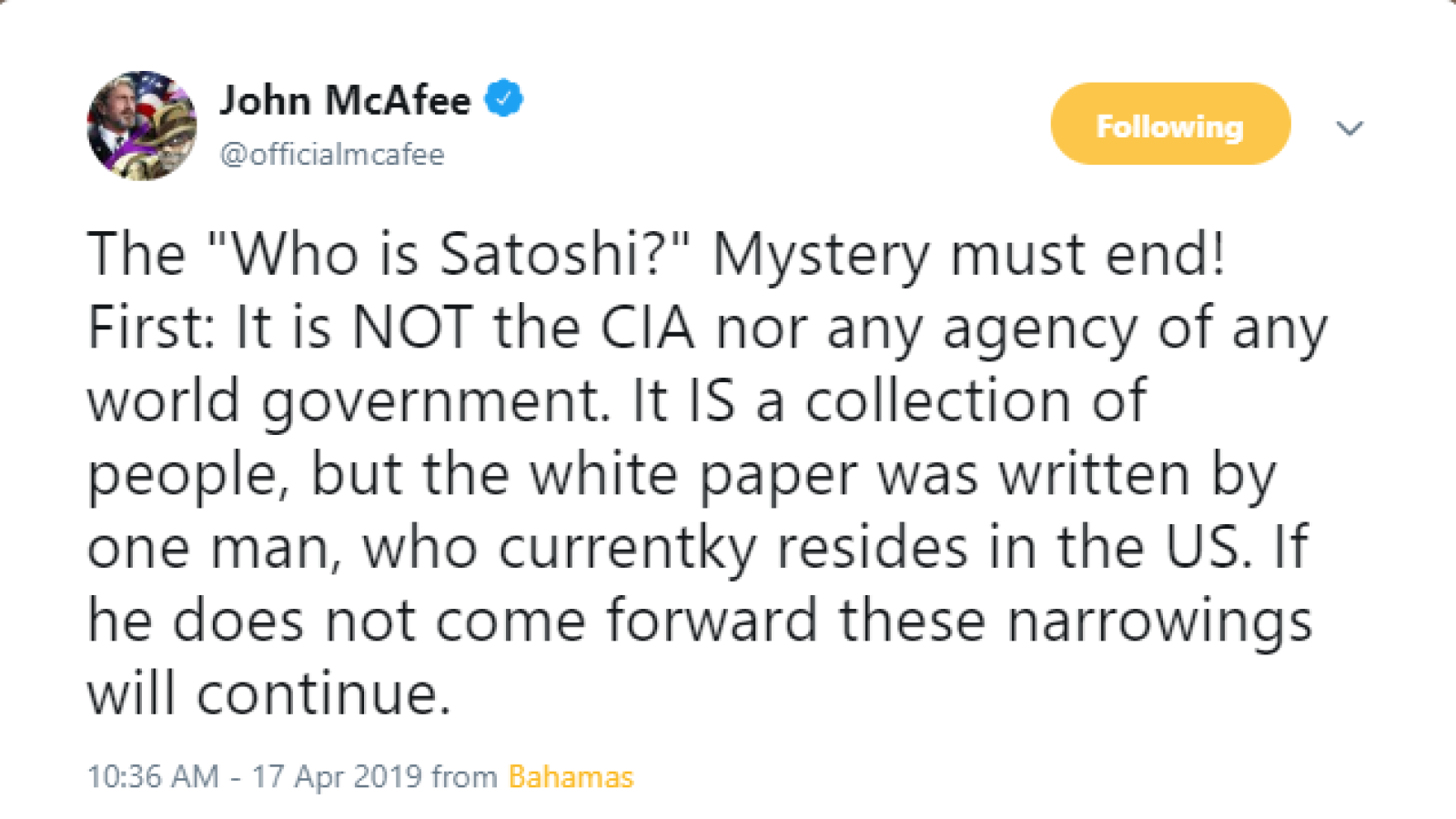 McAfee claims that dozens of people DM him on Twitter and email him, confessing it is them who are Satoshi Nakamoto and giving their reasons for staying anonymous. Still, McAfee insists that he knows the truth, asking all those pretending to be the Bitcoin inventor not to bother lying to him.
Community is longing for truth
McAfee's followers were quite fascinated by this idea and posted responses, encouraging the man to do it.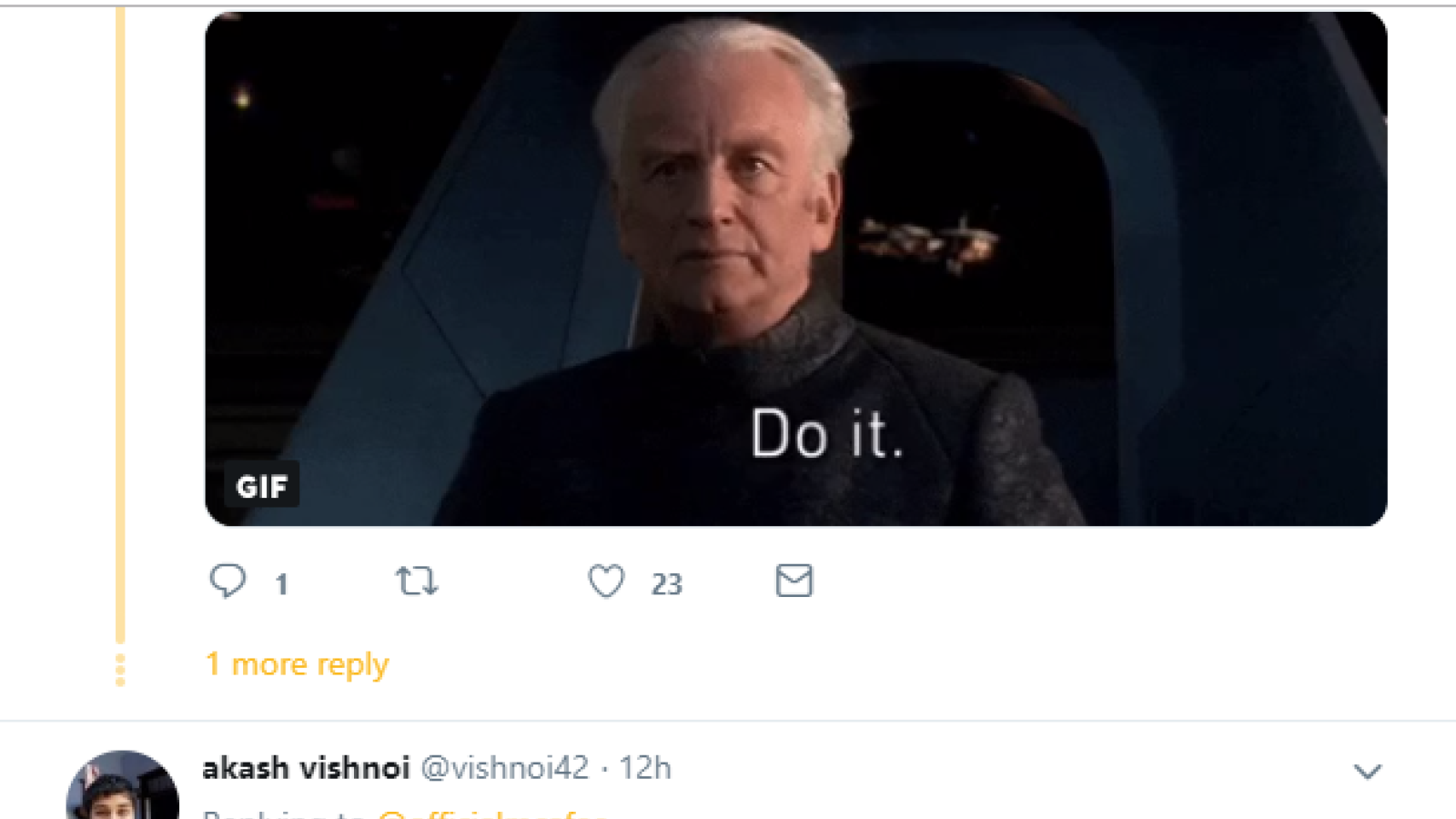 Some were in doubt, though, suggesting that the CIA or a governmental agency of another country would choose to get rid of the real Satoshi once his true identity is made public.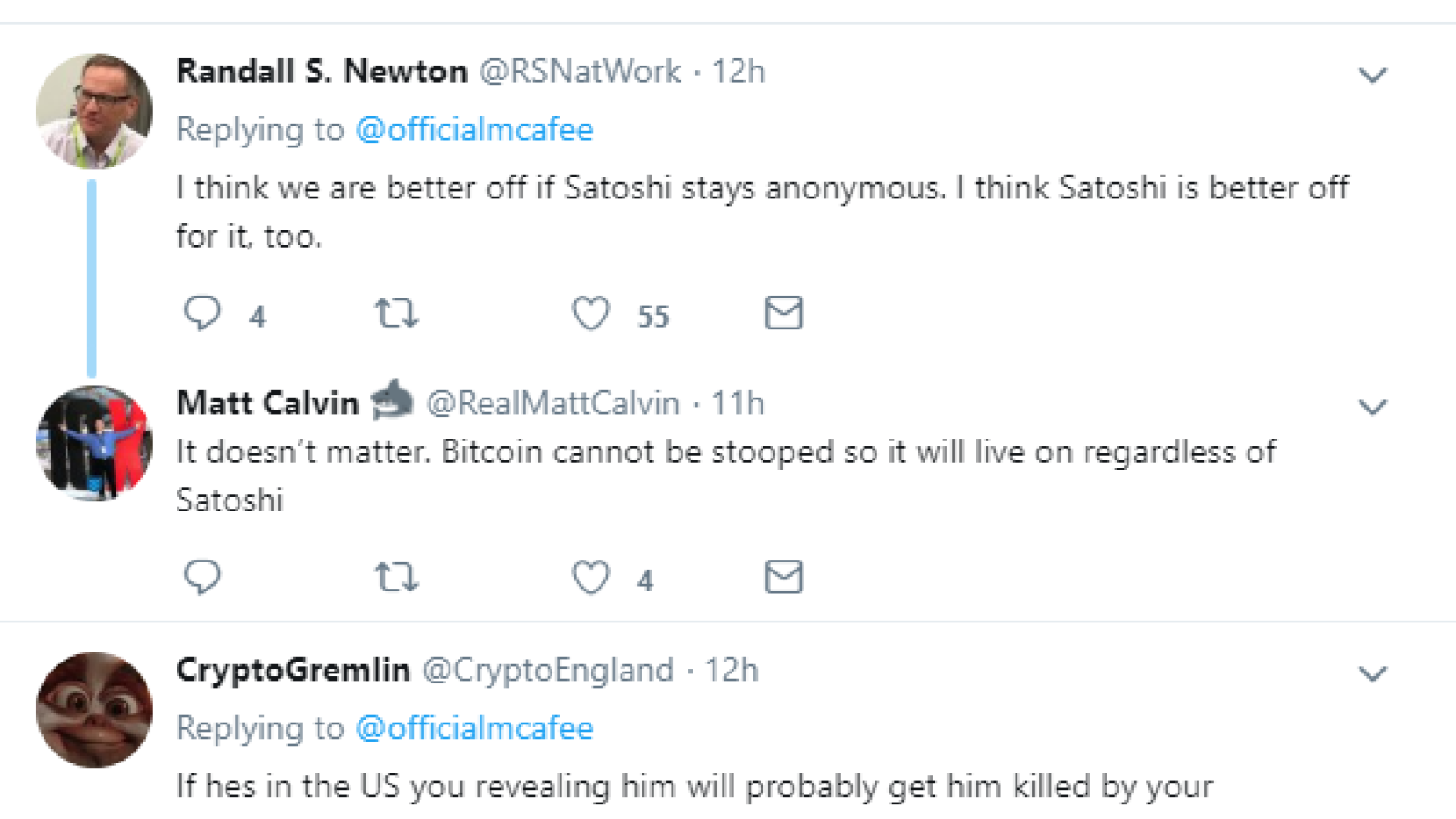 Prominent Tron supporter Misha Lederman has even made a Twitter poll, asking whether the appearance of the true Satoshi Nakamoto would be good for the crypto market. The majority has chosen 'no' so far.
Satoshi Nakamoto created Bitcoin 10 years ago.
Satoshi holds ~1 million BTC in wallets associated with the Genesis Block & holds the Private Key.

Do you believe that revealing Satoshi Nakamoto's identity would be positive for the long-term growth of Bitcoin & cryptocurrencies???

— Misha Lederman (@mishalederman) April 17, 2019
To sum up
McAfee is at war with the SEC and the IRS. Last year, he claimed that attempts to assassinate him took place. This year, he is running a pre-election campaign to become US president, competing with Donald Trump.
You cannot be sure, however, that this announcement by McAfee and his promise to unveil the real Satoshi to the world isn't yet another attention grabber while he runs his presidential campaign.