Fundstrat boss Tom Lee, who also happens to be a Bitcoin permabull, has recently posted a Twitter poll where he asks his followers what Bitcoin's golden cross means for the coin's price. At the time of writing this article, 42 percent of poll responders are certain that we are dealing with a bullish sign.
SURVEY: Bitcoin golden cross (50D crosses above 200D) today.

What is your reaction to this Golden Cross

— Thomas Lee (@fundstrat) April 23, 2019
A golden breakout?
As reported by U.Today, Bitcoin reached its highest point this year, finally breaking above the $5,500 level. Notably, on the same day, the king of crypto formed a bullish golden cross for the first time since 2015, when BTC was trading at $250. Back in that day, it marked the beginning of the bull market that lasted up until December 2017 with a whopping 8,000 percent price increase.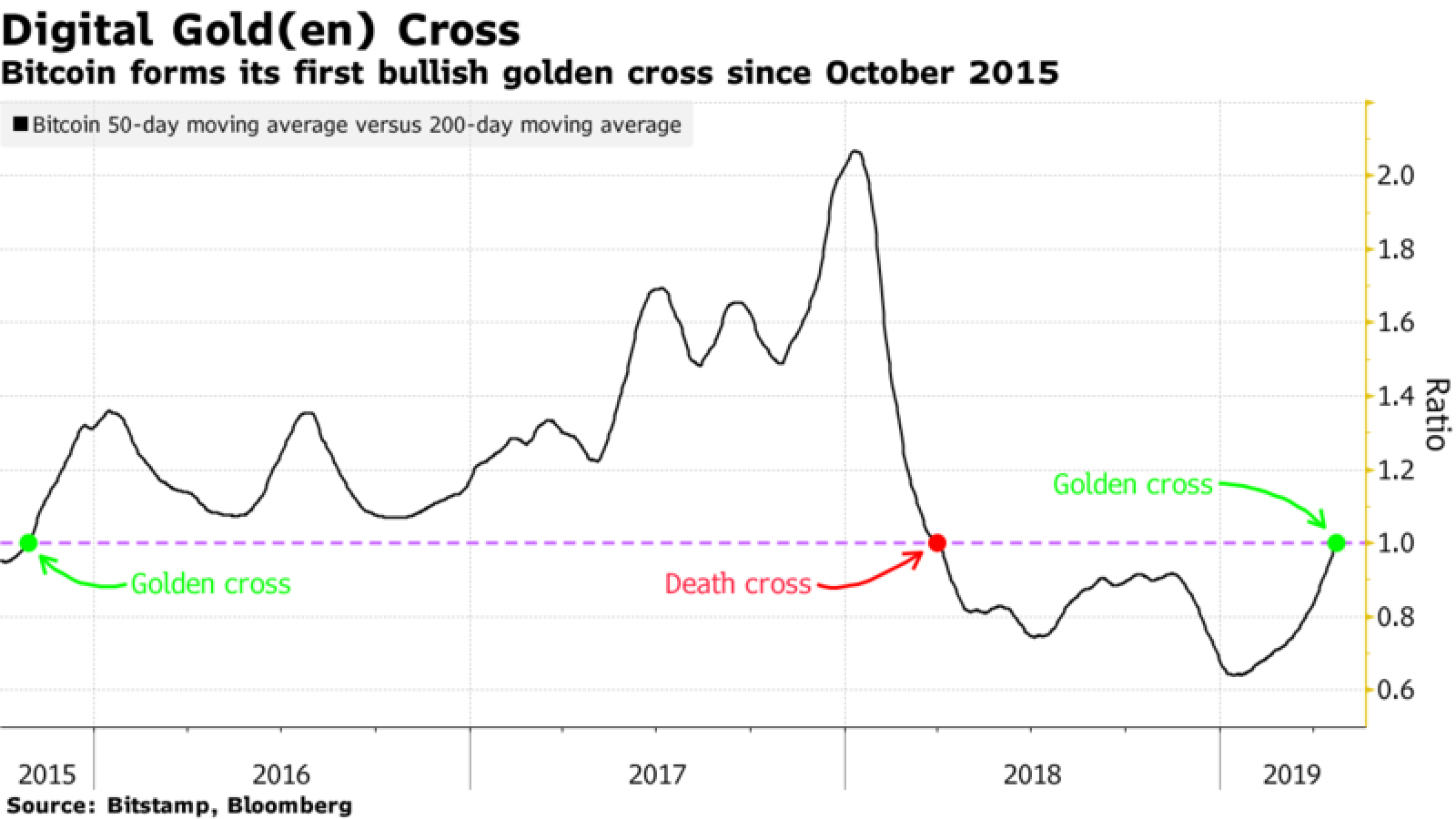 A golden cross is a candlestick pattern that appears when the 50 DMA rises above 200 DMA of a certain asset. It is usually treated as a bullish indicator. For example, as CNBC reports, the NASDAQ has already experienced 'a golden breakout' 16 times since 1980 (the indexes would rise the following month).
A calculated bull run
Meanwhile, after the most recent price uptick, CNBC's Ran NeuNer claims that it's not too late to buy Bitcoin. Moreover, he believes that the next bull run will be more 'calculated' in sharp contrast to the previous one that was driven by price speculations.
It's not too late to buy Bitcoin.

— Ran NeuNer (@cryptomanran) April 23, 2019
This bull run,though more controlled /calculated, is way more encouraging than the last one. Last time it was based on hype and irrationality- this one is less hype and much more about the fundamentals ,tokens that actually have use cases and are being used are rising to the top.

— Ran NeuNer (@cryptomanran) April 23, 2019