Bitcoin has been holding around $8,000 for a couple of days now, with a few coins from the top ten line following at a high speed. Ethereum and Ripple's XRP have been top gainers. Now, Stellar has joined them and is leading the way with its over 22-percent rise.
Top gaining coins that rush after Bitcoin surge
Over the last month, Bitcoin has been up a whopping 58 percent and is now circulating around $8,000. Since the end of last week, BTC has appreciated by more than $2,000. Ethereum and Ripple were also pumping, however, now the highest appreciating coin is Stellar Lumens (XLM).
On Wednesday, XRP grew nearly 15 percent, reports Forbes, Ethereum added nearly 12 percent. Over the last several days, they have both reached new highs since the year began.
However, at press time, CoinMarketCap data shows that XRP is slightly up over 5 percent and Ethereum is demonstrating a nearly 15-percent rise. Stellar Lumens is up a staggering 22.43 percent at the moment.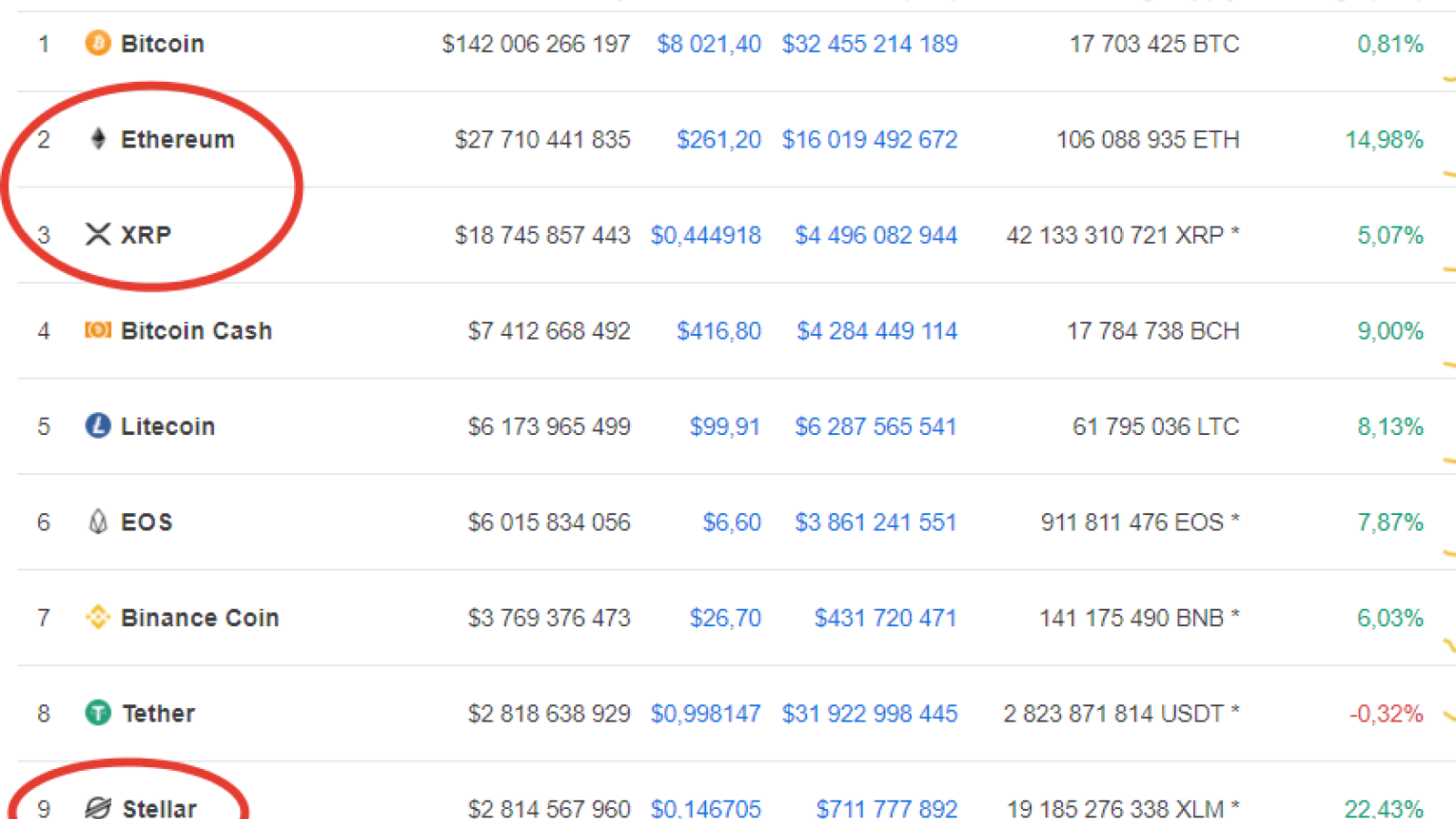 XRP, ETH always follow Bitcoin upwards: Analyst
For the last 24 hours, Bitcoin has been trading in a flat. XRP's rise has become slow, as was mentioned above. Some crypto analysts believe that retrospectively, ETH and XRP generally surge once Bitcoin's price soars.
As per Forbes, analysts are trying to find the reason behind the recent surge of Ripple's XRP, mentioning that it did not join the rising altcoins immediately, according to Mati Greenspan from eToro. One of the possible reasons is Coinbase recently granting New Yorkers the ability to trade XRP and its current expansion to 85 new countries.
On May 15, the XRP price hit a new high of $0.43, currently trading at $0.44.
Ethereum saw momentum after its co-founder Joseph Lubin and BTC developer Jimmy Song made a bet worth $500,000 in crypto that Ethereum-based dApps would get a significant number of users in five years' time.
The massive growth of Stellar can be explained by plans of Paysend Group to release a stablecoin on the XLM network. The asset is promised to launch in June.
McAfee on Ethereum
In a recent tweet, John McAfee shared his opinion of Ethereum in response to numerous requests. In his traditional peculiar manner, he explains that he dislikes Ethereum because the title has more than one syllable and due to the fact that Vitalik Buterin looks 'underfed'.

John McAfee is famous for his long-time support of Bitcoin, although he did promote various altcoins and ICOs actively on Twitter last year. Allegedly, he was paid for that.
Folks asking my opinion of Ethereum:

Well . . .. Frankly, I prefer one syllable coins and am not fond of Ethereum's spelling. Additionally, many of my friends who hold Ethereum dress oddly. And, of course, Buterin looks underfed to me. But do not take this as investment advice.

— John McAfee (@officialmcafee) May 15, 2019