One more top employee of the San-Francisco-based Coinbase exchange, one of the biggest in the world, resigns her position at the crypto trading company and joins a crypto startup.
Vaishali Mehta, who used to be the top compliance officer at Coinbase, joined TrustToken in December. The latter is the maker of the TrueUSD stablecoin, which has been on the news a few times recently.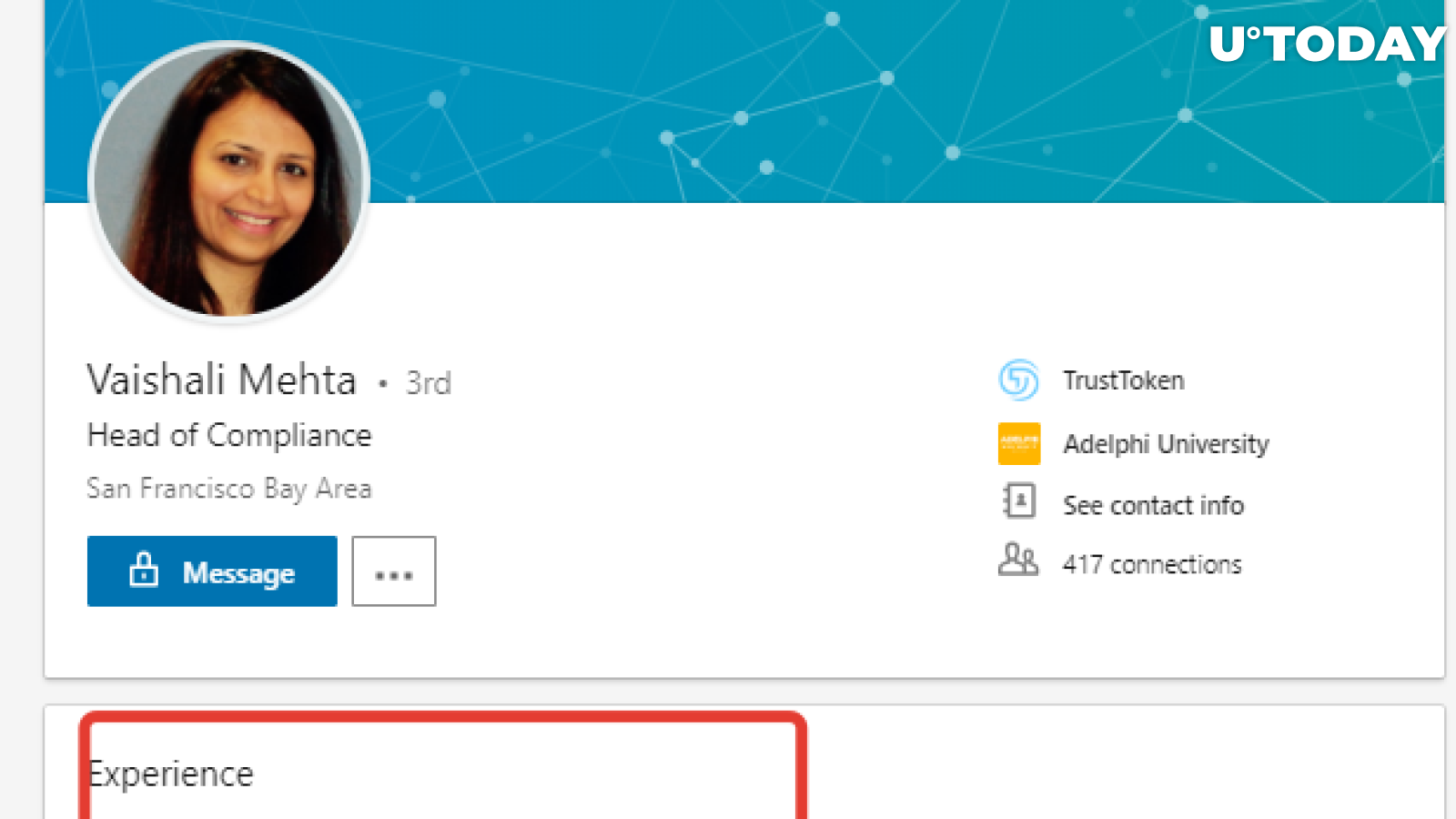 From a top bank to crypto
Vaishali Mehta once worked for Deutsche Bank, supervising its BSA/AML department. The person is among the highest-ranking executives who have quit Coinbase over the last several months.
Previously, U.Today reported that Michael Lempres, the Chief Legal & Risk Officer, who had worked for the exchange for over a year, left it to join a venture investment company Andreessen Horowitz. That was in November 2018. Unlike him, Mehta remains in the crypto industry, she has just changed the direction a little.
Earlier still, in October, Adam White gave up Coinbase to join the crypto trading company Bakkt, initially launched by the parent company of the New York Stock Exchange. About the same time, the chief of the trading department of Coinbase also quit his position.
TrustToken platform and TUSD
In 2018, the new employer of Mehta managed to achieve some significant milestones. In early spring, it released a USD-backed stablecoin TrueUSD (TUSD), which now holds position #28 on the top-30 list of crypto assets. As of Thursday evening (January 3), the TUSD market cap value went over $200 mln.
After launching TUSD, TrustToken managed to collect venture funding totalling $20 mln by making a token sale. Among the investors was Andreessen Horowitz, the company for which the aforementioned Michael Lempres left Coinbase.
In December 2018, TrustToken managed to successfully pass an audit by Zeppelin and Certik SlowMist regarding the security of its smart contracts. As per the company's reps, the US dollars the stablecoin is backed with are kept in various third-party trust companies in different U.S. states.
TUSD was one of the stablecoins made as a rival to the most popular stablecoin Tether (USDT), which in autumn 2018 seemed to have serious problems with its banking partners along with the Bitfinex exchange, which shares the top management team with Tether.
Back then, USDT nearly lost its correlation with the US dollar having dropped well below its rate. However, later the stablecoin recovered its market position along with the trust of the crypto community.