The Binance Charity Foundation (BCF) plans to take another step towards supporting the global crypto community, but now it targets the female part of it in particular.
BCF sets up a global alliance
In a recent blog post, the Binance branch that deals with philanthropy has spread the world about making an alliance with 46 companies and organizations around the world to create a token to support the health of billions of women on the planet.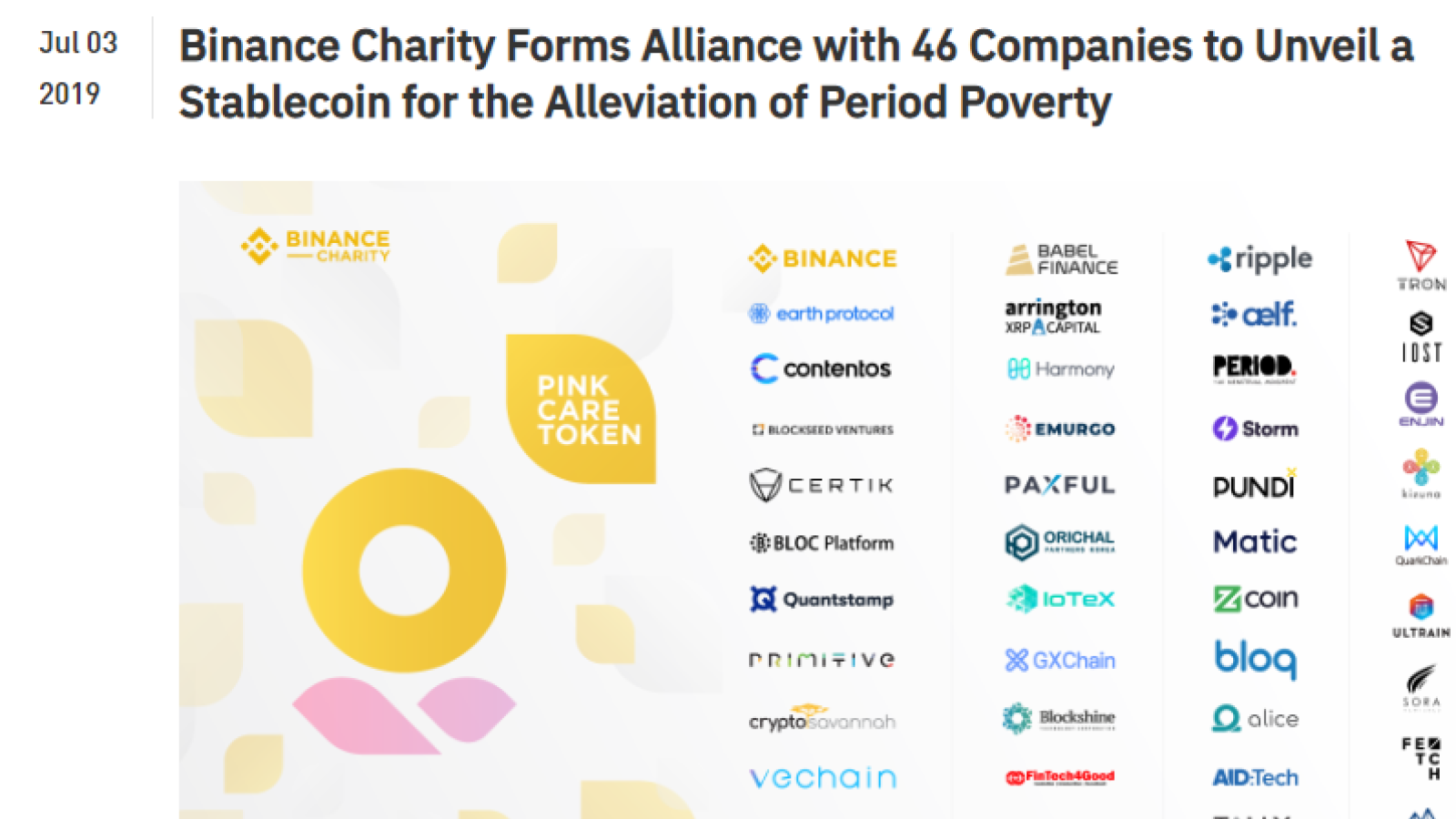 Among the companies BCF intends to work with is the crypto heavyweight Ripple, Tron, Quantstamp and other companies. The token they are planning to create and launch is called PCAT – Pink Care Token – and it will be aimed at providing medical accessories for women in third-world countries.
Support @binancebcf's #PinkCareToken project and fight #periodpoverty. @_christychoi @Rachelwolf00 @katherineykwu will you take the challenge and post your photo in the same pose? Spread the love and donate to https://t.co/eu0UXbmTb0, Help 1 million young women live with dignity. pic.twitter.com/xJYLD2O67U

— Ella Zhang (@ellazhang516) July 4, 2019
A 'Stable' coin?
This will be a redemption-only coin made on the Binance Chain, one may even call it a stablecoin, since it will be pegged to some physical assets. But not fiat as it is usually done – it will be backed by a year's supply of sanitary pads that women in the developing countries have a great lack of and demand for.
The first release of PCAT and the pads it is backed with, will be made later this month in Uganda – the country that Binance Charity Foundation seems to have chosen as its favourite venue.
Previously, the media reported that BCF had arranged sponsorship for providing local schools with BNB to buy students and staff lunches as part of the "Binance for Children" program.
Both Binance's CZ and Tron's Justin Sun, who usually collaborate on Binance's charity projects, have written on their Twitter pages that this project will be of great help to women suffering from lack of everyday necessary accessories and will prove that the crypto world cares about them and indeed aims to change the world.
.@Tronfoundation and @BitTorrent is proud to join #PinkCareToken alliance with @binancebcf to support sanitary pads to address #periodpoverty. Donate to https://t.co/94AJp4EsT2, Help 1 mm young women! @SatoshiLite @VitalikButerin @officialmcafee Follow me and take a selfie. pic.twitter.com/G8C2JIrE9X

— Justin Sun (@justinsuntron) July 4, 2019