Binance — From an ICO to the world's biggest exchange
While the majority of Chinese exchanges have failed to reach a global audience, there is one very prominent exception: Binance, the largest exchange in the world by trading volume.


Changpeng Zhao (better known as CZ) is the mastermind behind this Chinese exchange. It is worth mentioning that he already had certain trading experience before founding Binance — he started his already impressive career by building trade engines at the Tokyo Stock Exchange. After CZ found out about the existence of Bitcoin in 2013, he started working for a slew of crypto-oriented projects, including Binance's present-day rival OKCoin, but then he eventually decided to start his own crypto-only exchange.
In order to raise funds for the new Binance exchange that was supposed to become a leader in the crypto-to-crypto niche, CZ conducted a fairly successful ICO, raking in $15 mln. Investors were rewarded with the Binance Coin (BNB), the native token of the Hong Kong-based exchange.
Despite China's crackdown on cryptocurrencies, Binance has managed to enjoy monstrous success against all odds. It literally had to temporarily suspend registrations because of incredibly high demand. As of now, CZ-led Binance records daily trading volumes that exceed $1 bln. Such a big volume is partially attributed to the huge speed of transactions on the exchange. Binance is able to process up to 1.4 mln orders in a single second. Still, CZ keeps it humble.
"As for us, we try very hard to not be number one all the time, because being number one creates other problems sometimes, especially with regulators.'' – CZ
Now, Binance exchange is expanding globally, landing partnership after partnership. It is worth mentioning that Binance exchange has already set operation in Malta, Singapore, and other countries. That being said, it is important to determine whether the exchange lives up to this immense hype.

Apart from English, Binance exchange — an East-oriented exchange — also supports Chinese, Korean, and Japanese. Given CZ's ambitious plans to create a truly global digital asset trading platform, more languages are expected to be added in the future.
Setting up an account
Let's jump right into the signup process on Binance!

The process of purchasing cryptocurrency is rather straightforward. In order to create your Binance account, click on the top right corner where it says "Register". After that, you have to fill in all the necessary information. Complete the captcha by scrolling the puzzle to the missing position, and look for an email in your inbox.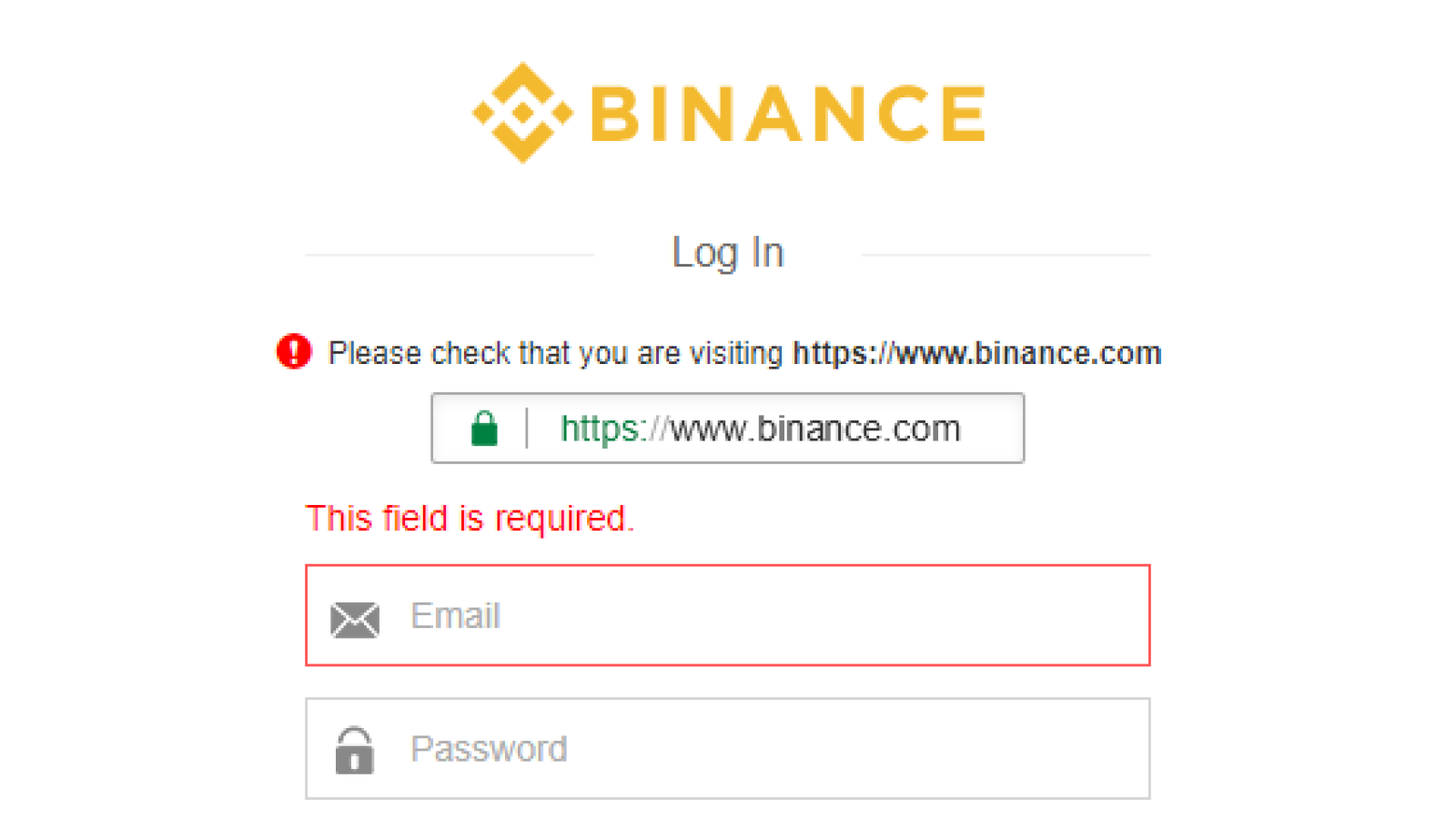 Then, simply log in to your account. You will see a pop-up window that asks you to enable 2FA on Binance (you have to download an application and scan a QR code).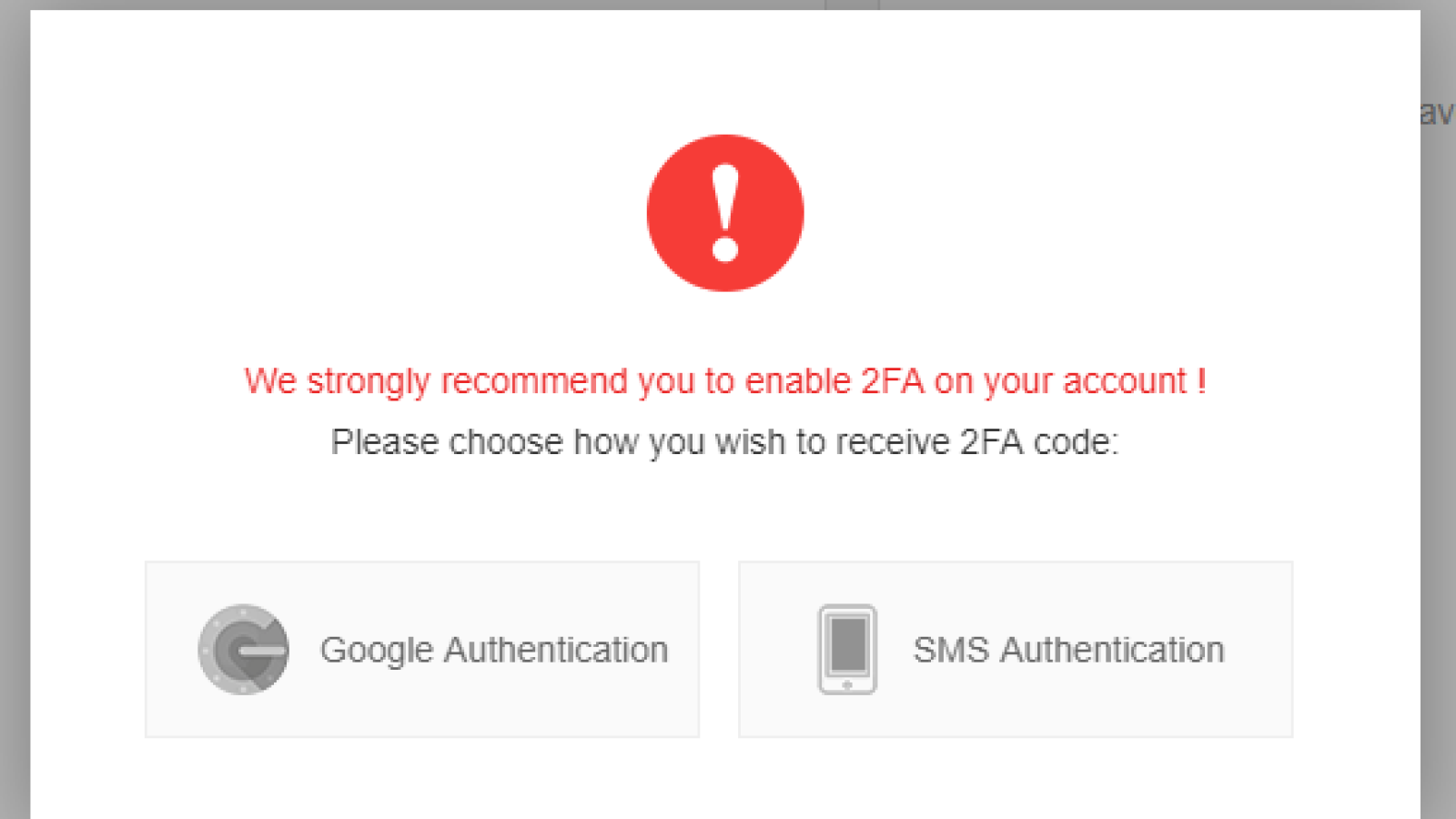 As you can see, the registration process for the exchange is very simple and straightforward. In fact, you are already able to withdraw up to 2 BTC from Binance even without confirming your identity.
Depositing Cryptocurrencies: What are the available payment methods?
Since this is a crypto-to-crypto exchange, cryptocurrencies remain the only available payment method on Binance. In order to buy altcoins, you have to buy Bitcoin or Ether on Coinbase (or any other fiat-to-crypto exchange first). Most of these assets are traded against these two currencies, so it makes sense to deposit them first on the Binance exchange.

Once you see the list of coins, simply click the "Deposit" button.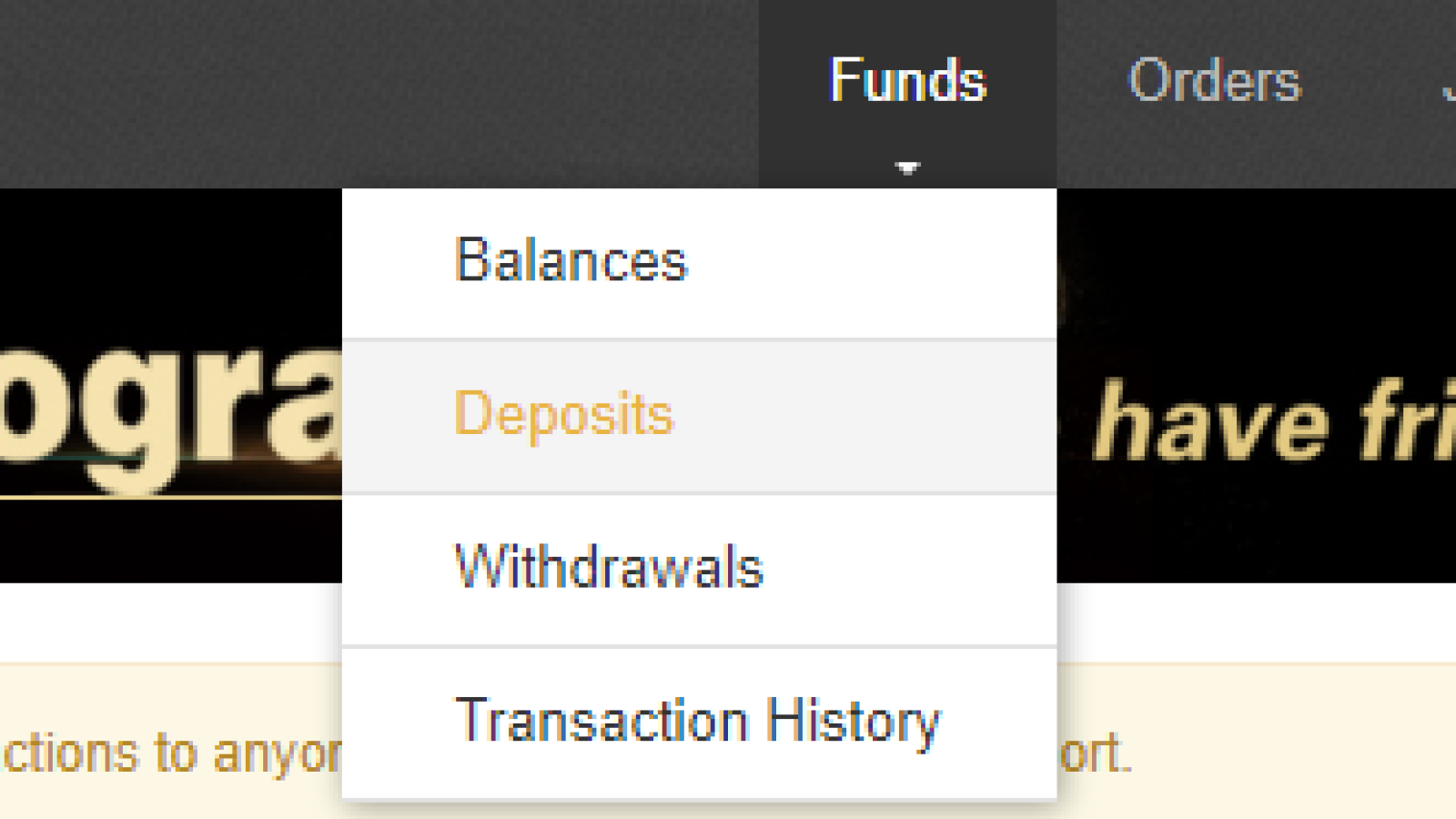 You have to know your Bitcoin address in order to be able to deposit money into Binance. Simply copy the Binance address and deposit funds from your ordinary wallet (the same modus operandi applies to Ethereum, Litecoin and plenty of other assets).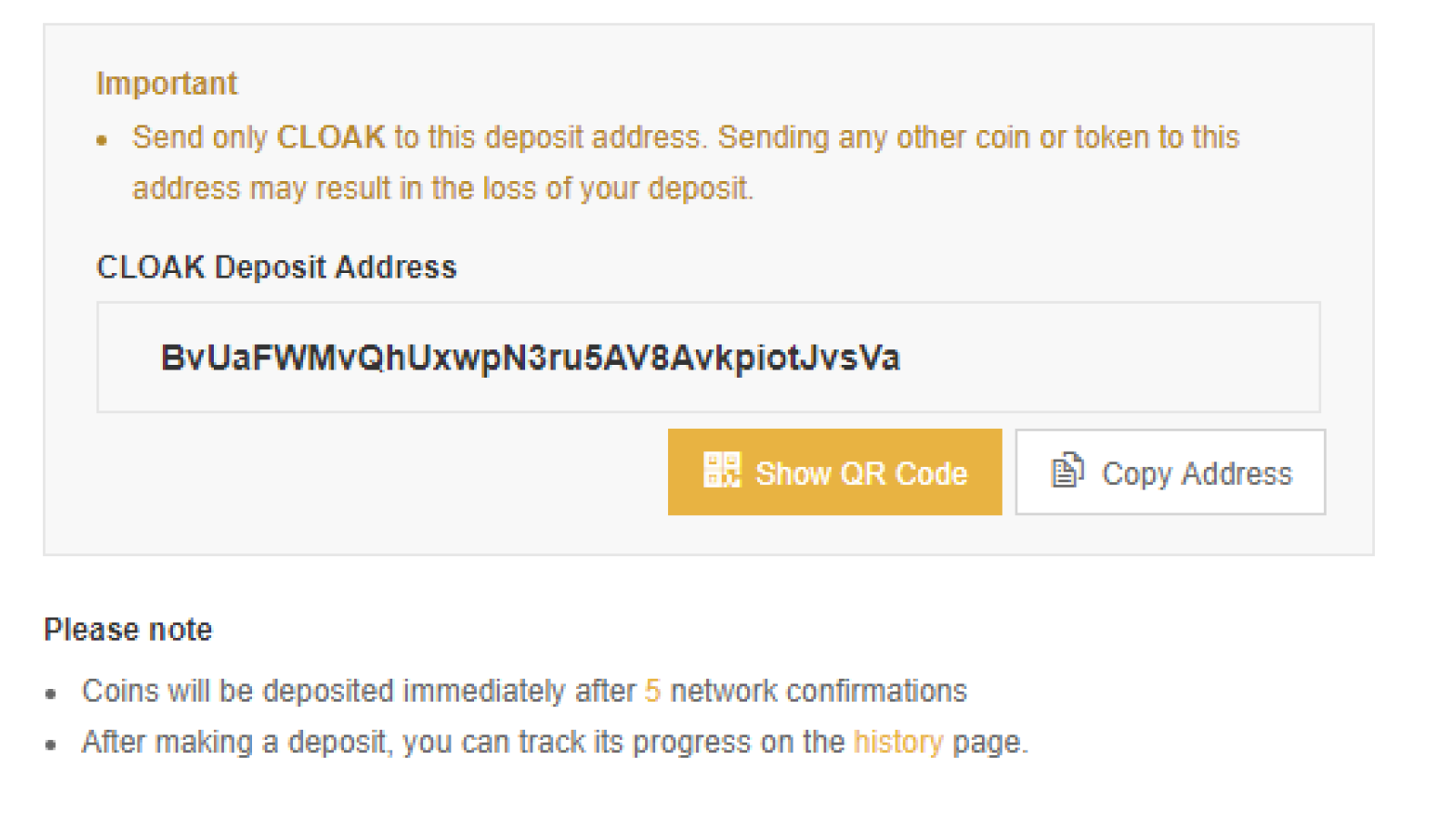 NB: The funds won't be available in your account instantly! It may take up to a couple of hours until your money gets deposited to your Binance account from another exchange, but you will be getting your coins in a snap after five network confirmations.
Purchasing Cryptocurrency: Buy Bitcoin, Ethereum or any altcoin!
In order to buy crypto on Binance, you have to go to the "Exchange" section and choose the "Basic" option in a drop-down window. Once you've done that, enter the ticker of any cryptocurrency of your choice in a search box to select a corresponding trading pair (most assets are traded against Bitcoin or Ethereum).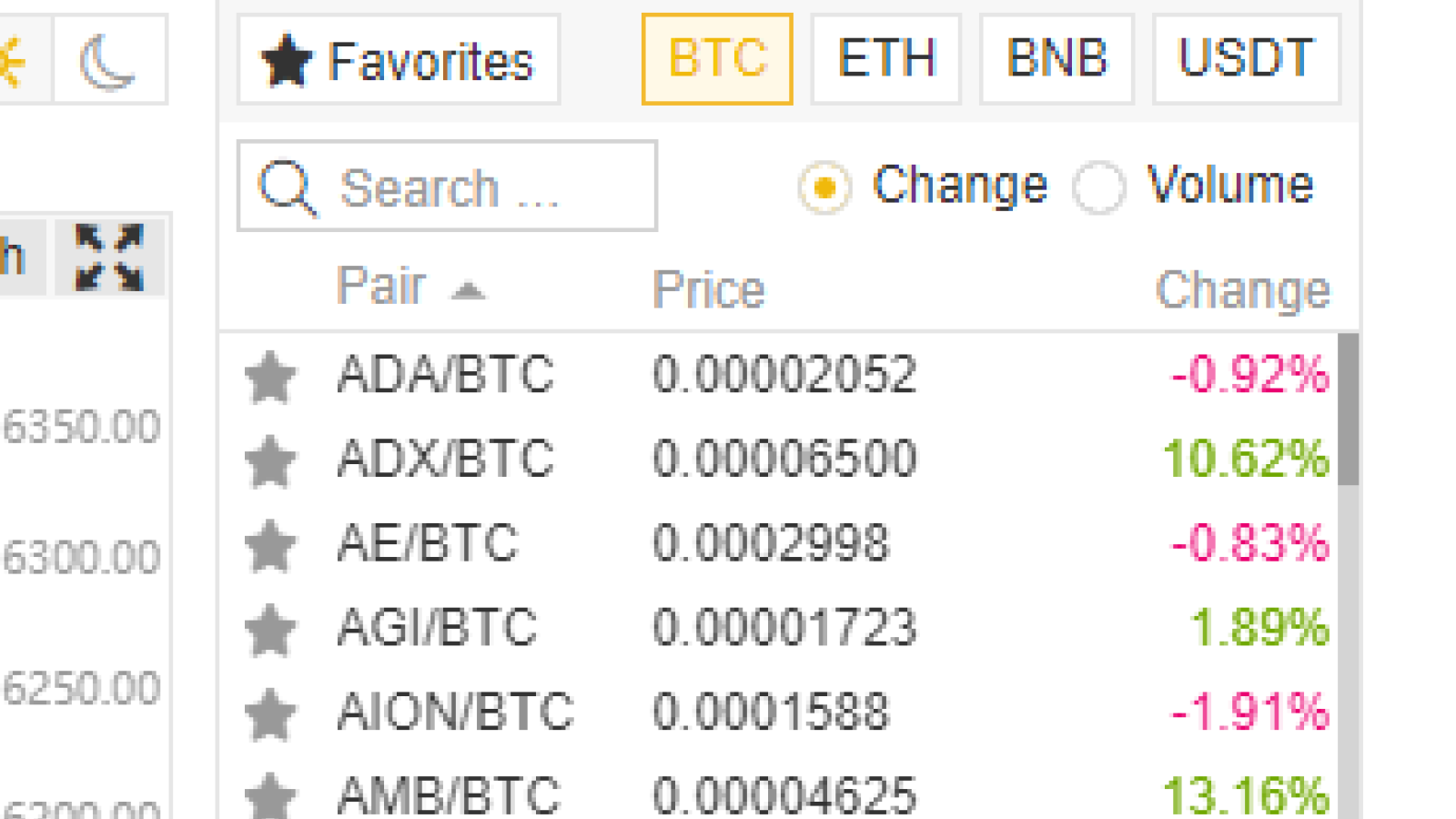 Select this trading pair in order to see a candlestick chart that displays the most recent price fluctuations pertaining to a certain cryptocurrency that is listed on the Binance exchange.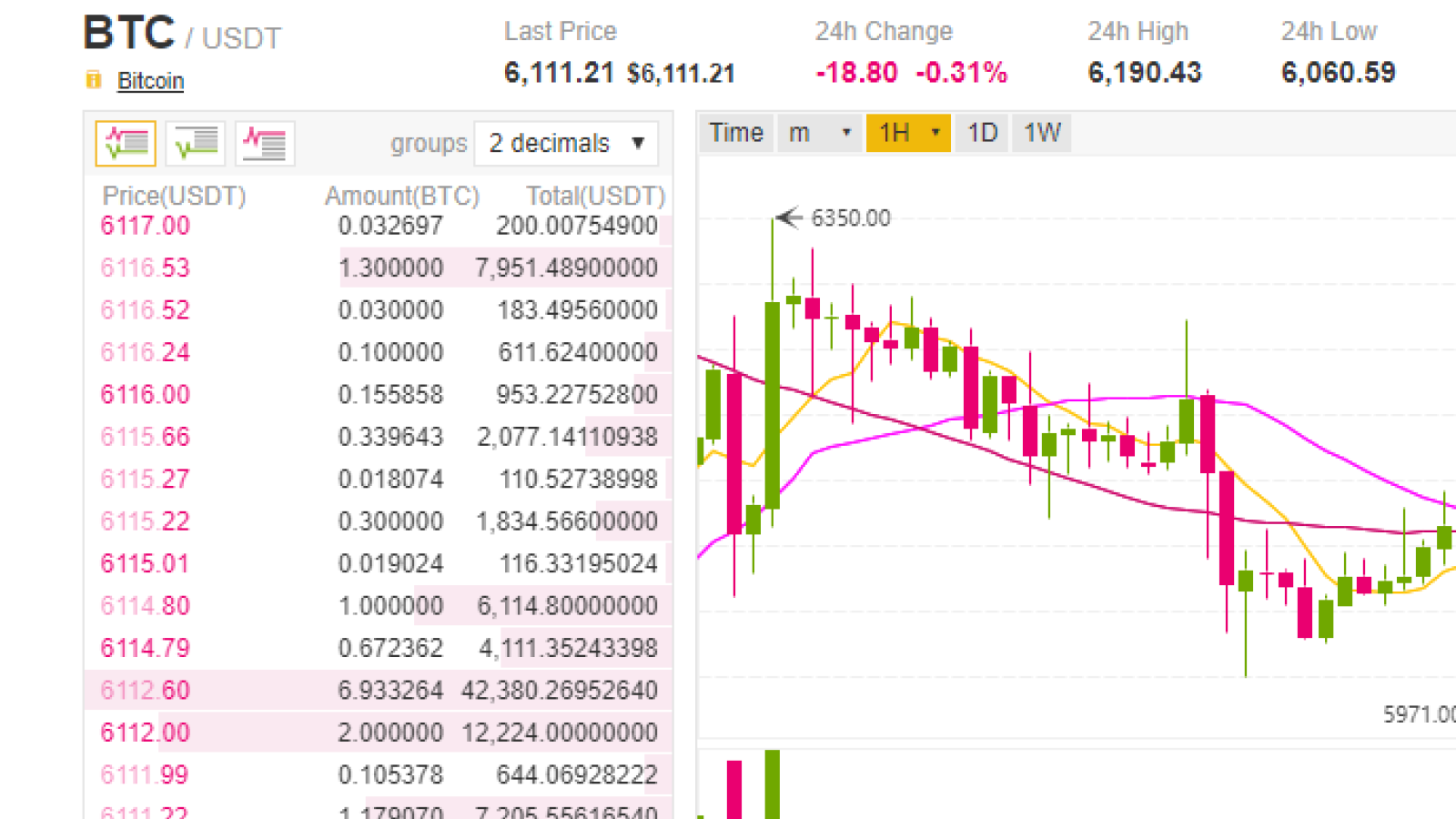 If you are willing to purchase crypto on Binance, there are two available options on the exchange: a market order and a limit order. Buying any cryptocurrency at a current market price on Binance presupposes the creation of the market order. Meanwhile, the limit order allows buying (or selling) coins at a specific price without the need to constantly monitor the Binance exchange.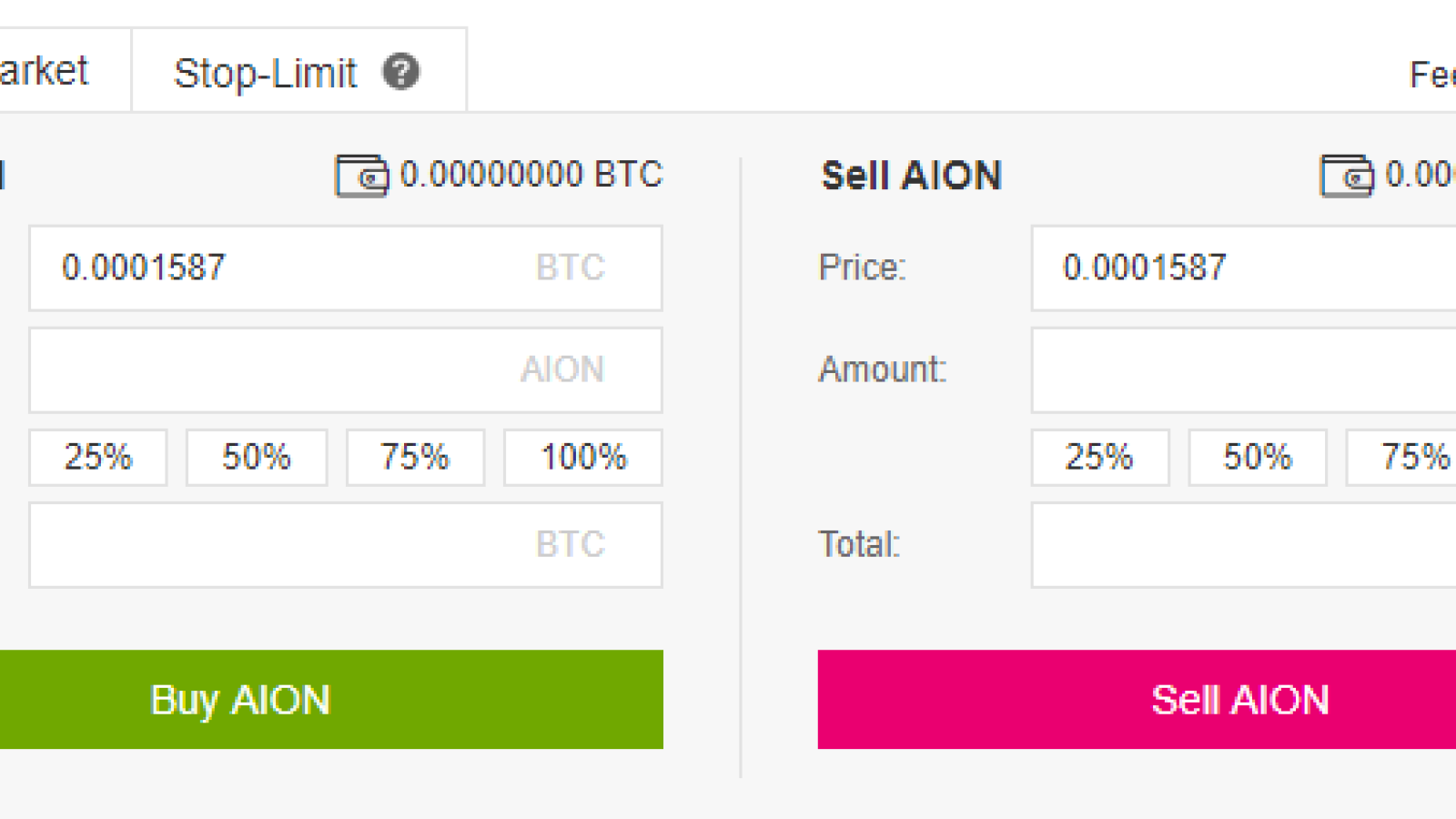 Trading Fees
There is a flat trading fee on Binance that is set at 0.1 percent. Back in July, Binance launched a new trading fee discount program that ranks users based on their trading volumes and the current BNB balance. As the table below shows, maker fees and taker fees can be reduced to 0.02 and 0.04 percent respectively. Obviously, even the minimum discount remains a pipe dream for run-off-the-mill Binance traders since your monthly trading volume has to exceed 100 BTC ($641,833 at the time of writing this article). Meanwhile, the highest VIP 8 level on Binance remains an exclusive Bitcoin billionaire club since 150,000 BTC is very close the $1 bln mark (it's very questionable whether the biggest crypto whales can boast such enormous trading volumes on the exchange).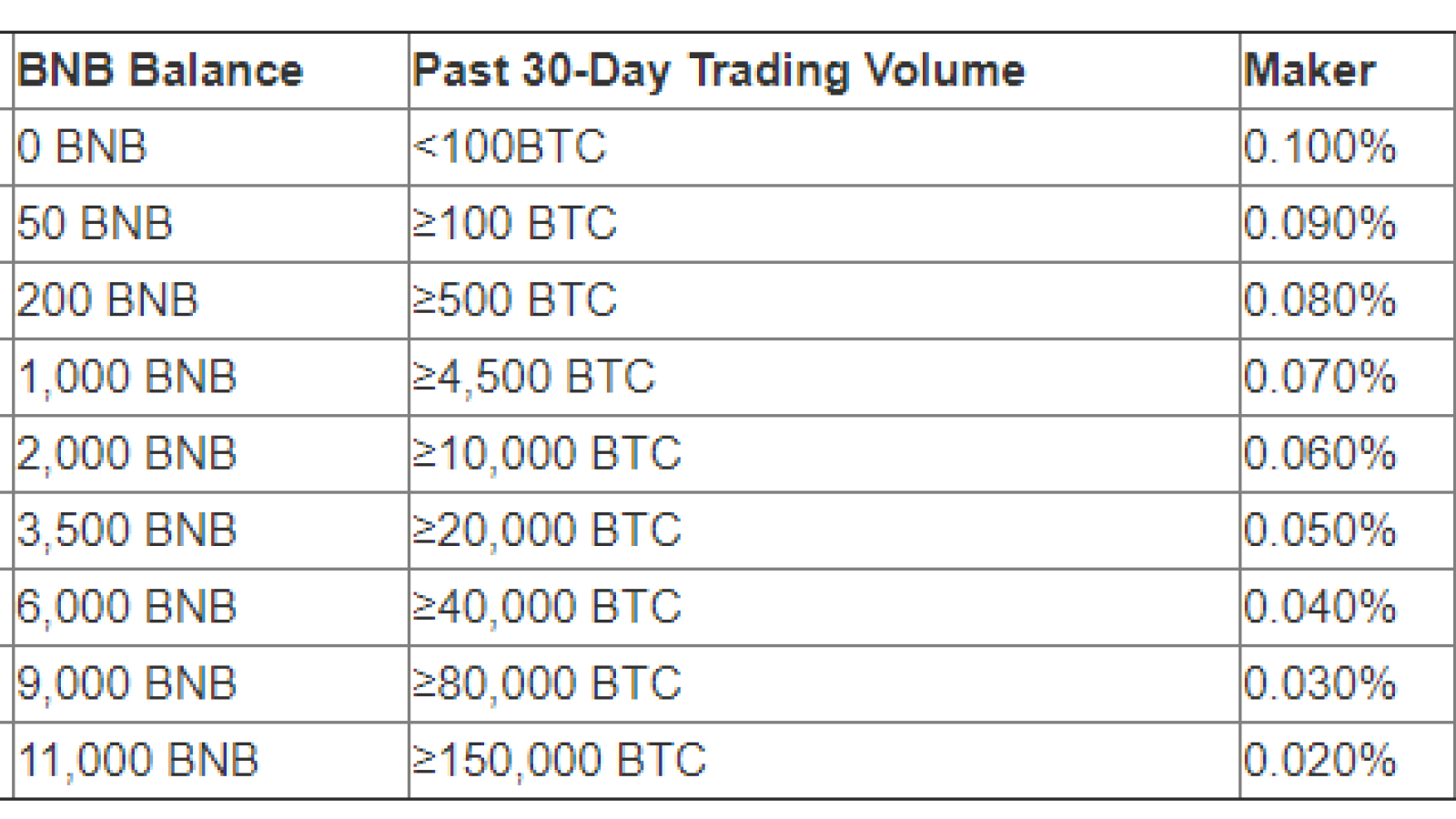 There is also a 25 percent discount on all trading fees paid in the BNB token (according to Binance's white paper, this discount will dwindle each year until it completely disappears in 2021).

Deposits do not incur any additional payments, but there is a withdrawal fee that depends on the digital asset of your choice (some digital assets in the likes of NEO do not presuppose any withdrawal charges on the Binance exchange).
Transaction Limits
Given that Binance is a crypto-to-crypto exchange, you cannot deposit fiat currencies. However, when it comes to crypto, you can deposit an unlimited sum of digital assets. Still, there are withdrawal limits in place that directly correlate to your verification level on the Binance exchange.

If you want to break the chains of the 2 BTC per day limitation, you have to go through the Binance verification process. In order to reach Level 2, you have to enable 2FA (that is a mandatory requirement on every exchange that helps to enhance users' protection). After that, you have to complete your KYC verification by submitting your personal information to the Binance exchange (name, address and a photo of your ID).

Once you've done that, you are free to send up to 100 BTC to your wallet on a daily basis. Notably, the verification process on the Binance exchange is significantly less invasive compared to other exchanges since only the photo of your ID is required to seal the deal.

High-dollar investors are able to withdraw even more than that, but they need to contact Binance's customer support if there is such a necessity.
Security: Is there any reason to be worried about your coins?
It is absolutely clear that the ability to build an extensive user base in such a short span of time stems from establishing a high level of trust. Unlike an armada of other Chinese exchanges that are often associated with fake trading volumes and other shenanigans, Binance seems like a robust trading platform. Does Binance really offer top-notch security?
Unlike Coinbase, a leading fiat-to-crypto exchange, CZ-led Binance doesn't provide enough information on how it is supposed to secure the funds of its clients, which might be concerning for some Binance investors. One would be naïve to assume that Binance, the biggest exchange on the market that is expected to rake in $1 bln even amidst the crypto rout, would not take its users' safety seriously. On the flip side, the infamous Mt. Gox fiasco proves that no one is too big to fail in this fledgling industry, and Binance could see the same fate.
In fact, Binance almost suffered from a major phishing attack back in March. The hackers collected users' logins for months with the help of scam websites in order to steal their funds. All altcoins from Binance users' wallets were converted to BTC, but then they were stymied by the withdrawal process. Since these individuals started pumping Viacoin beforehand, they turned out to be the only ones who lose funds while the attack itself had been effectively prevented by Binance.

NB: Always check the website address before entering any sensitive information that could compromise the safety of your Binance account!
Furthermore, there are numerous security features that will help you to enhance the protection of your Binance account: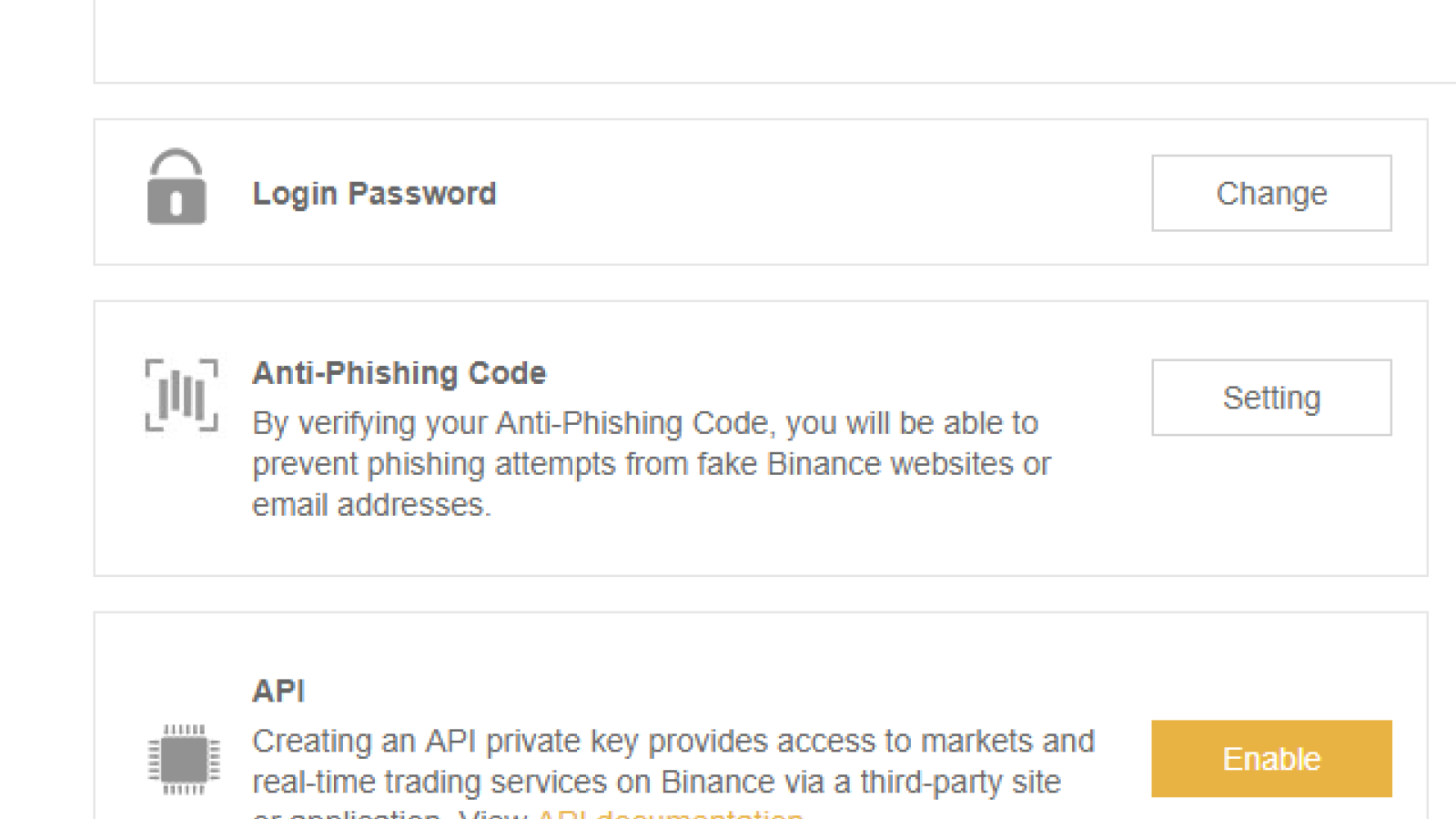 Speaking of the regulatory side of this issue, one has to point out that Binance is not registered in the US, which essentially means that the exchange doesn't have to comply with SEC's policies.

Back in September, U.Today reported about an explosive report of New York Attorney General Barbara Underwood who states that Binance, along with some other big-name exchanges, do not protect their users properly from manipulations. That doesn't necessarily mean that Binance broke the law — the watchdog simply requires more clarity on investor protection.
Customer Support
The success of a certain exchange largely depends on how responsive its customer support is. HitBTC, for instance, provides its users with disastrous feedback despite also being one of the leading exchanges. Speaking of Binance, there is also room for improvement since the exchange doesn't feature live chat support — a very convenient tool if there's a need for a quick reply. Moreover, Binance users do not have the ability to contact the support team over the phone.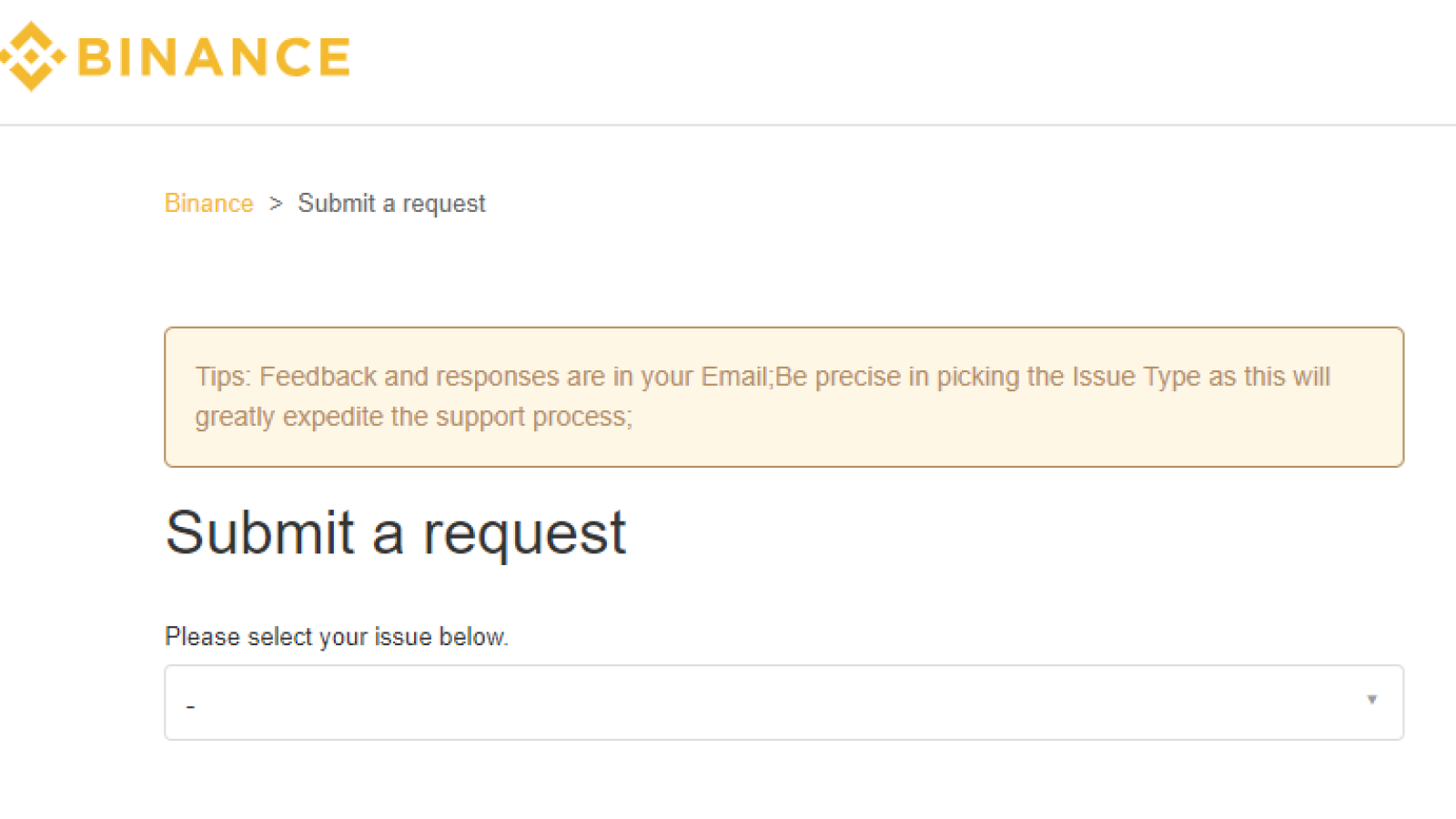 One can leave a request on their website and wait for a reply that is sent to his/her email address. Since Binance is positioned to become a global exchange, there is a multilingual customer support. However, Binance is usually criticized for a long response time (it usually takes three days for Binance's staff to answer the request). Still, Binance has a good social media presence: it has more than 880,000 followers on Twitter alone, and CZ himself often tweets too, keeping Binance's user base constantly engaged.
Pros and Cons
Binance advantages:
Big and solid user base. The fact that Binance is globally trusted by so many traders is a clear indicator that it is a force to be reckoned with. Moreover, as mentioned above, Binance is perfectly suitable both for seasoned traders and beginner-level users who are making their first foray into the world of crypto.

A gargantuan amount of coins. Binance has become the mainstay for those who want to diversify their investment portfolio with altcoins.

The high speed (Binance is able to process up to 1.4 mln TPS).

A competitive fee structure with a transparent system of discounts offered by the Binance team.
Binance disadvantages:
Customer support that is less responsive to Binance compared to other rival exchanges.

There have been numerous complaints about withdrawal support directed at Binance.

China. Binance is based in Hong Kong, but it still remains in China's crosshairs (which retains its hawkish stance on crypto).

Privacy concerns. Binance is storing users' data, which might be alarming for those who value their privacy.

The absence of fiat deposits and withdrawals on Binance (in order to buy Bitcoin, you have to deposit Bitcoin from Coinbase).
Decentralized Exchange in the offing?
While already trumping all other exchanges in the crypto-to-crypto department, Binance is also inching closer toward launching its own decentralized exchange (DEX) that is expected to go live in Q1 2019. BNB will reportedly be a native currency on the exchange that is supposed to grant users the freedom of being in full control of their funds.
The topic of decentralized exchanges has always been a rather debatable issue in the crypto space. While pundits in the likes of Ran Neuner call them the future of the crypto industry, the existing examples of such exchanges don't have even an ounce of the popularity of their centralized competitors (that actually applies to all dApps).

The aforementioned fees remain the bread and butter of Binance, but Ethereum's cofounder Vitalik Buterin already came up with a solution to reward the developers of decentralized exchanges by embedding native fees into the smart contracts (case in point: EtherDelta).

CZ believes that Binance is the best alternative of a decentralized exchange since it has a robust infrastructure. The CEO claims that the most pivotal advantage of decentralized trading platforms over centralized ones consists in the ability of users to fully control their funds. There are no user accounts — all transactions are conducted on a blockchain. In this case, a centralized exchange in the likes of Binance doesn't serve as a custodian of wallets.
Conclusion
The fact that Binance rose to prominence in practically no time doesn't come as a surprise: the exchange stands out among its competitors because of its low fees, a bevy of available coins, and a perfect reputation (Binance still hasn't suffered a single hack since its very inception). On the flip side, everything is changing at a breakneck speed in the world of crypto — one day you're the cock of the walk, the next you're the feather duster.

Binance continues to assert its dominance by opening offices around the globe, but the exchange still hasn't managed to stand the test of time to appear in the "old-timer" crowd. Anyway, the future looks bright for CZ-led Binance, and there is no reason why it shouldn't be your first choice when it comes to C2C exchanges.