On April 17, the Binance team on their Twitter account has called upon the community not to turn away from the grief that has hit France. The world's largest crypto exchange is accepting donations in digital currencies to help rebuild Notre Dame.
On April 15, 2019, a fire broke out on the roof of the historic Notre Dame Cathedral in Paris, France

We call on our colleagues in the crypto space to show your support for our campaign to #cryptorebuildNotreDame #rebuildnotredame @BinanceBCF
Donate ??https://t.co/rknItqdgeM pic.twitter.com/lUCDLy2osK

— Binance (@binance) April 17, 2019
'They have got enough in fiat already!'
The crypto community's response to the urge of Binance to donate for rebuilding the world-famous historical memorial was negative.
The majority of comments said that people would rather donate to schools but not old churches in France. Besides, the thread continues, the cathedral has already received $700 mln in fiat. "Vatican's pockets are deep," said others.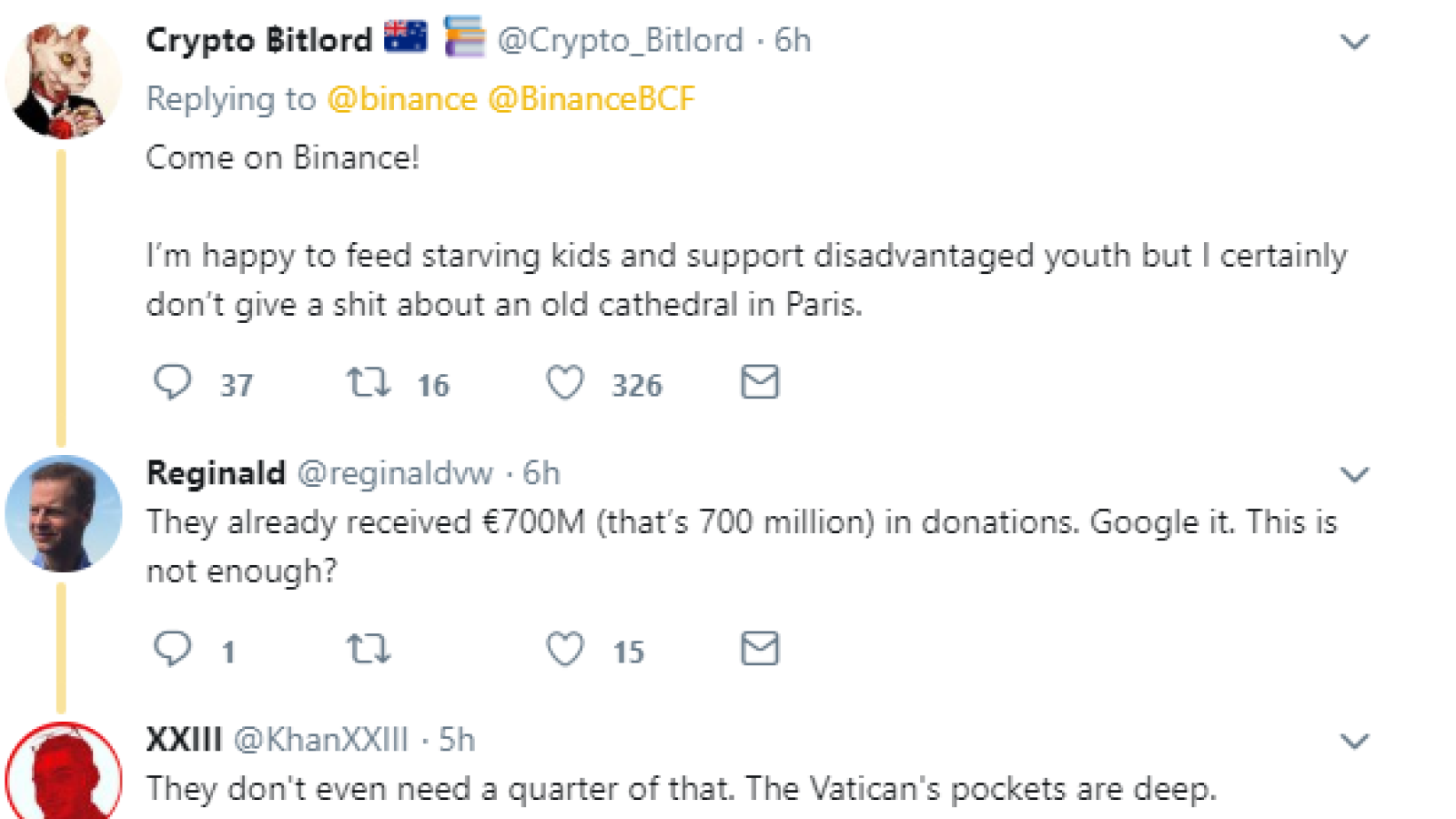 In response, Changpeng Zhao tweeted that donations should be based on free will only, and that crypto enthusiasts should feel free to choose any program for donation with Binance Charity Foundation. However, CZ's tweet goes, "If we can push crypto to the last mile of Cathedral building, it's the ultimate #adoption."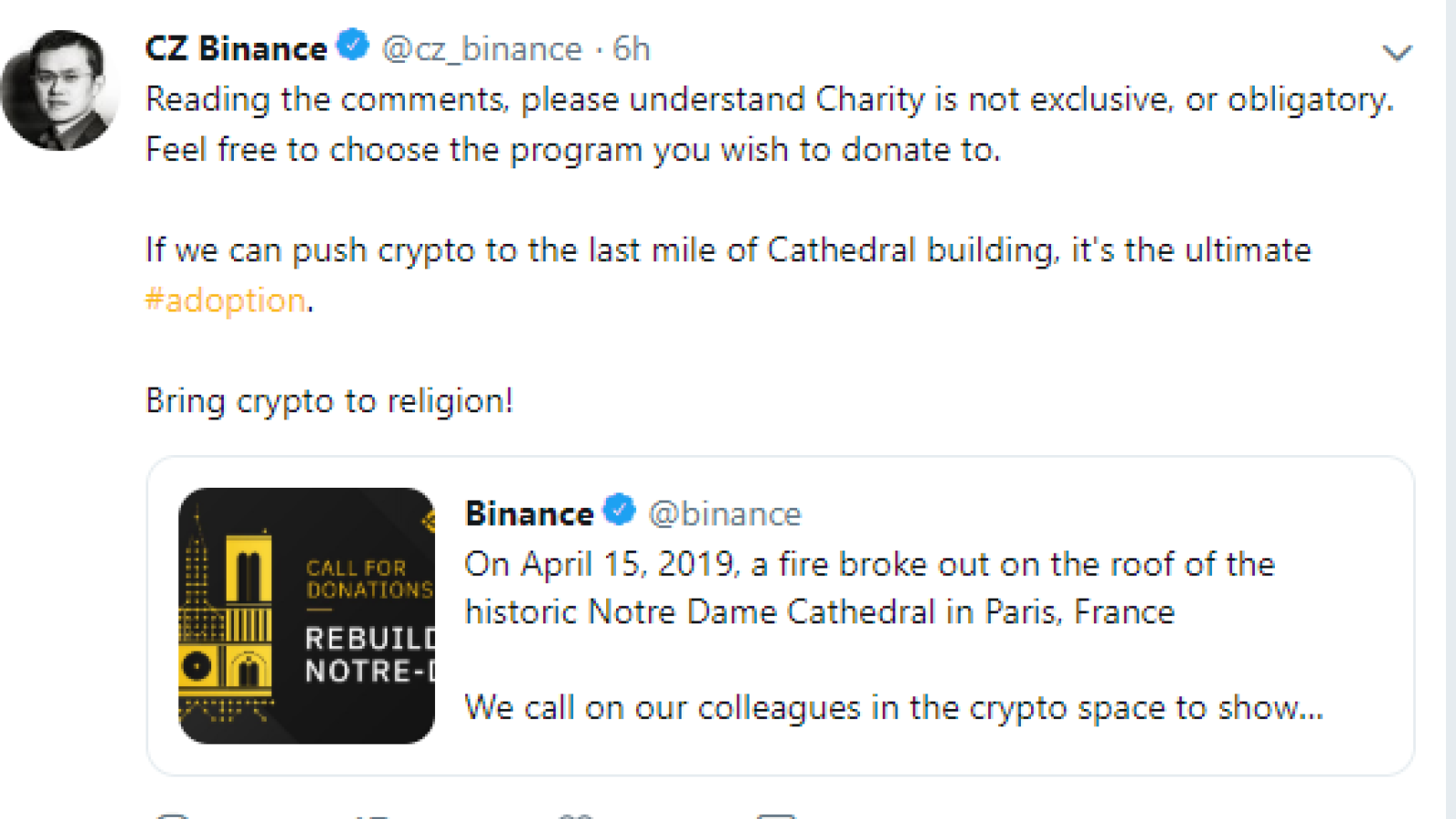 So far, over 1 Bitcoin has been donated.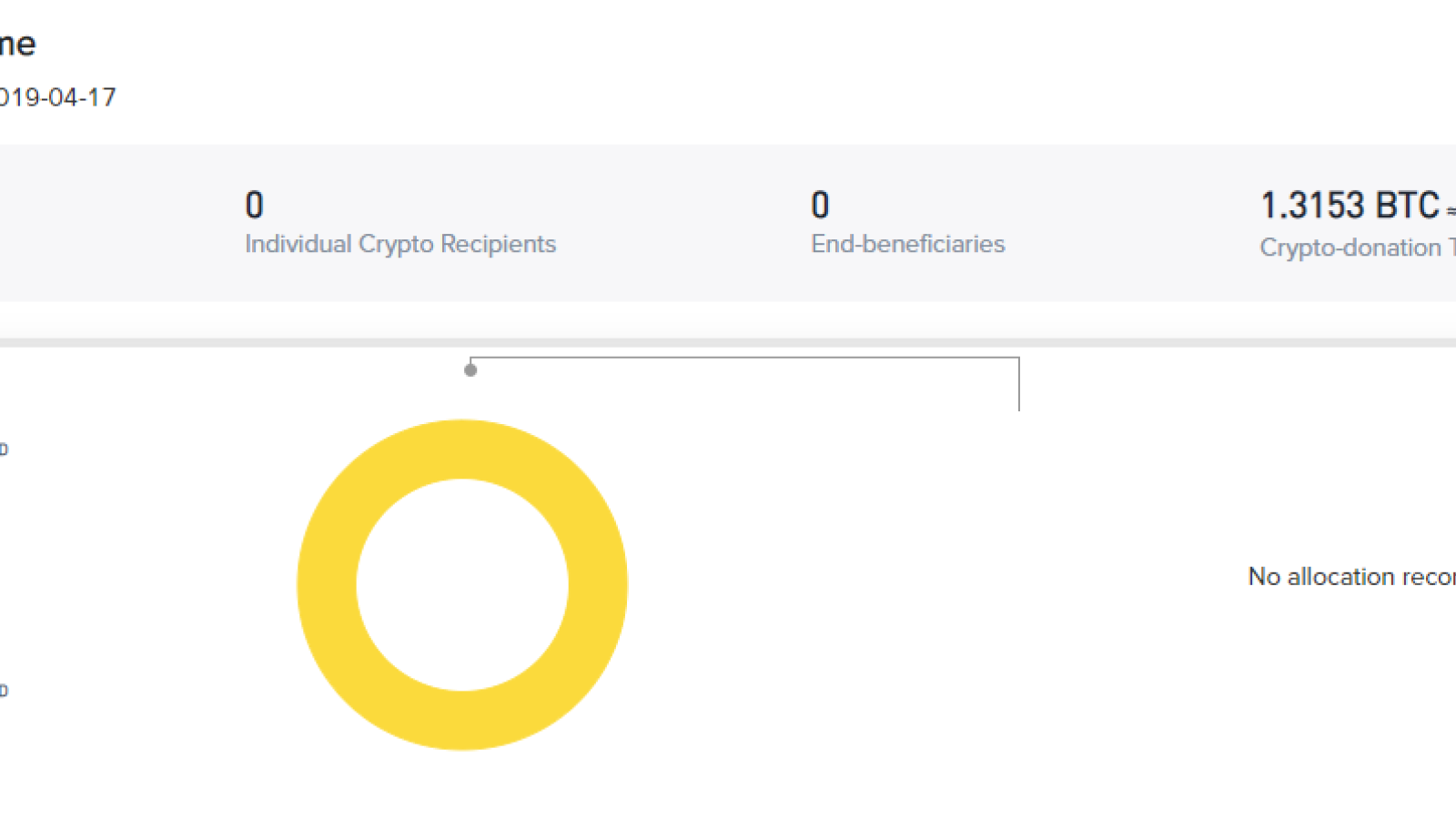 Bitcoin donations in France fail as well
On Tuesday, April 16, French journalist Gregory Raymond decided to launch a campaign to raise Bitcoin donations for rebuilding the Notre Dame Cathedral and tweeted a QR code through which anyone could send some BTC.
He called on his followers on Twitter to demonstrate that crypto is the fastest way to send in funds, that Bitcoin has no borders indeed and can support a good cause.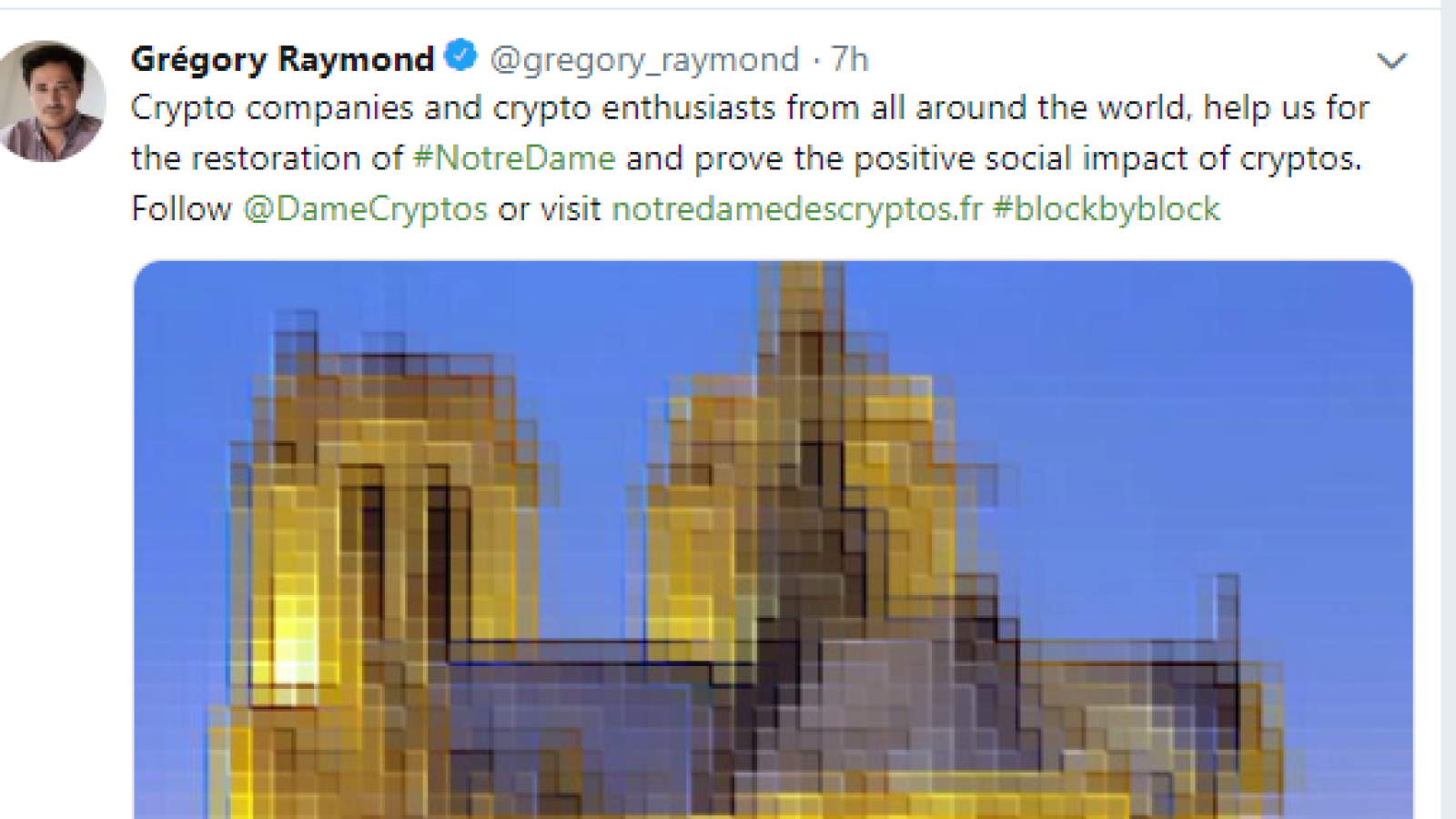 So far, only 0.05346 in BTC has been sent to the wallet. That is slightly less than $300.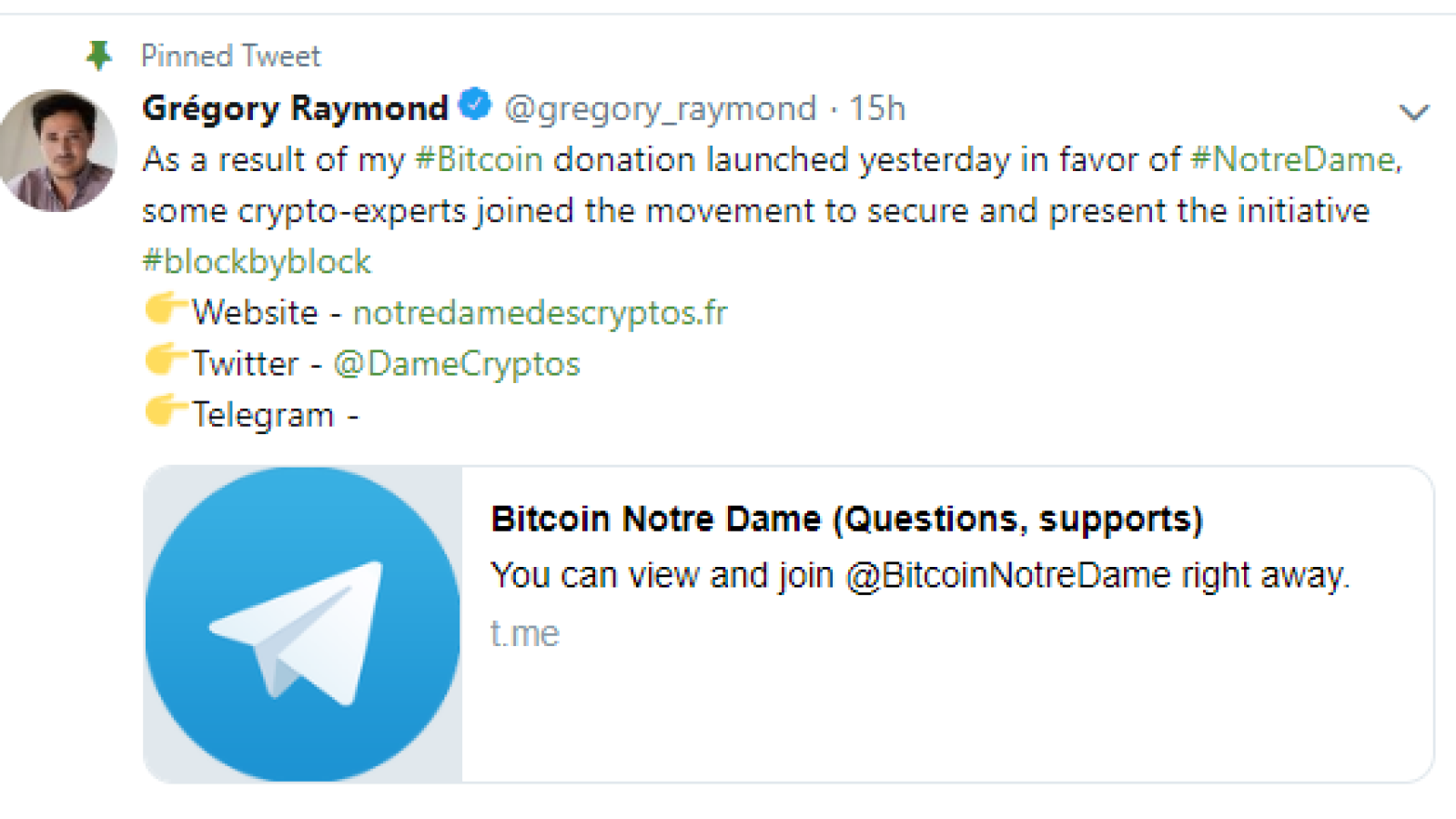 'View at Cathedrale Notre Dame de Paris' image by 123rf