Euro Exim Bank reports it is the first bank to adopt Ripple's xRapid technology, powered by the XRP token. The bank's head of operations, Graham Bright, said the company is working hard to ensure a smooth and trouble-free launch. Euro Exim Bank is part of a global organization of banks whose purpose is to facilitate cross-border payments and international business/trade.
"We had already created a cloud-based blockchain enabled trade finance application, so it was a quick decision to join other global Ripple participants for the first project, namely using the xCurrent service where institutions are able to instantly settle cross-border payments with end-to-end tracking and visibility."
Ripple price prediction
The XRP/USD pair didn't move much on the Euro Exim Bank news — it is still consolidating above the 0.2830 support line and looks like it could be gearing up for a major bounce. The 0.2830 line has been a key support for well over a year and could produce a strong, sustained bounce as XRP gains popularity and use around the world. In the near-term, XRP/USD may continue to drift lower until it retests support; long-term reversal and moves to 0.400 and 0.500 are expected.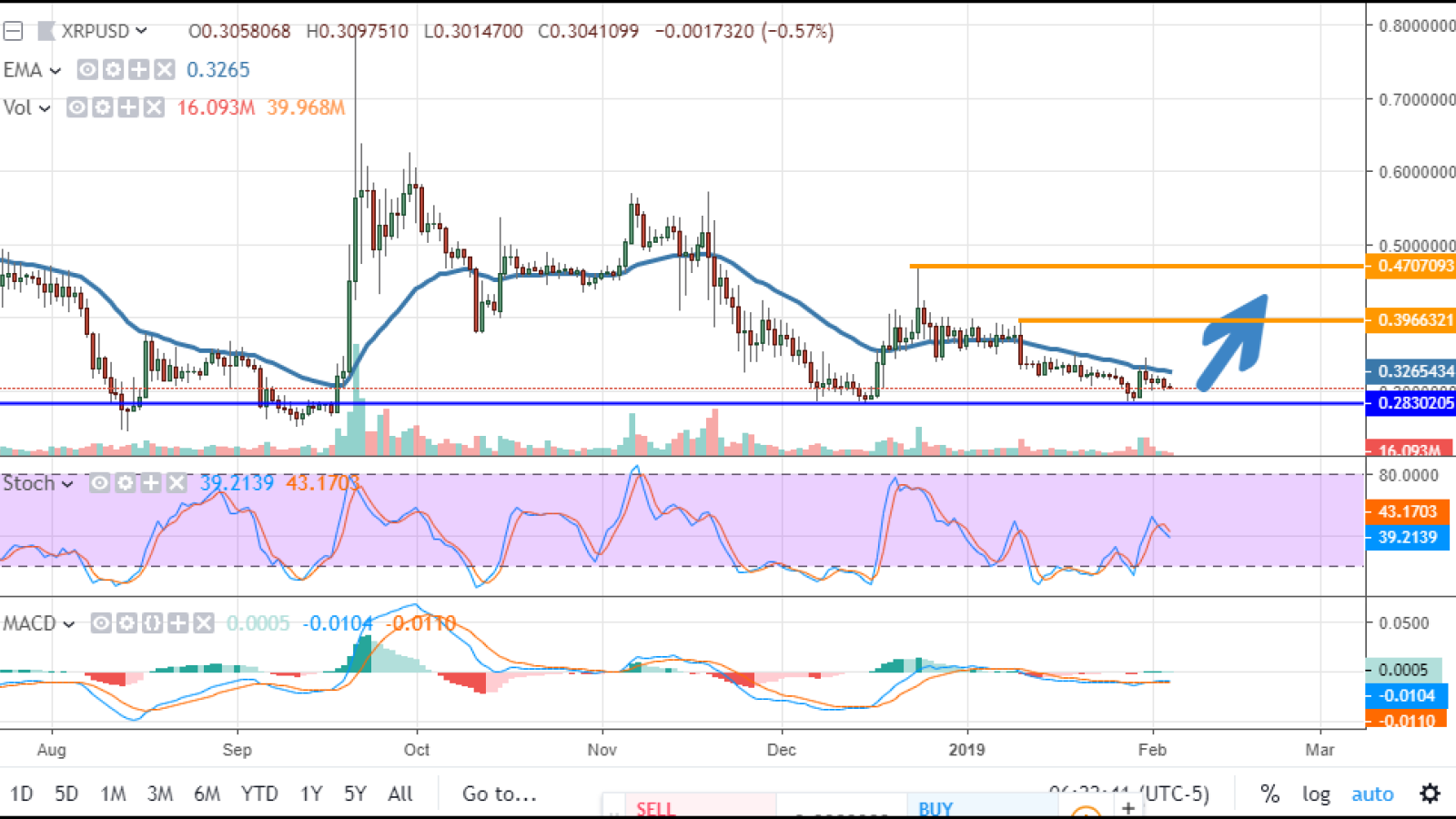 Bitcoin price prediction
Bitcoin continues to languish near the $3,400 level. The token is the world's leading reserve cryptocurrency, but it has fallen out of favor, along with the entire crypto market, over the past year. A lack of regulation, particularly in the US, has inflicted serious damage to the market and may have paved the road for a deeper decline. The best target for strong support at this time is near $3,100 — if BTC/USD falls below that level, a move to $1,700 is likely.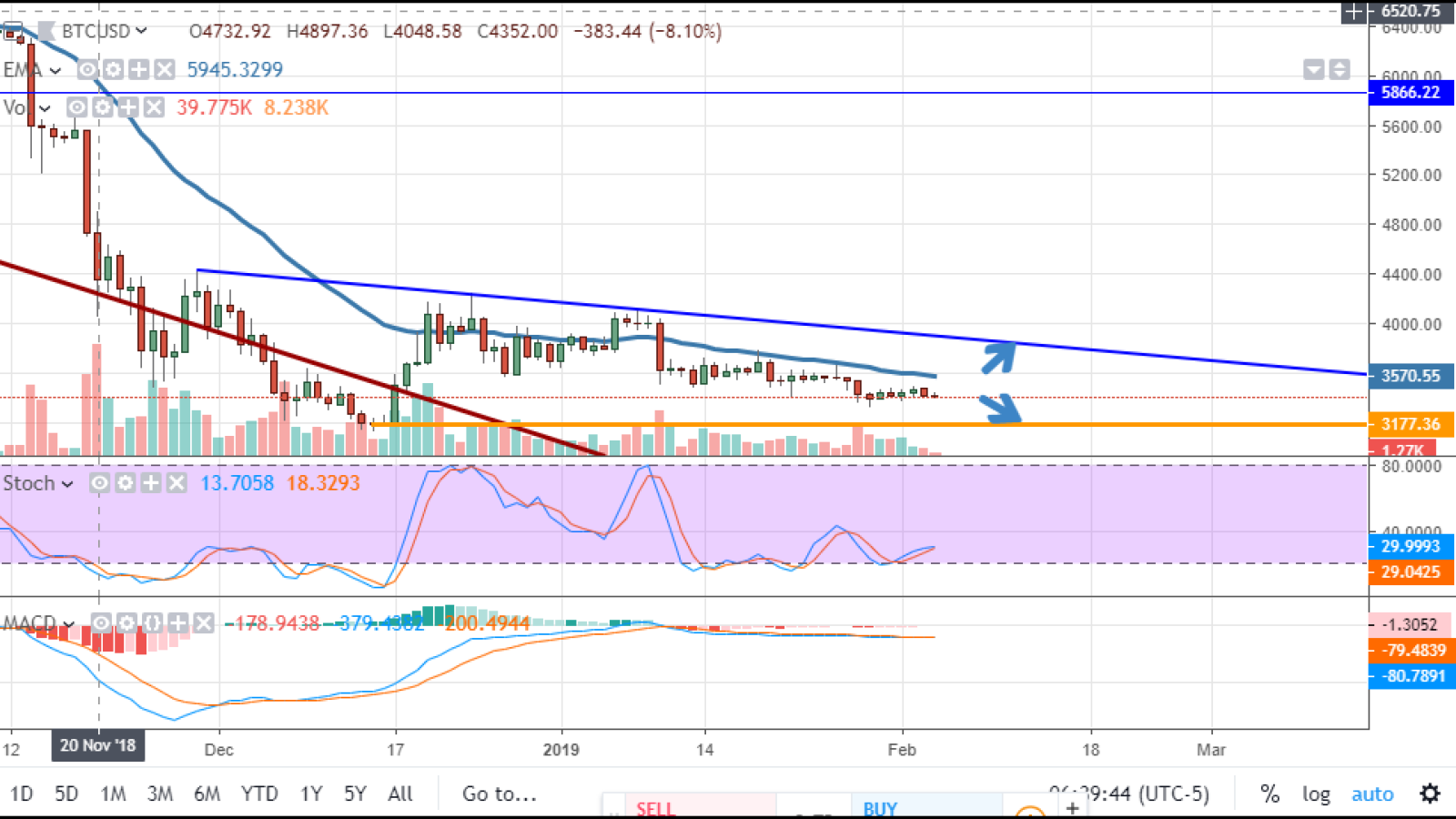 Ethereum price prediction
The Ethereum blockchain and its native token ETH are set to move higher over the long-term once the Constantinople hard-fork is complete and scalability/security issues are resolved. Until then, ETH/USD is consolidating for a deeper push lower and possibly as deep as $80.50. The $80.50 mark is the long-term low and a likely point of strong support, so a solid bounce should be expected once it is tested. This move may be precluded by upgrades to ETH or US regulation if they were to occur before the retreat to support.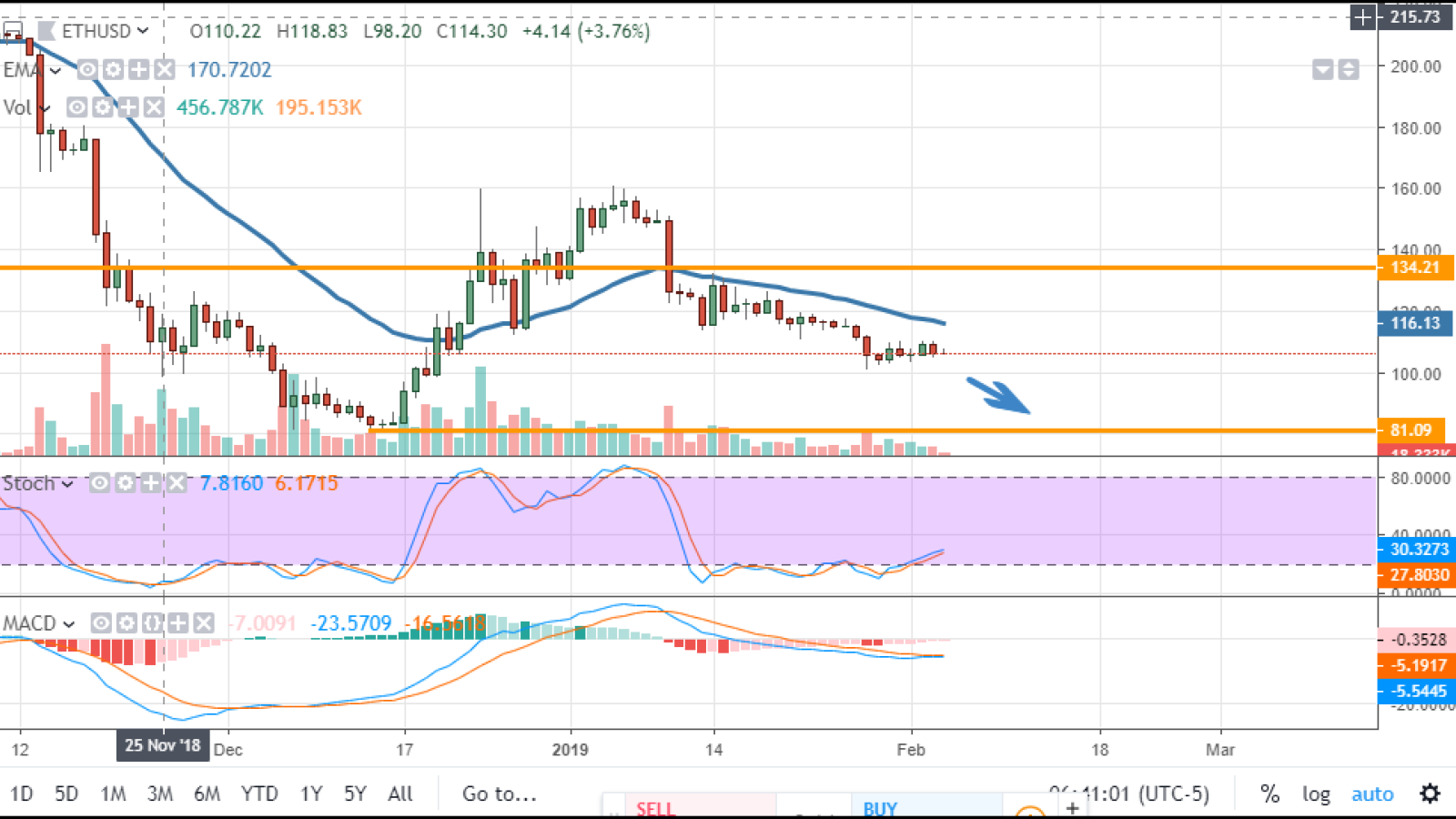 EOS price prediction
The EOS token has been consolidating near the $2.40 level and looks like it could begin to drift higher. The EOS market has reached a point of equilibrium over the past month, and the indicators have since begun to turn bullish. Momentum remains weak but is to the upside, as is directional drift as indicated by the stochastic. A move up and above the short-term 30-day EMA would confirm this analysis and possibly lead the token up to $3.00 and then $4.00. The risk is Bitcoin Cash — Bitcoin Cash is just behind EOS in terms of market cap and could easily overtake EOS. A flippening would not be good.