Shiba Inu (SHIB) is on the front lines today as one of the best-performing altcoins around. For a meme coin, SHIB is definitely not lagging behind after raking in as much as 9.01% with its price jumping to $0.0000109 overnight. The growth of Shiba Inu has been somewhat steady over the past week with the second-largest meme coin dropping off one more zero to the delight of its community.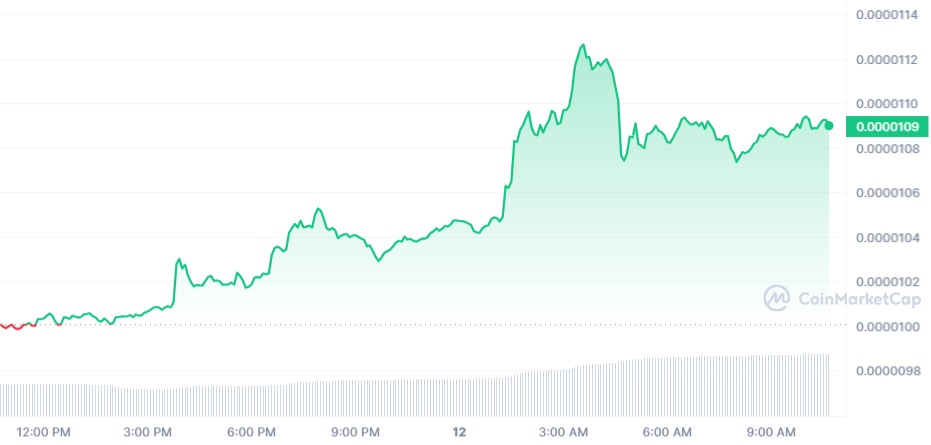 The Shiba Inu performance cannot be disconnected from the protocol's current burn rate, which has seen a remarkable uptick in the past 24 hours. Per data from Shibburn, a total of 111,799,146 SHIB tokens have been lit up, burned and sent to dead wallets, a figure that accounts for more than a 57% surge at the time of writing.
For the week, the SHIB burn rate has been on a steady climb with the upside visible in its price action. Based on the current outlook, the upside in price might be steady for a while considering the organic leap in the Shiba Inu ecosystem's trading volume.
The CoinMarketCap data revealed that the SHIB token's trading volume is up by 99% overnight with a total of $617,370,310 coins traded across the board.
Solidifying uptrend: Shibarium sentiment
As it stands, the coming week signifies a historic time for the broader Shiba Inu ecosystem as the countdown for the launch of Shibarium intensifies.
The Shibarium protocol is branded as a highly functional Layer-2 protocol built on the Ethereum network. The mainnet launch is scheduled for next week at the Blockchain Futurist Conference, and when it goes live, experts have predicted it will mark a whole new era for the meme coin ecosystem.
Shiba Inu can be said to be pricing in the positive sentiments surrounding the Shibarium launch, and we can expect more of this upsurge in the coming days.