Shiba Inu developer Shytoshi BEANsama seems to be hinting at a major NFT partnership in his latest series of tweets, though the full details remain unknown at press time.
The SHIB developer had tweeted, ''Alright... there you go. Another locked. Now we prepare the pitch," suggesting an incoming development as regards NFTs and gaming. The lead dev earlier tweeted on Jan. 22: ''Looks like I better learn Italian... #soon,'' to which a SHIB user replied: ''We have partnershib with lamborghini guys!!! Source: trust me bro'."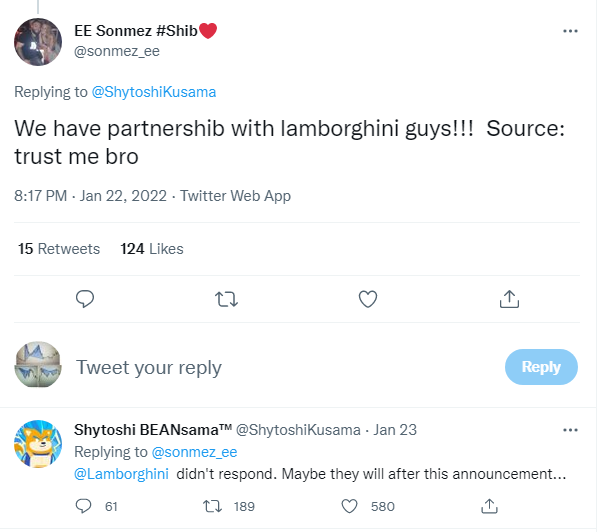 Though Lamborghini is yet to respond to this as of press time, a scroll through the official Twitter handle of the Italian carmaker suggests an imminent NFT launch.
Stay tuned: the reveal is almost complete. ​#Lamborghini #ToTheMoon pic.twitter.com/WkgMpFITEm

— Lamborghini (@Lamborghini) January 20, 2022
In a 21 second video posted on Jan. 20, the Italian brand and manufacturer of luxury sports cars and SUVs stated, ''Our First NFT is coming moon. NFTPRO."
''Inbound'' announcement?
U.Today earlier reported that Shiba Inu developer Shytoshi Kusama stated that he had passed a big idea to the Shiba Inu Core Team that might shake the crypto space if agreed upon.
The SHIB developer also shared a tweet from Shiba Inu's official website of something big brewing in the Shiba Inu ecosystem. It seems now that the dog-themed community is looking to unveil big things in the NFT space.
We would love to talk more about that... https://t.co/cm5ciu1DFA

— Shytoshi BEANsama™ (@ShytoshiKusama) January 22, 2022
In late December, during an AMA session on Twitter, Queenie, the official Discord moderator, hinted at a big surprise in 2022 without disclosing further details.
A user reminded Queenie of the announcement, saying "Hey @QueenE_OCE, you said that a huge announcement was scheduled for the beginning of 2022. I know it's still early this year, but you got any updates about it? Cheers!"
Queenie responded that the announcement remains "inbound," and the team is working on it as quickly as it can. "All I can say is that it's still inbound!! We're trying to get everything ready as quickly as we can. But quality > quantity and trust me the wait will be WORTH It."
SHIB trades at $0.000021 at press time.