On Wednesday, Feb 13, the majority of the top-twenty coins are in the green. The maximum rising value almost reaches 8 percent.
Top-ten assets
Today, Bitcoin has hardly moved in terms of price and is presently trading at $3,633. BTC is showing a slight decline of 0.10 percent, as per CoinMarketCap. On Friday last week, BTC managed to gain over 6 percent and rise nearly $300. During February so far, the major coin has been down by merely one percent.
As U.Today reported earlier on Wednesday, Wall Street guru Mike Novogratz has recently said to Bloomberg that the Bitcoin rate could rise much higher than now, since this is 'a sovereign currency'. Novogratz believes that $8,000 is a possible price to be reached in the middle term. He is positive that there will be no more bubble in the crypto market.
Ethereum, which managed to recover its position as the second biggest coin on Monday this week, has appreciated by nearly 2 percent today. At the moment of writing, ETH is going for $123. Over the past week, the major altcoin has risen by slightly over 19 percent.
Ethereum's market cap at the moment totals $12 925 967 456, which is slightly higher than that of XRP – $12 537 205 251.
EOS is the highest gainer on the top-ten list
Just recently, EOS has managed to remove Litecoin from position #4 and recover this place next to XRP. Currently, EOS is trading at $2.88, with the trading volume being $1 134 368 510.
Its market cap is a whole ten billion lower than Ripple's.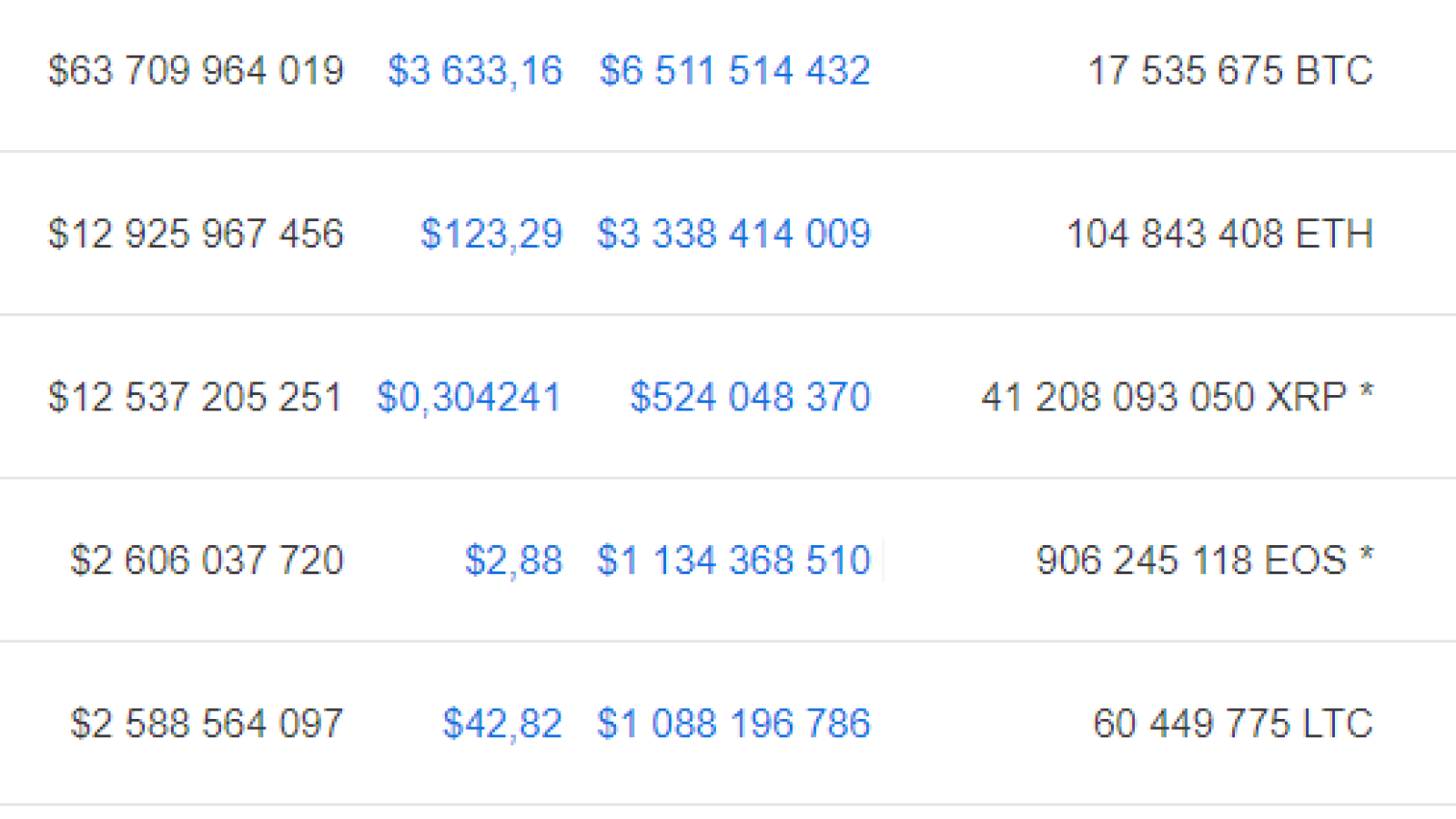 Top-20 coins
Binance Coin (BNB) remains in spot #10, seeming to be firmly fixed there with all the recent public and technological achievements of Binance and the new use case of BNB on the Binance Chain, which is about to be launched in public beta.
The top gainer among the top twenty coins is the Maker stablecoin. It shows a rise by 7.58 percent.