As reported by a Chinese news outlet Xinhuanet, in a recent speech the President of China Xi Jinping has announced that China must take all advantages offered by the blockchain technology.
The speech was given at the 18th collective study of the Political Bureau of the Central Committee on October 25.
Thought leaders of the crypto community have put up their reaction on Twitter, praising China and wishing the US would follow its suit on the other hand.
Embracing blockchain, rejecting Bitcoin
China is famous for its crypto ban, which has been going since autumn 2017, when the country prohibited ICOs. A witch-hunt for crypto exchanges and crypto trading followed but many traders started using VPN.
Now, China is planning to eliminate crypto mining in the country and at the same time is working on launching its own Central bank-supported digital coin pegged to yuan.
?? BREAKING!

Xi Jinping says China will put focus on blockchain development.

Remember: Key word "blockchain", not Bitcoin. Big difference. pic.twitter.com/GQIuRlx85Y

— Crypto Godfather (@CryptoGodfatha) October 25, 2019
The crypto community leaders react to Xi Jinping's statement
The prominent Tron and blockchain supporter and CCO of BeatzCoin, Misha Lederman, wrote on his Twitter page that the decision of the Chinese president is going to be beneficial not only for the global blockchain sector. China-originated DLT companies are also going to benefit from that, he said, naming in particular Tron, NEO, VeChain, Binance.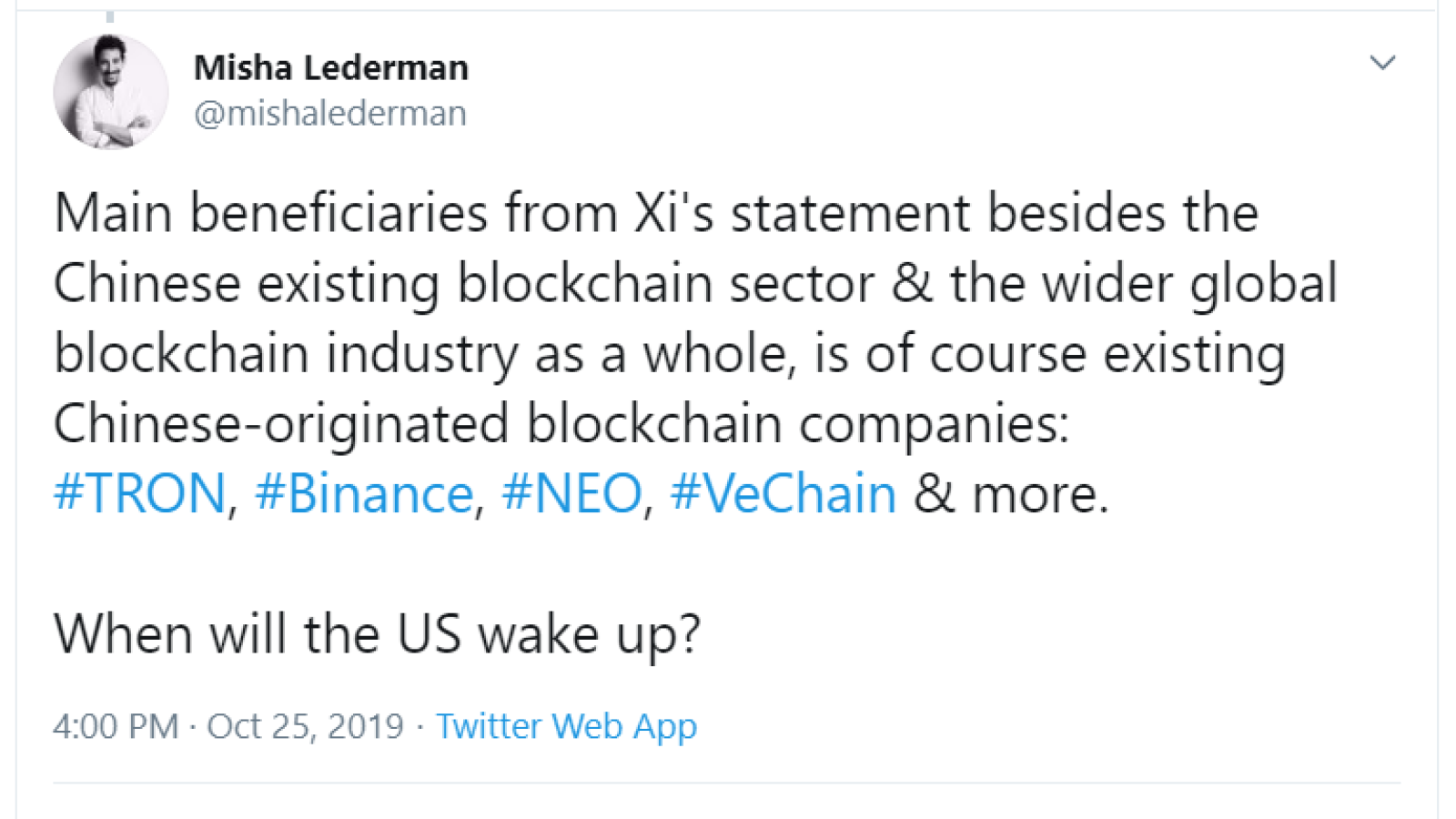 The CEO of Binance, known as CZ, also tweeted, saying that Binance remains a Chinese blockchain company, despite the crypto ban in China.
We are all blockchain companies... https://t.co/nYvcH5z1cQ

— CZ Binance (@cz_binance) October 25, 2019
Misha Lederman and VanEck's Gabor Gurbacs after giving praise to the Chinese political leader expressed a wish that the US would follow the suit of China as soon as possible and embrace blockchain.
1. I think this is great development from China and wish the US followed along in support. (Per my tweet) 2. Bitcoin has created the platform for this dialogue, so we should support and build on Bitcoin. https://t.co/haaVHp2X3f

— Gabor Gurbacs (@gaborgurbacs) October 25, 2019
What impact, do you think, the announcement of the Xi Jinping will have on Chinese blockchain companies? Feel free to leave us a comment in the section below!