Positive sentiment returned to the market today with a unique rub off effect on Cardano (ADA), which is trading at a price of $0.3795 after soaring by 7.7% at the time of writing. Cardano sits among the most capitalized cryptocurrencies, with its market capitalization pegged at approximately $13.14 billion.
For this year, Cardano is the Layer 1 blockchain protocol with the highest number of upgrade expectations and scheduled ecosystem expansion strategy. The protocol recently unveiled the launch of its Sidechain Toolkit, a protocol-enhancing infrastructure that will enable developers to build new blockchain networks that hinge on the security of the parent Cardano chain.
At this time, the sentiment driving Cardano stems from the reassurance that the launch of its long-awaited overcollateralized stablecoin will finally lift off next week. Coti's World, a Twitter account that spreads information about projects on COTI, reconfirmed the news in response to a tweet from Lark Davis, one of the most prominent proponents of crypto.
yes $djed #djed launching next week ! $coti #cardano pic.twitter.com/sMTHqxEMMO

— Coti's World © Payments| Stablecoins| Multi Tokens (@cotiworld) January 26, 2023
Should the DJED stablecoin launch as expected, it will set the Cardano stablecoin on a par with some of the other top Ethereum killers it is competing with.
Top milestones to watch
With the current growth rate of Cardano, the digital currency will be looking to surpass its own personal milestones, including its 30-day high of $0.3866. As it stands, the coin is bound to beat this price level, should this current uptrend be sustained for much longer.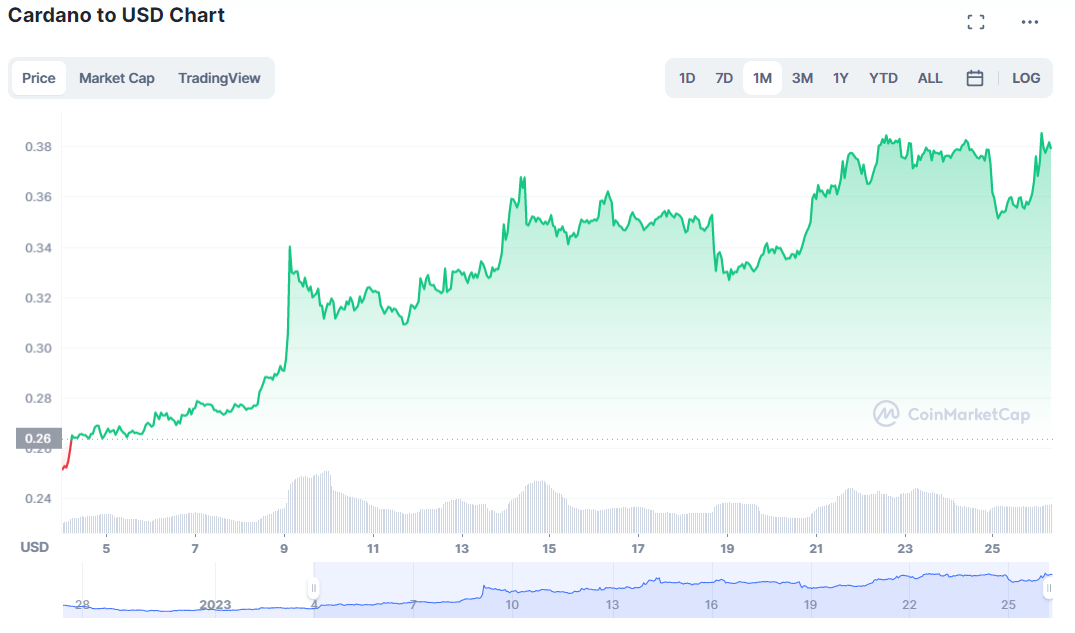 Cardano has a very strong community of supporters, and though the coin has an enormous supply compared to its peers, there are brewing expectations that it will surpass its all-time high (ATH) when the ton of new products it has in the pipeline are launched and users are able to explore more utility for their ADA coins.