According to data provided by bitinfocharts.com, Bitcoin-related tweets have plunged to their lowest level since the site began tracking them.

While some might suggest that Twitter is simply cracking down on annoying spam bots, the popular social media can actually gauge the coin's short-term relevance.

Bitcoin losing its mojo on Twitter
On Oct. 4, the number of tweets that mentioned the crypto king plunged to 7,739, which is its lowest level since Jan. 1, 2015. The number of Twitter mentions had never dropped below the 10,000 mark for the first time in four years.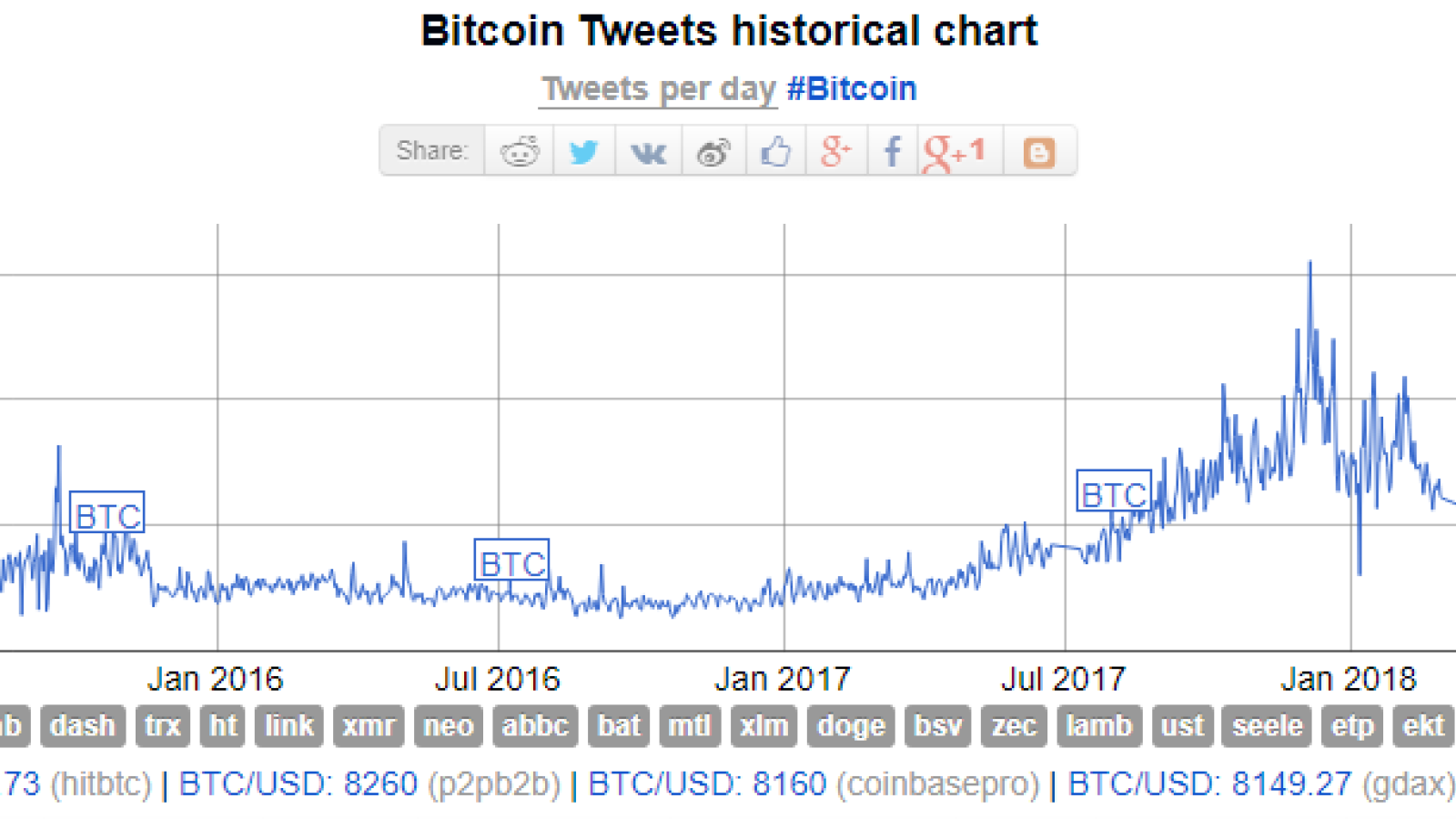 Notably, Bitcoin's performance on Twitter almost perfectly reflects its price action. The peak of its activity came during the infamous 2017 bull run. On Dec. 11, there were 128,425 tweets about the top coin, the highest number in history.

Fast forward to 2019, Jack Dorsey's favorite coin had its grant moment on Twitter at the end of July when its price briefly touched this year's high of $13,700. With 41,687 Bitcoin tweets recorded on June 26, the Libra-driven hype still pales in comparison to the 2017 bubble.

"The state of neglect"
According to Bloomberg contributor Jared Dillian, Bitcoin is currently "in the state of neglect." That essentially means that those who were infected by the crypto craze eventually moved on, and new investors are reluctant to touch Bitcoin as of now.

Bitcoin remains an unattractive investment for the overwhelming majority of Americans (especially the baby boomers demo), according to a recent poll.

It doesn't help that BTC has once again appeared at a crossroads price-wise, recently plunging to the $8,000 level.

Beyond the buzzword status
With that being said, Bitcoin continues to grow despite the world's seemingly cooling interest and price volatility. The network's hash rate continues to print new all-time highs along with the number of daily transactions. Moreover, Bitcoin's dominance reached a whopping 70 percent at the beginning of September.
As State Street executive Jay Biancamano points out, things could happen very quickly, so the retail sector will hop on the Bitcoin train in no time in case of mainstream adoption. In such a case, according to Dillian, we should expect a much bigger bull run.

How many people will tweet about Bitcoin hitting $100,000? A lot.