The community is watching the market in silent shock as Bitcoin gets over $8,200, boosting the rest of the market. All the top ten currencies are enjoying a sea of green.
Top gainers among the first line of coins
The immense rise of Bitcoin (+16.41 percent over the past 24 hours) is followed by a green line of the top nine assets. The highest gains have been demonstrated by Ripple's XRP. The coin has skyrocketed nearly 20 percent.
XRP is followed by Bitcoin Cash (BCH), appreciating by 14.04 percent. Next comes Ethereum (ETH), adding 12.10 percent to its value.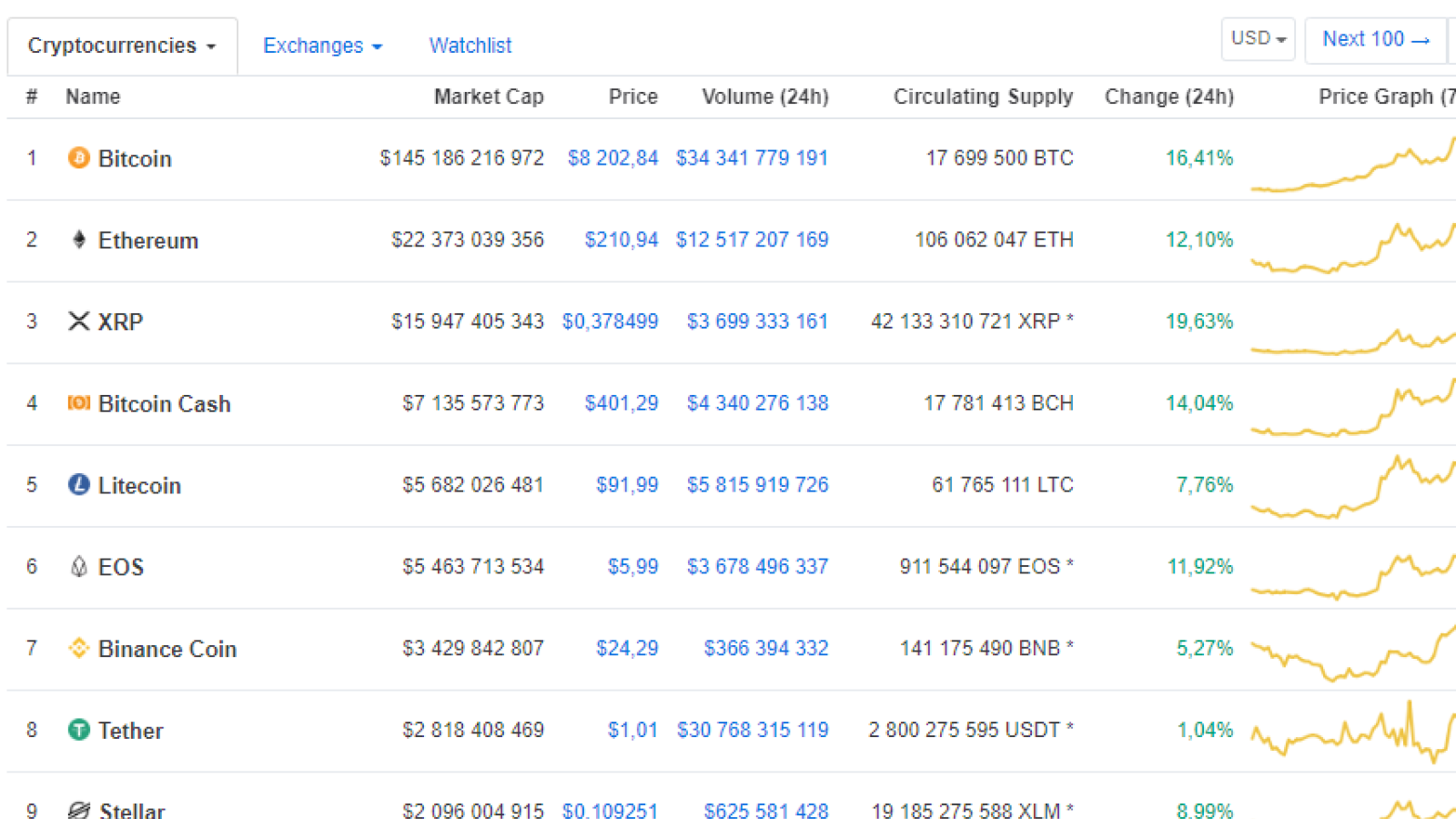 Three reasons behind Bitcoin's sudden rise
1. Bakkt to kick off futures on BTC
On May 13, Bakkt wrote on its Medium blog that the company intends to launch BTC futures as early as June.
As per the CEO, Kelly Loeffler, the new product will be released in two versions. The first one will be a daily settlement future. The second one is monthly BTC futures contracts.
As reported earlier, Bakkt is collaborating with US-based BNY Mellon bank. The goal is to secure private keys for BTC and other virtual assets using a system of geographic distribution. Bakkt also intends to offer its customers crypto custodial services and for this purpose has purchased Digital Asset Custody Company (DACC).
2. Rumours about eBay preparing to embrace crypto
Previously, U.Today wrote about rumours that leaked from the Consensus 2019 conference, saying that the global e-commerce giant plans to start accepting BNB in the future. The rumours sounded convincing to many, since eBay is one of the companies sponsoring the event.
Yes and the coin which is supposed to be supported is none other than $bnb

— CRYPTO ENTHUSIAST (@CRYPTOgraph_ER) May 12, 2019
3. Starbucks and other major retailers start accepting crypto payments
On Monday, U.Today reported that several major retailers, including Starbucks (finally) have enabled their customers to pay for goods with BTC, ETH and a number of other digital coins via partnerships with fintech startups, such as Flexa, Fold and SPEDN.
The retail companies include: Whole Foods, Domino's Pizza, Nordstrom and Starbucks.
All the aforementioned factors together may well have pushed Bitcoin's price up the charts, making it head towards $8,500.