This morning, Wednesday, December 5th, the cryptocurrency market remains in the fall, as it has been for a while already.
The major cryptocoin, Bitcoin, has gained slightly compared to Tuesday morning and is trading at $3.899 at press time. However, CoinMarketCap is showing that the asset has lost 1.78 percent over the last 24 hours.
Altcoins are rising along with stablecoins
Today, many members of the top-100 list by market value are going green. Among them are stablecoins, such as Tether, Maker, TrueUSD, USD Coin, Gemini USD, etc. From altcoins the gainers are Binance Coin, Nem, Waves, Augur, Holo and a few others.
Ethereum Classic (ETC) is among today's losers. On Tuesday, U.Today reported that one of the project's major developer teams, ETCDEV, is dumping maintaining the network's operations over absence of funds and the reluctance of the ETC community to support them. It is not yet clear whether this news has propelled the coin's decrease or if it is simply in line with the rest of the market.
Overall, the altcoin market seems to recovering gradually, unlike the top-10 list of coins with the highest market cap.
BNB, TRX are advancing
A few top coins have swapped their positions compared to where they were on Tuesday. Tron (TRX) has managed to get to the position 10, having pushed out Cardano (ADA). Binance Coin (BNB), the native token of the same-name exchange, has moved from place 15 to position 13, taking over Dash and IOTA, upon its market cap increase. Over the last 24 hours BNB shows a gain of nearly 8 percent.
Earlier this year, TRX already managed to enter the top-10 list, however, the coin held there just for a couple of days.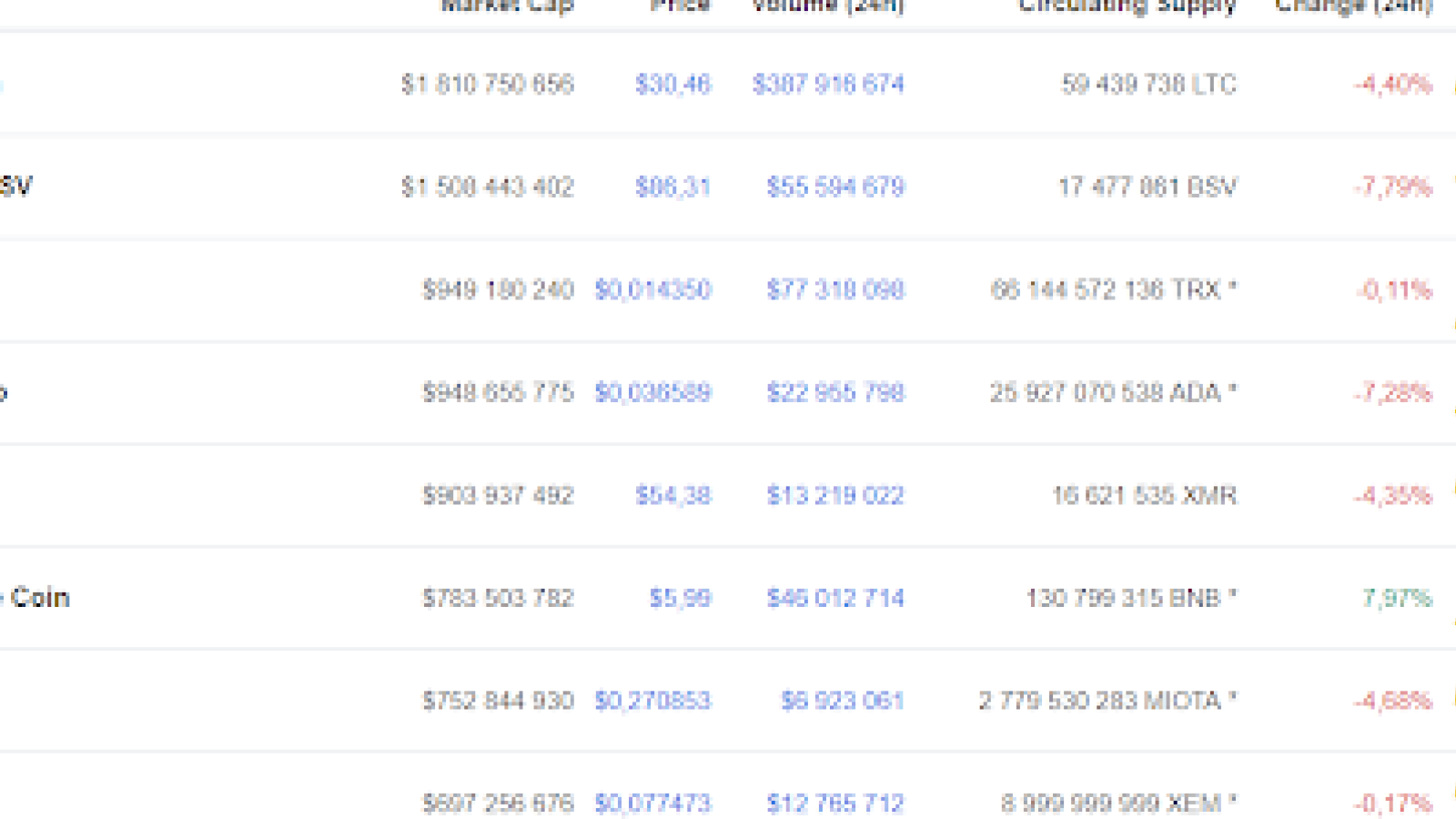 Bitcoin forecasts
Earlier, U.Today reported that various prominent traders and analysts are expecting BTC to find bottom at the $3,000 mark, whereas top figures from banking industry, such as Jamie Dimon, have begun calling it a bubble and scam once again. The Russian Economy Minister, Maxim Oreshkin, also said that the Bitcoin bubble has burst, referring to the current bearish dominance in the market.
However, leading crypto investors and developers, such as Mike Novogratz, Tom Lee from Fundstrat, and Tim Draper remain bullish. Recently, the co-founder of Ethereum, Joe Lubin, also mentioned that the market movements do not mean a thing, since blockchain and crypto are not only technologies and assets but they are movements, which are gaining more and more followers and users every month. In particular, he mentioned Ethereum products MetaMask, Truffle and Infura, which have gained a great amount of downloads and new user accounts over 2018.