A crypto enthusiast XRP_Cro has shared a screenshot from Coinbase from which it is clear that 85 percent of traders prefer to buy this third largest coin and hold it for a minimum of 84 days and it is the fifth most popular digital asset on Coinbase.
XRP has not been oversold since August 2018, the XRP fan claims.
On Coinbase 85% of traders are currently buying XRP and typical hold time is 84 days

XRP hasn't been this oversold since August 2018. RSI in deep red#XRP #crypto #fintech pic.twitter.com/F96ulJAfyz

— XRP_Cro (@stedas) December 18, 2019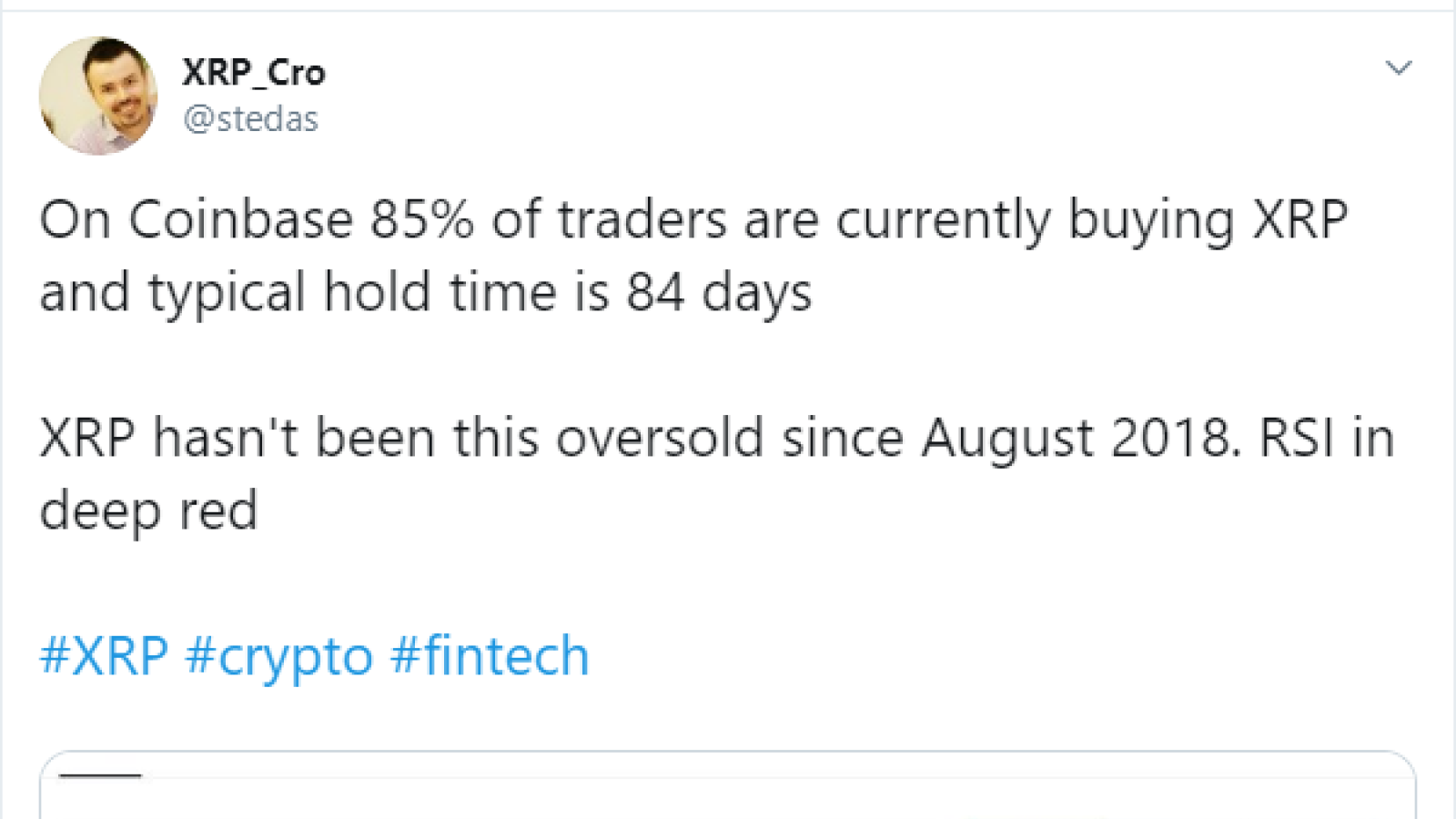 XRP price in the lows
At press-time, XRP is trading at $0.1840, as per the figures from CoinMarketCap, and has been on this level for a long while already, having gradually moved down from the $0.25 zone.
At the time of writing this article, the crypto market is bleeding. XRP is losing nearly 8 percent.
The financial analyst Mati Greenspan writes in his new Quantum Economics newsletter:
"The entire crypto market seems to be in a bit of a slump at the moment. The losses in XRP are more likely a reflection of that than anything else at this time."
The XRP price has hit the lowest level since 2017 which still ended up victoriously for XRP, BTC and other top 10-20 coins.
Recently, a top crypto analyst Jacob Canfield made a forecast, saying that the XRP price may drop to the $0.10 mark and even then he would be cautious about buying it.
XRP adoption is hard to expand: MoneyGram CEO
The crypto community was hoping that extensive XRP adoption would solve this issue and push the price high up. However, in the recent interview to CNN, the Ripple-backed MoneyGram CEO Alex Holmes said that increasing the company's operations to Mexico via ODL and XRP would take a long time.
He also stated that MoneyGram cannot increase the amount of its XRP corridors without Ripple's help – the cryptocurrency behemoth must bring in more banks or financial institutions which would want to buy XRP that MoneyGram intends to sell.
At the moment, Ripple is one of the company's major investors, having supported MoneyGram with over $50 mln in the last six months.