On its Medium blog, the TronLink wallet has reported about the coming partnership with TronAce – a popular Tron-based platform for gaming and incubation.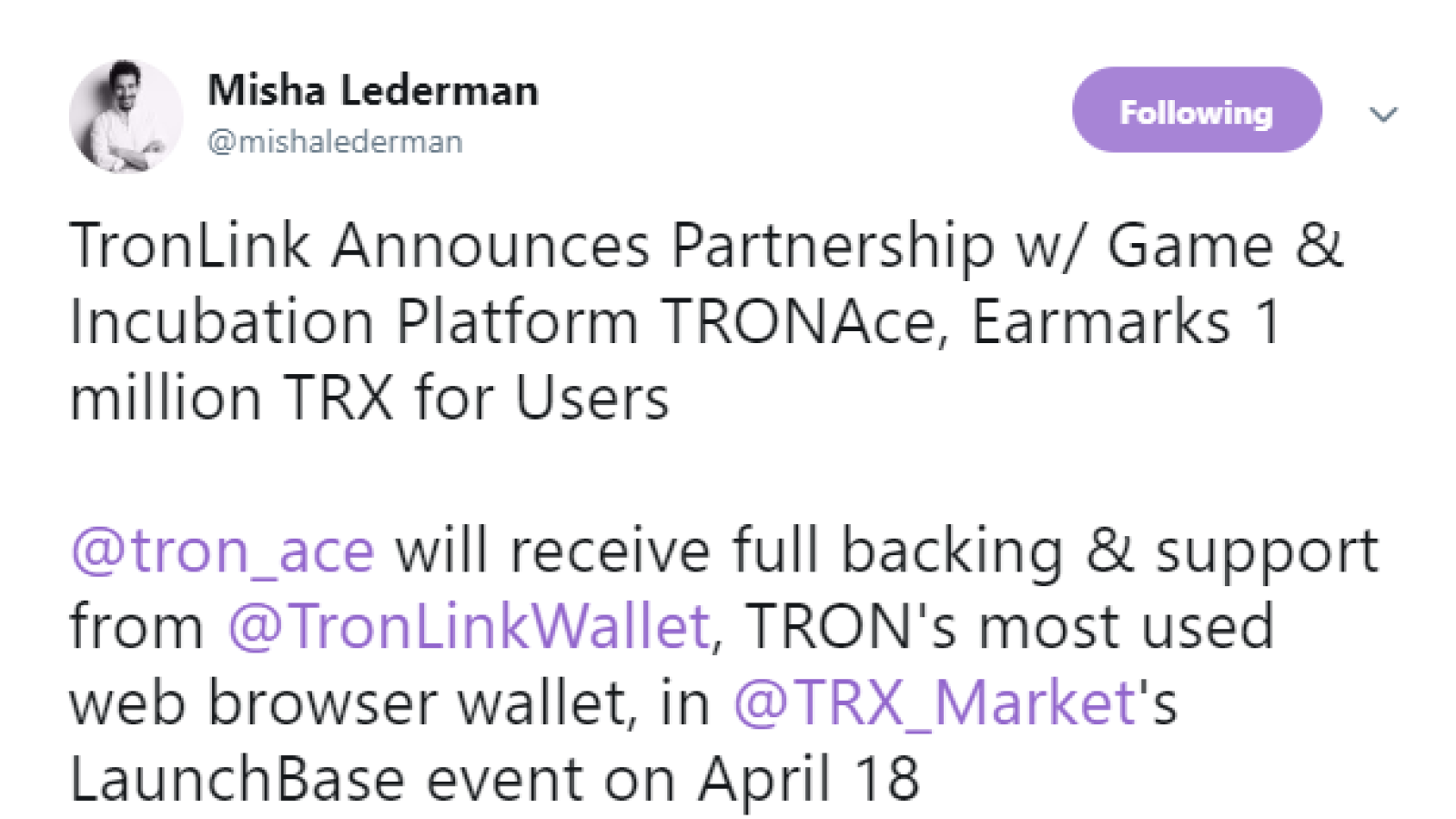 TronAce to hold an airdrop for TronLink users
The Tron-based dApp network is expanding fast. Some of them are teaming up with each other for better results of their work.
Now, the TronLink wallet joins efforts with the TronAce platform for gambling and incubation, both of which are Tron-powered.
#TronLink announces strategic partnership with @tron_ace, fantastic TRON gaming platform team. Looking forward to its #LaunchBase event on April 18th. Good luck to all #TronLink users in the event. ACE TO THE MOON! #TRX $TRXhttps://t.co/AqEbqceadY

— TronLink (@TronLinkWallet) April 11, 2019
TronLink is going to support its new partner at the LaunchBase event set by the TRXMarket exchange. Users will be able to join LaunchBase through TronLink.
The gaming Tron-based platform has allocated a big amount of Ace to be given out to TronLink users as bounty.
The LaunchBase will present the TronAce app to the community and will start on April 18 in Singapore.
The release of TronAce itself is expected in early May.
TronLink gets a good reputation in just half a year
TronLink has been working on Google Chrome for half a year already. However, its mobile app was launched only the other day – on April 9. Still, after only six months of its existence, it has managed to become very popular among Tron users.
TronLink is a decentralized crypto wallet that enables its users to store private data as well as their private keys. This wallet app uses a Breakdown Reconnection feature which enhances the wallet's security.
Besides, users of TronLink app can utilize its 'resource unfreeze or freeze' function. The app also supports Tron-based tokens, both TRC10 and TRC20 coin standards.