In a recent turn of events, Shiba Inu (SHIB) has seen a notable increase in the selling of tokens held by short-term holders. The age of tokens sold yesterday dropped to just one month, a stark contrast to the six-month average observed a few days ago. This shift in investor behavior can be attributed to SHIB's underwhelming price performance over the past few weeks.
Despite the broader cryptocurrency market showing signs of recovery, Shiba Inu has failed to exhibit any significant strengthening. The meme token has been moving in a nonvolatile uptrend, disappointing investors who had hoped for more robust price action. This lackluster performance has likely led to the rapid selling of SHIB by short-term holders, who are looking to cut their losses or reallocate their investments elsewhere.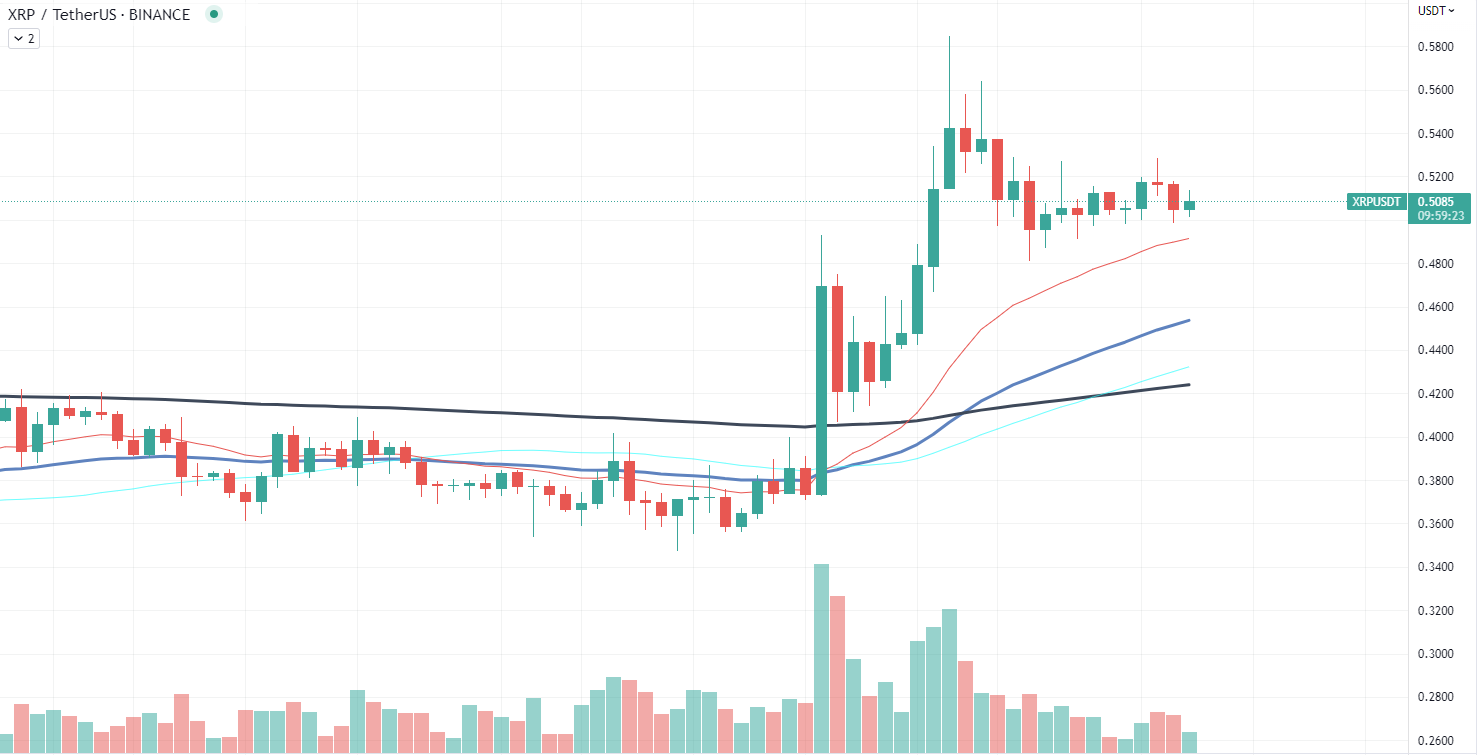 It is worth noting that selling pressure from short-term holders can have a negative impact on SHIB's price in the short run. As these investors exit their positions, the token's price may experience additional downward pressure, further exacerbating the situation for remaining holders. However, it is also possible that this sell-off could create an opportunity for long-term investors to accumulate more SHIB at lower prices, potentially providing support for the token's price over the long haul.
XRP calms down
XRP appears to be entering a prolonged consolidation channel that may signal the end of its current uptrend until a final decision is reached in the ongoing legal battle with the U.S. Securities and Exchange Commission (SEC). With many analysts predicting that the case's resolution will probably come in 2023, the uncertainty surrounding XRP's future could lead to a stagnant period for the cryptocurrency. At the time of writing, XRP is trading at $0.5.
The SEC's lawsuit against Ripple Labs and its executives alleges that the company conducted unregistered securities offerings through the sale of XRP. The case has been ongoing since December 2020 and has had a significant impact on XRP's price and overall market performance.
While the legal battle rages on, the market has been left in a state of limbo, with many investors unsure of XRP's future. This uncertainty has led to a consolidation phase after the explosive rally that started on March 21, and XRP's price remains rangebound, lacking the momentum to break out of its current channel.
Cardano avoids crash
Cardano (ADA) has shown impressive resilience in its recent price action, recovering above the crucial 200-day Exponential Moving Average (EMA) despite a reversal yesterday. This development indicates that the breakout can now be considered successful, bolstering confidence among investors and traders alike.
As ADA moves higher, the next targets to watch are the points of previous reversal at $0.41 and $0.43. Surpassing these resistance levels could pave the way for trend acceleration and a potential continuation of the rally. This positive momentum might attract more market participants, further fueling Cardano's growth in the near future.
The recovery above the 200-day EMA is a significant development for Cardano, as it demonstrates the asset's underlying strength and ability to bounce back from short-term setbacks. Additionally, maintaining a position above this key indicator can serve as a bullish signal for investors, who may view it as a confirmation of a longer-term uptrend.