Fri, 11/09/2018 - 07:10 (updated)

212
Ripple Toolkit Is Live and Set to Improve the XRP Ledger
Ripple Toolkit is live in beta phase and aims to improve the versatility and accessibility of the XRP Ledger
The XRP Toolkit is live in beta phase and aims to improve the versatility and accessibility of the XRP Ledger (Ripple). The tool has been in development over the past few months with the goal of offering a simple user interface that could help inexperienced users learn more about the ledger.
The toolkit can be used to send and receive XRP but has other features among which is a client-side web interface that can be used to prepare, sign and transmit transactions with the use of a hardware or web crypto wallet. Users also have access to a 10,000 XRP test account for free experimentation and demoing of the platform. Official release is set for early 2019.
The impact on XRP price will probably be gradual, depending on how the XRP Toolkit performs, and what new features they may add. We don't expect to see strong movement based on the beta launch alone, but it is something bullish in the long run.
Charts at a Glance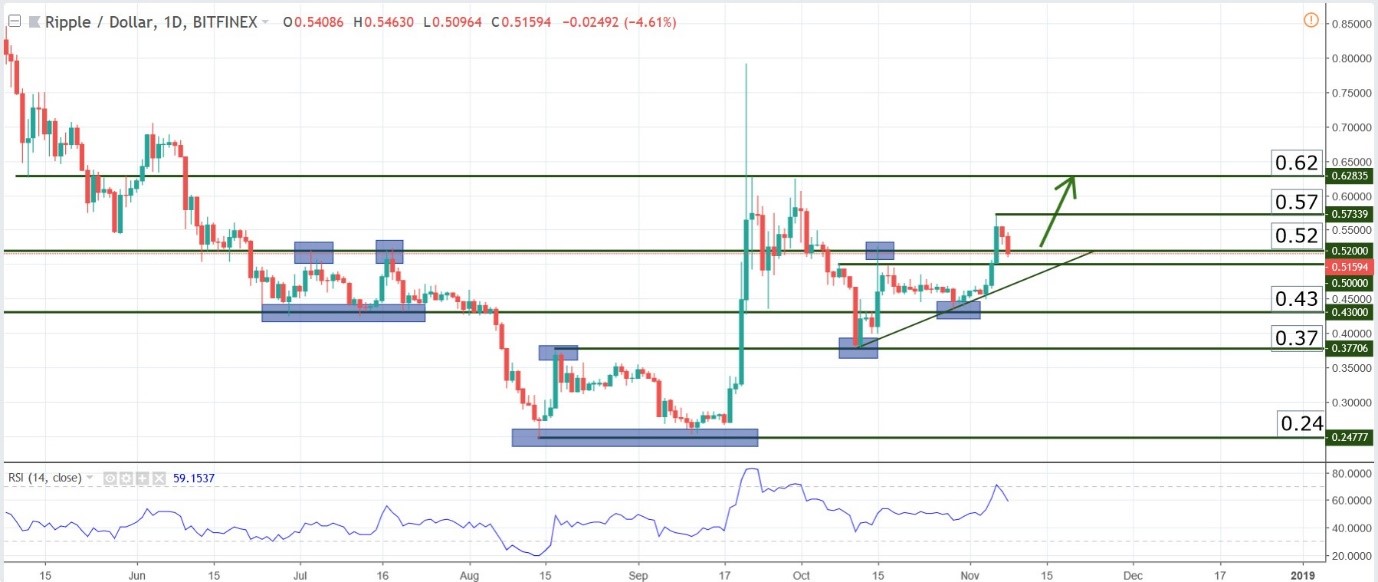 XRP/USD sits comfortably with a 13.03% gain for the last 7 days, but the last 24 hours have been bearish, with a loss of -4.42%. After the bounce at 0.43 the pair has not retraced at all and this took the Relative Strength Index into overbought territory (above its 70 level), which is an early sign that we may see the XRP price drop.
Retracements lower are perfectly normal after a strong climb and if 0.52 – 0.50 zone remains intact, our bias is bullish, aiming for a move closer to 0.60 – 0.62. A strong indication that 0.62 will be reached would be a break of the previous top at 0.57, which is currently short-term resistance. A Daily candle close below 0.50 would invalidate this bullish scenario for the time being.
Support zone: 0.52 – 0.50 followed by the bullish trend line seen on chart
Resistance zone: 0.57 in close vicinity, followed by 0.62
Most likely scenario: bounce higher from 0.50 – 0.52, followed by a touch of 0.57
Alternative scenario: retracements lower and a touch of the trend line
Fri, 11/09/2018 - 07:10 (updated)

212
Fri, 11/16/2018 - 12:43 (updated)

212
Central Banks — One Step Closer to Creating Crypto?
IMF Chief said in a speech that central bank digital currencies (CBDC) could be a good solution to some of the problems faced by the banking sector
IMF Chief Christine Lagarde said in a speech that central bank digital currencies (CBDC) could be a good solution to some of the problems faced by the banking sector. This is good news and was followed up by three central banks with propositions to use CBDC for cross-border payments.
Central banks in Canada, Singapore, and the UK issued a report, noting that various CBDC models could be used to overcome various problems such as going through multiple intermediaries and other time-consuming hurdles. If this comes to fruition, it remains to be seen how it will affect the current crypto market.
Charts at a Glance – BTC/USD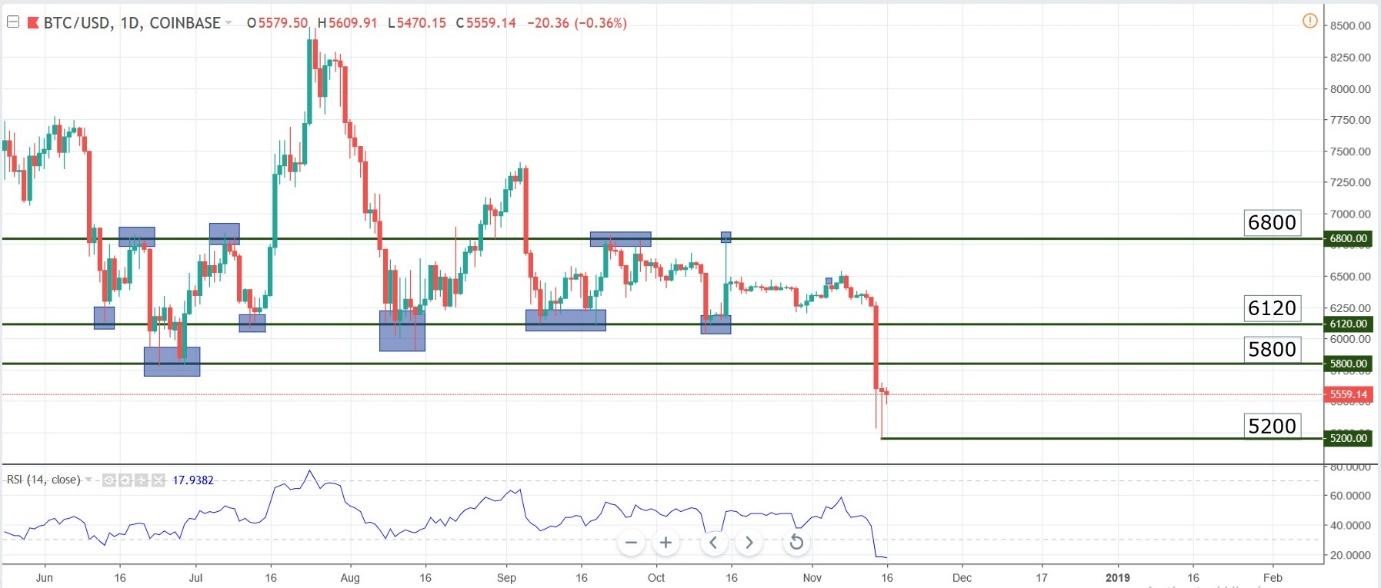 After dropping to a low of 5188 against the US Dollar, Bitcoin showed rejection at around 5200 by printing two 4-hour candles with massive wicks in their lower part. This is a sign that the sell-off may come to an end or at least that 5200 is strong support for now.
The Relative Strength Index is deep in oversold territory (below its 30 level), which is a fact that, combined with the support at 5200, could push the pair higher. Currently, one BTC is worth 5,540 US Dollars; the next level of interest is located at 5800, so it's not such a big distance to travel and could be reached over the weekend.
Support zone: 5200 as technical support and 5000 as a psychological level
Resistance zone: 5777 - 5800
Most likely scenario: bounce higher, with 5800 as the target
Alternative scenario: new attempt to break support (5200)
Fri, 11/16/2018 - 12:43 (updated)

212
Follow us and get all
crypto news 24/7