Fri, 11/09/2018 - 06:01 (updated)

212
Poloniex Eliminated USDC Fees to Increase Trade Volume
One of the main world-wide altcoin exchanges Poloniex canceled the trade fees for USD Coin at least until the end of November to stimulate its trade turnover
One of the main altcoin exchanges Poloniex canceled the trade fees for USD Coin to stimulate its trade turnover.
USD Coin has already been listed for use on one of the largest Bitcoin exchanges in the world, Coinbase, and of course, they immediately put it to work on Poloniex. Now, people wanting to trade USD Coin at Poloniex have more incentives to do so as Circle has decided to encourage its use by eliminating the trading fees for the coin on the Poloniex platform at least until the end of November.
Poloniex users got the possibility of trading two versions Bitcoin Cash for USD Coin. It means that Poloniex users have two stablecoin options. It's unclear whether Poloniex will list USDT forever, but it was on the exchange almost since its inception as Poloniex has evolved from a major altcoin exchange to a major everything exchange.
Now, there is a minor arbitrage opportunity existing between USDC, which implies the possibility to buy USDC for $1 or $1.01 worth of USDT. It is assumed that Tether can be exchanged directly for $1 via Bitfinex, so divergent trading made in massive amounts is an opportunity for experienced traders with deep pockets to make profits.
The goal of stablecoins is to help traders to denominate their crypto assets without fiat money transactions as well as to have coins that are tied with some degree of confidence to the US dollar.
History
Back in February, the exchange Poloniex was acquired by peer-to-peer payments technology company Circle. Until now, it has been focused on large coins vs. fiat pairs, but after the acquisition of Poloniex, it got the opportunity to work with other tokens and in September released its own stablecoin to compete with Tether (USDT) and the Gemini Dollar (GUSD).
There are more than 130 mln USDC in circulation now, Circle notes. This number should expand as the token usage will increase. The trading volume, however, is not yet in line with the market capitalization as the daily turnover is only $3.4 mln.
Fri, 11/09/2018 - 06:01 (updated)

212
Fri, 11/09/2018 - 10:43 (updated)

212
Crypto Exchanges Add More Coins Than They Remove: Report
World-leading exchange Binance delisted four tokens, sending their rates into a sharp decline. ByteCoin was among them. Later on, OKEx followed suit and also delisted it
Recently, online media has been rich in reports of crypto exchanges getting rid of coins. Last week, Binance delisted four tokens, sending their rates into a sharp decline. ByteCoin was among them. Later on, OKEx followed suit and also delisted it.
However, overall, according to a Diar report, crypto exchanges except Poloniex have listed more assets than removed.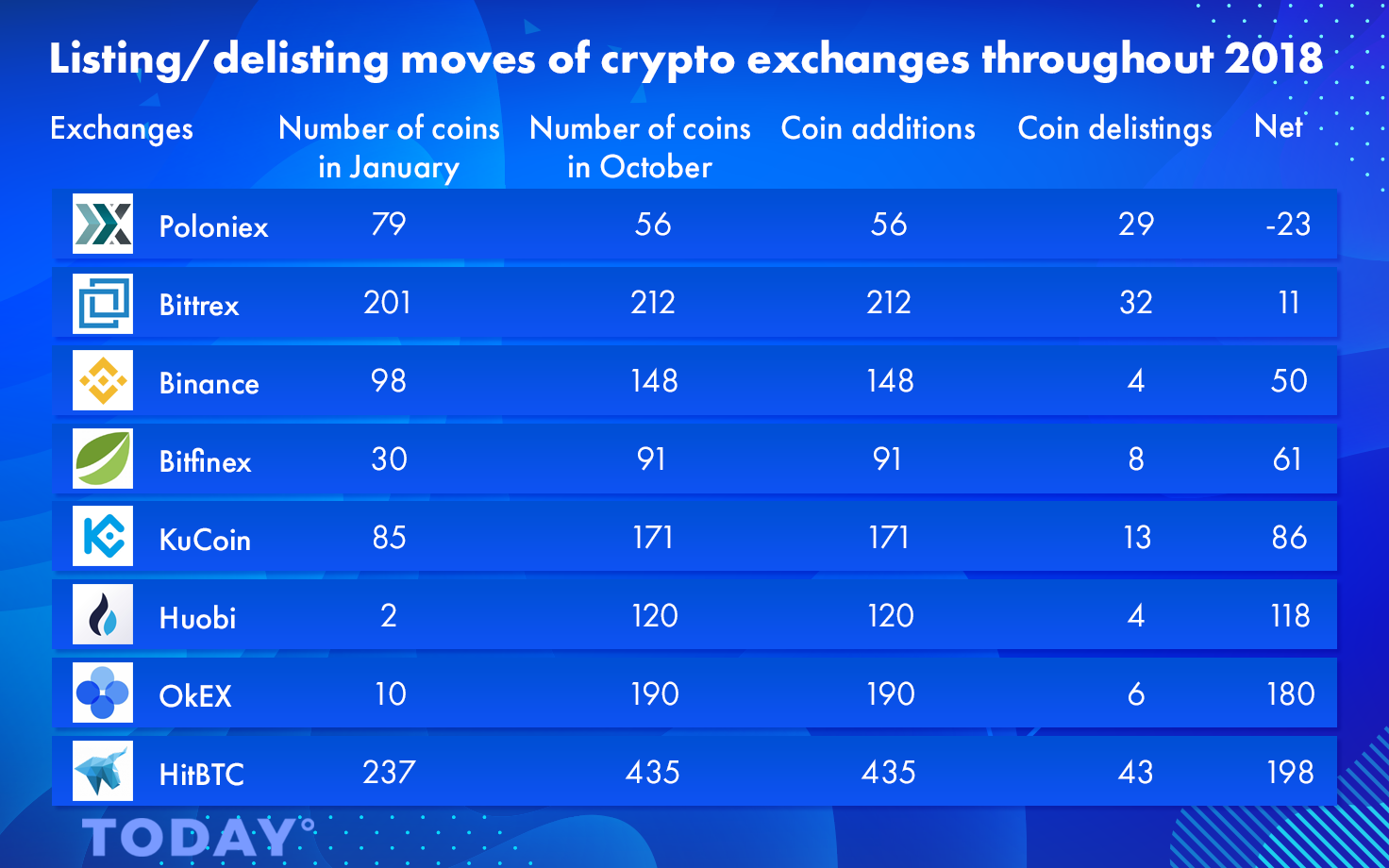 After Circle had bought Poloniex, the platform dropped 20 coins. It also delisted three more this month. Overall by now, the exchange trades 54 coins instead of 79 at the start of the year.
Binance has totally listed 54 during 2018 but then removed 4. HitBTC, the exchange that John McAfee has sued in the summer, is leading the statistics – throughout the year it has listed 198 coins.
Fri, 11/09/2018 - 10:43 (updated)

212
Follow us and get all
crypto news 24/7