Renowned poker player Mike McDonald has shared his take on DeFi, which is rather skeptical. However, McDonald gave one reason he is bullish on DeFi.
Mike McDonald is into crypto
Famous poker player Mike McDonald has turned out to be a fan of altcoins – which seems apparent from his recent tweets about BAT and COMP (BTC was also mentioned, but less often).
However, in a recent tweet, McDonald commented on a recent interview with the Canadian-American venture capitalist Chamath Palihapitiya, who also used to be a senior executive at Facebook.
When crypto journalist (former Forbes contributor) Laura Shin asked Palihapitiya if he had been following the recent DeFi developments, he stated that he does not even know what DeFi means.
Palihapitiya added, however, that he has heard of Bitcoin, though he did not sound like much of a BTC fan.
'DeFi is a snake oil'
Commenting on the video interview excerpt, McDonald tweeted that he believes that DeFi is a snake oil. However, he remains slightly bullish as he hopes that one day, he will be able to sell his 'utterly worthless heavy bag' to some DeFi maximalist.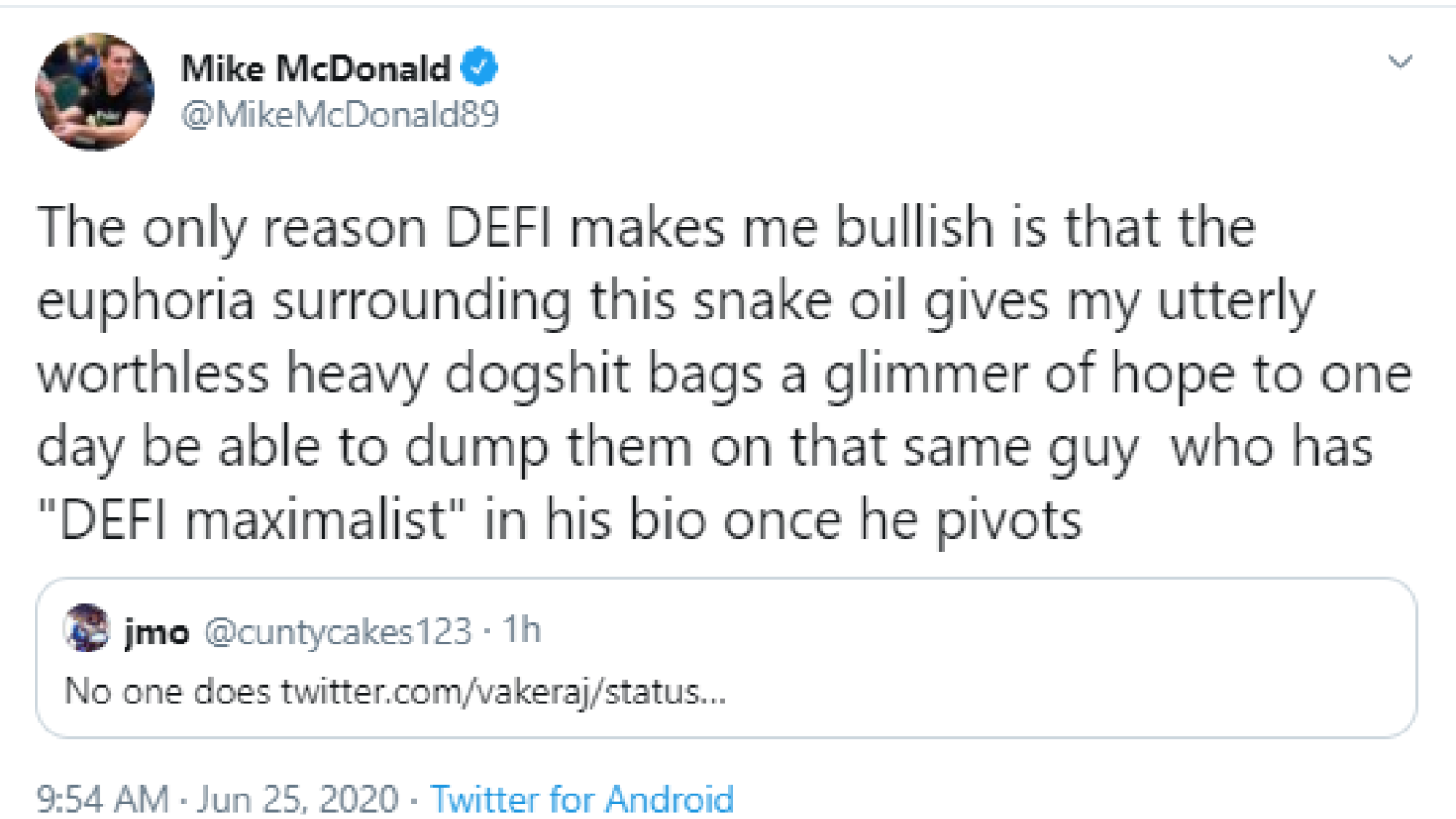 Max Keiser, Vitalik Buterin, Weiss Crypto Ratings criticize DeFi
As reported by U.Today, the Bitcoin maximalist and TV anchor Max Keiser stated on his Twitter page that the majority of DeFi coins were not too far off from the BitConnect crypto Ponzi scheme, in terms of their substance and methodology.
Ethereum founder Vitalik Buterin and the Weiss Ratings agency have also been criticizing DeFi. Buterin is doubtful that it could be considered a reliable investment tool and Weiss Crypto Ratings called it a 'mini bubble' in a recent tweet.
However, Weiss Crypto Ratings admitted that the DeFi mini bubble will hardly damage the fintech industry. It may produce some worthy results, it stated, in a similar way the ICO boom allowed several crypto giants, like Ethereum and Binance, to emerge.
However, the agency tweeted that, with DeFi, inexperienced traders may lose their shirt.