The Ethereum platform went live in July 2015 and has been experiencing growing pains ever since. The original blockchain was split into Ethereum and Ethereum Classic in 2016, due to lack of consensus regarding The DAO. Since then it has undergone several forks and upgrades, most recently Constantinople.
Constantinople was an upgrade of Ethereum's features, had consensus and did not result in a split blockchain and two separate coins. The Constantinople upgrade occurred at block 7,280,000, on the 28th of February 2019 and was highly anticipated, mostly because it was postponed twice before. The bad news is that it didn't include all it was supposed to, there are more upgrades and forks on the way.
The native crypto asset is Ether. Ether can be used to run applications and to monetize work but can also be traded on any cryptocurrency exchange. The token has been moving up along with the broader cryptocurrency market but is a laggard with gains less than 80% since the low of the year.
Ethereum (ETH) Price Analysis – The Big Picture
Ethereum is ranked number 2 on CoinMarketCap with a circulating supply valued at $17,716,774,261 It is trailing Bitcoin by a large margin but more than $3 billion ahead of number 3 Ripple so firmly established at this time.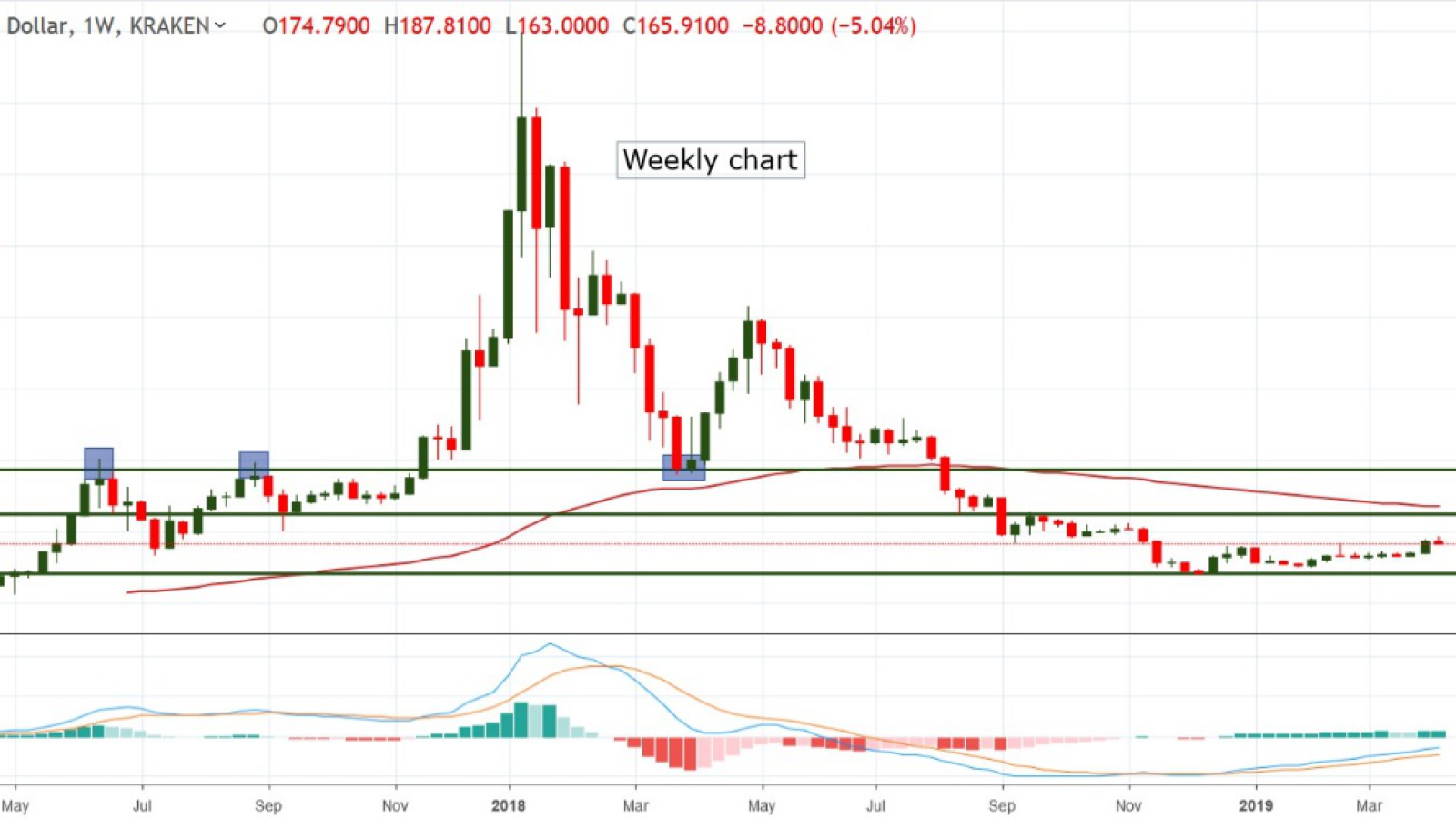 After establishing a bottom at $83 and then moving sideways for an entire month (27 Feb. 2019 – 25 Mar. 2019) Ethereum bulls stepped in and drove ETH/USD to a high of 182.88. The bullish price action was milder than what we've seen on other cryptocurrencies and has since begun to correct. Bitcoin, for example, climbed from roughly $4,000 to almost $5,400 during the latest market push and many other coins in the top 20 posted massive gains above 100% before entering the current market correction.
This begs the question: is Ethereum undervalued? If the answer is Yes, then we will probably see a climb after the pullback is completed. The weekly MACD is crossed bullish and the histogram is increasing but the move is weak and paints a blurry picture. If the lines move above the histogram and the pair surpasses $250, the likelihood of a climb into $375 in 3 to 6 months will increase.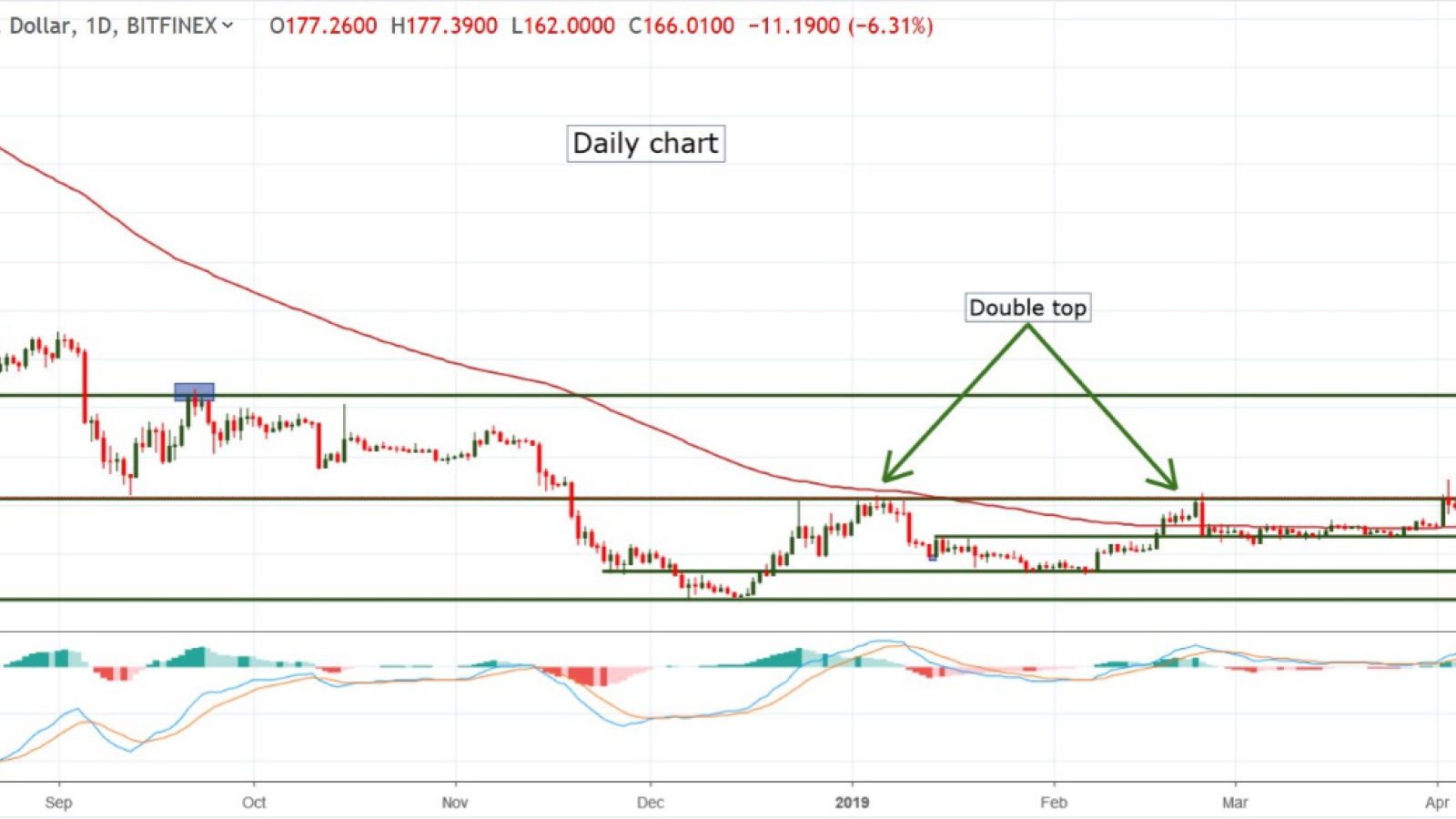 On the Daily chart, we can clearly see that strong resistance at 165 was broken. This is a strong bullish sign because resistance was marked y two previous selloffs. Usually, a break of such a chart pattern triggers a sustained climb as more buyers join the action. Often times price re-tests the recently broken level of resistance turned to support before heading higher and that is what looks like is happening.
If we are indeed dealing with a normal re-test, then the price is likely to shoot higher from the vicinity of $165 - $160 or possibly to bounce at the 100 days Exponential Moving Average. A clear break below $165 and below the 100 days EMA would indicate that the break of the double top at $165 was false.
Daily Chart Support: $165 (not confirmed support - currently tested), 100 EMA, $134
Weekly Chart Support: $100 (psychological), $80 - $83 (zone) and all-round numbers below
Daily Chart Resistance: previous top at $182 followed by $200 (psychological) and $250 (technical)
Weekly Chart Resistance: $250, 100 weeks EMA, $375
Most likely scenario: If the pair finds support at $160 or at the 100 days EMA, it will probably make a run for the next target, which is $200, followed by an extended run into $250. If this scenario comes true, we may see $375 in 6 months' time.
Alternate scenario: The break of $165 proves false and ETH drops back into $100 area.