A recent tweet of Anthony Pompliano comments on CZ's announcement that Binance has made $1 bln in cumulative profit since its launch within less than three years.
CZ Binance responded that almost all the profits will be reinvested, even though one fan suggested CZ should get himself a Lambo that many crypto enthusiasts dream of purchasing when the Bitcoin price goes to the moon.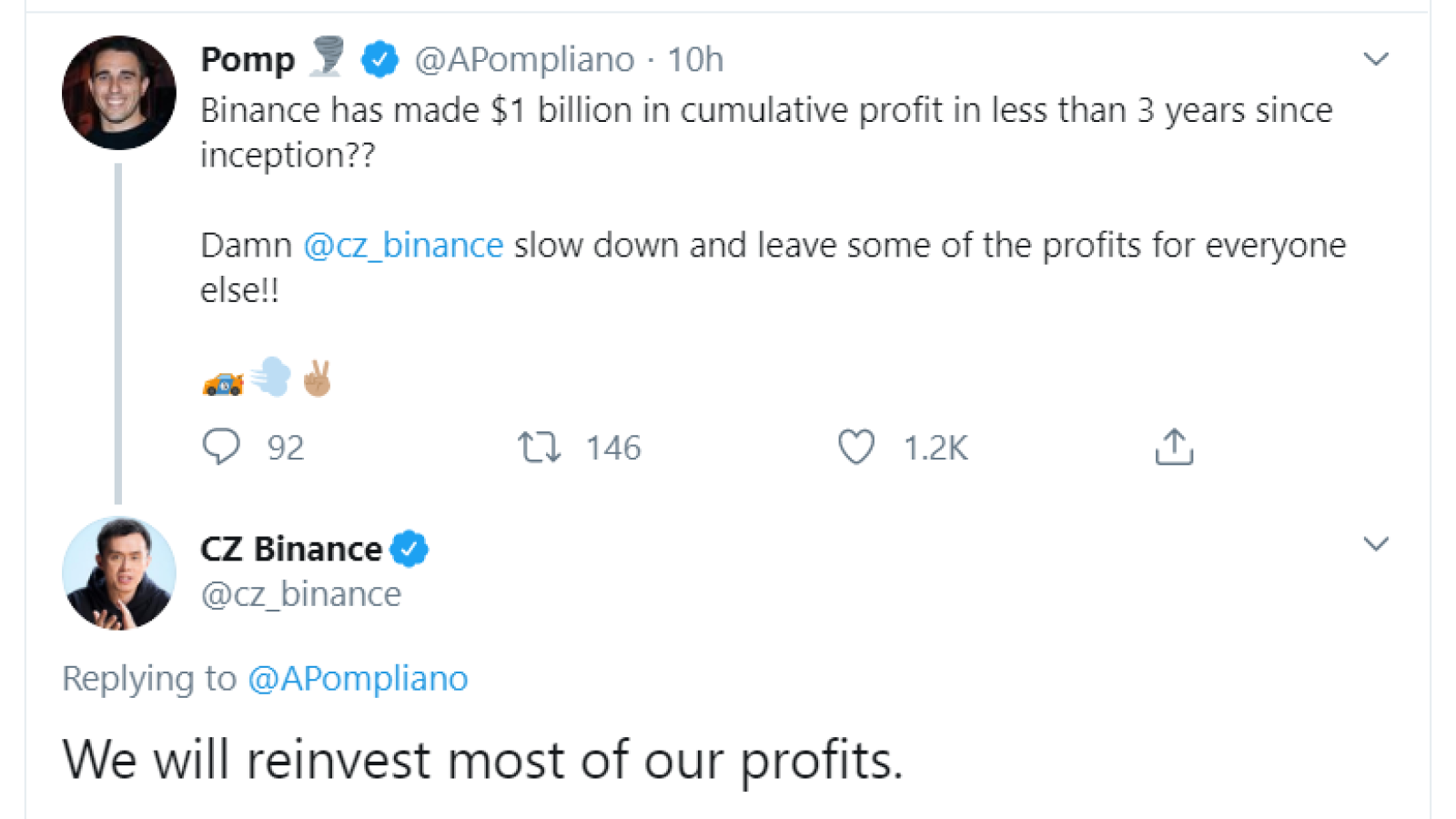 One Twitter user made a joke, saying CZ is waiting to buy a Tesla as soon as Elon Musk starts accepting BNB or Bitcoin.
CZ may buy a car once @ElonMusk allows him to purchase a Tesla with Bitcoin or $BNB

— Richard Raizes (@richardraizes) October 18, 2019
Binance's stablecoin now accepted in Bermuda as a tax payment
On October 17, when sharing the milestones Binance had achieved within the last 24 hours, the CZ of Binance mentioned the listing of the BNB/BUSD pair on Binance DEX and another scheduled token burn in which 2,061,888 BNB was eliminated (around $36 mln).
He also stated that the government of the Islands of Bermuda now accepts Binance's stablecoin BUSD for paying taxes.
In the last 24 hours or so:

- Reduced supply of $BNB by 2,061,888 (roughly $36m USD)
- Cumulative revenue as (calculated by @lawmaster) hits $1b (and we didn't even know it).
- Bermuda Government accepts $BUSD for paying taxes
- LaunchPad @kava_labs
1/2 https://t.co/QeGheova76

— CZ Binance (@cz_binance) October 17, 2019
Curiously, Tron's CEO, Justin Sun, has also recently visited Bermuda and met its premier David Burt.
Bermuda is one of the world's hubs that provides attractive operating conditions for crypto and fintech startups. If there is any particular plan of Tron's expansion to Bermuda or collaboration with its government, Sun has not made it public yet. Although, he did promise to make a big announcement at the end of October.
Excited to meet Bermuda's Premier @BermudaPremier David Burt!! Always great to discuss #Blockchain mass adoption w/ Gov't worldwide! #TRON to the world! ?? pic.twitter.com/5mABk2EsxW

— Justin Sun (@justinsuntron) October 15, 2019
Binance succeeds in recently launched BTC futures trading
As reported by U.Today previously, Binance has surprised the industry by a trading volume of $700 mln in one day.
Previously, about a week ago, the same platform traded $134 mln within one hour. Overall, Binance was acknowledged as the world's biggest exchange by trading volumes for a long while already.
What is your take on Binance's fast expansion in the crypto industry? Feel free to share it in the comments section below!