Binance is the largest global crypto exchange by trading volumes, even though this year it has had its profits diminish. Still, seems like the company is trying to expand in the area of charity, promoting itself at the same time, as well as promoting its native crypto – Binance Coin (BNB).
On its Twitter account, the exchange has invited its followers to share their Christmas wishes, promising in return to pick one winner and grant him/her $10,000. Most likely, since we are talking about a crypto community and a crypto exchange that is interested in getting its coin adopted as widely as possible, at least among its customers, the award will be not in fiat but in BNB.
What's your greatest wish this winter? In the spirit of the season, #Binance is selecting ONE lucky winner to have their $10,000 wish granted. #Wish2Binance

Details of how to enter here: https://t.co/6wGiUD14iC pic.twitter.com/mMahkFG7AN

— Binance (@binance) December 23, 2018
Followers write back
Binance Twitter fans started responding to the invitation. Binance has posted one of these replies, presumably, as an example of the sort of thing it expects from participants. Even though this whole thing seems like a Christmas PR-move, still the CEO of Binance, CZ, is trying to get his customers to be less selfish on this annual holiday.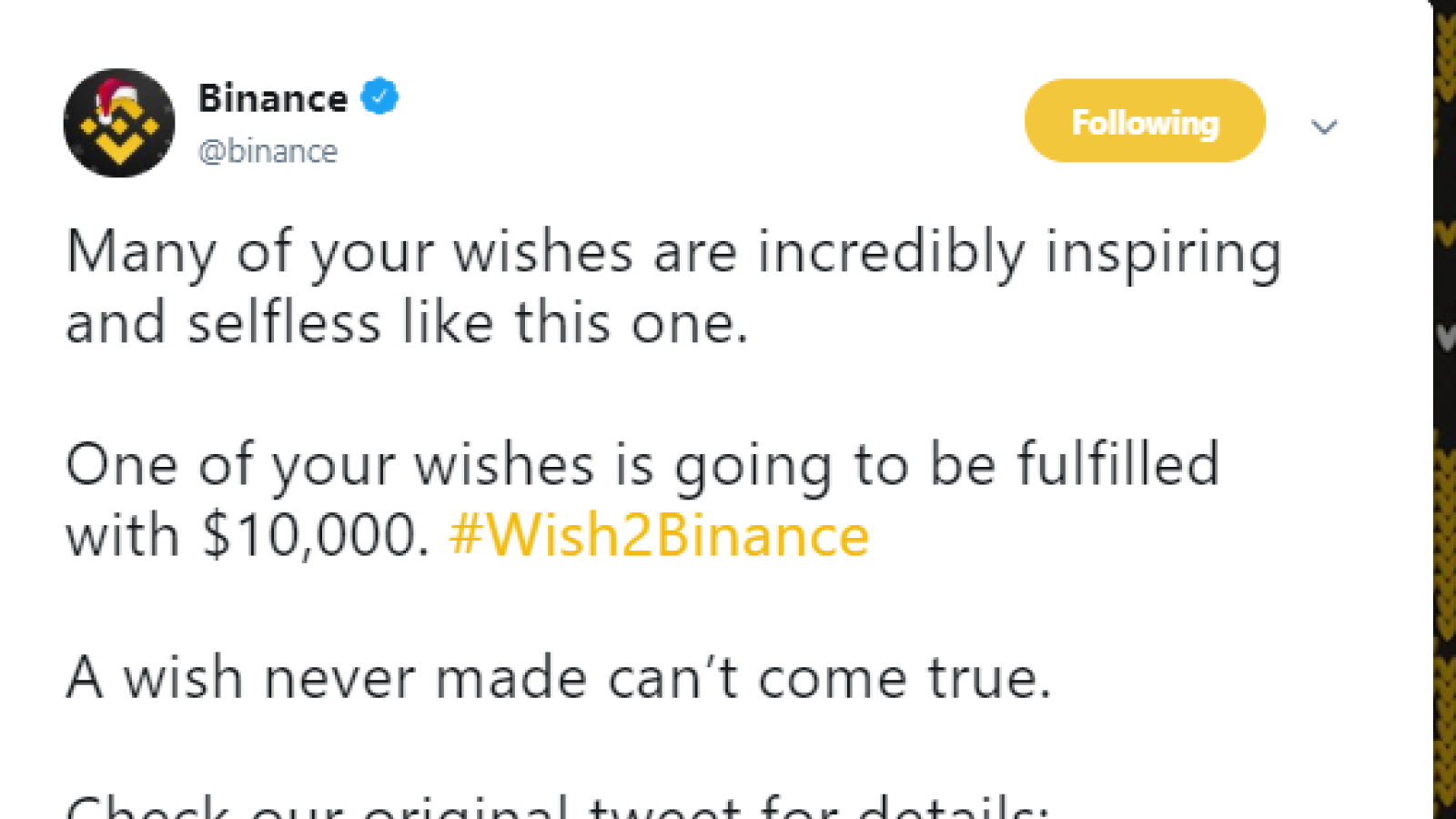 Some people replied in the spirit of this wish, saying that they would like to donate part of the reward. However, some suggested that Binance should simply donate this $10,000 to charitable purposes.
Binance dives into charity
Not long ago, U.Today reported about the Blockchain Charity Foundation set up by Binance. The most famous use case of BCF was the fundraising that Binance organized for the victims of the floods in Japan that occurred during the summer. The CEO, Changpeng Zhao, donated a great amount in BNB, and Tron's Justin Sun joined that not only by giving away crypto but also in helping to set up transactions via the Tron network.
To thank Tron and its assistance, Binance the other day made TRX one of the first coins to be paired with the new base currency of the exchange – Ripple. So far it has two of such pairs – TRX/XRP and XZC/XRP.
Earlier still, Binance listed Tron on its Gold Label project.
BNB market situation
Today, on December 26, BNB has shown a 1.40-percent growth along with the other coins around it on the top-20 list. The asset price is standing at $5.69 at the time of writing with the current market cap being $743 934 441.