Cardano, the eighth-largest cryptocurrency by market capitalization, is set to print a key pattern on its daily chart. This is because the moving averages on the daily chart are set to make a crossover in a day or two.
The nature of the crossover could have a significant impact on the price trend in the short to medium term.
A golden cross occurs when the daily moving average (MA 50) rises above the daily moving average (MA 200), and it could indicate the exhaustion of downward market momentum.
The death cross appears on a chart when the short-term moving average, the daily MA 50, crosses below the long-term moving average, usually the MA 200.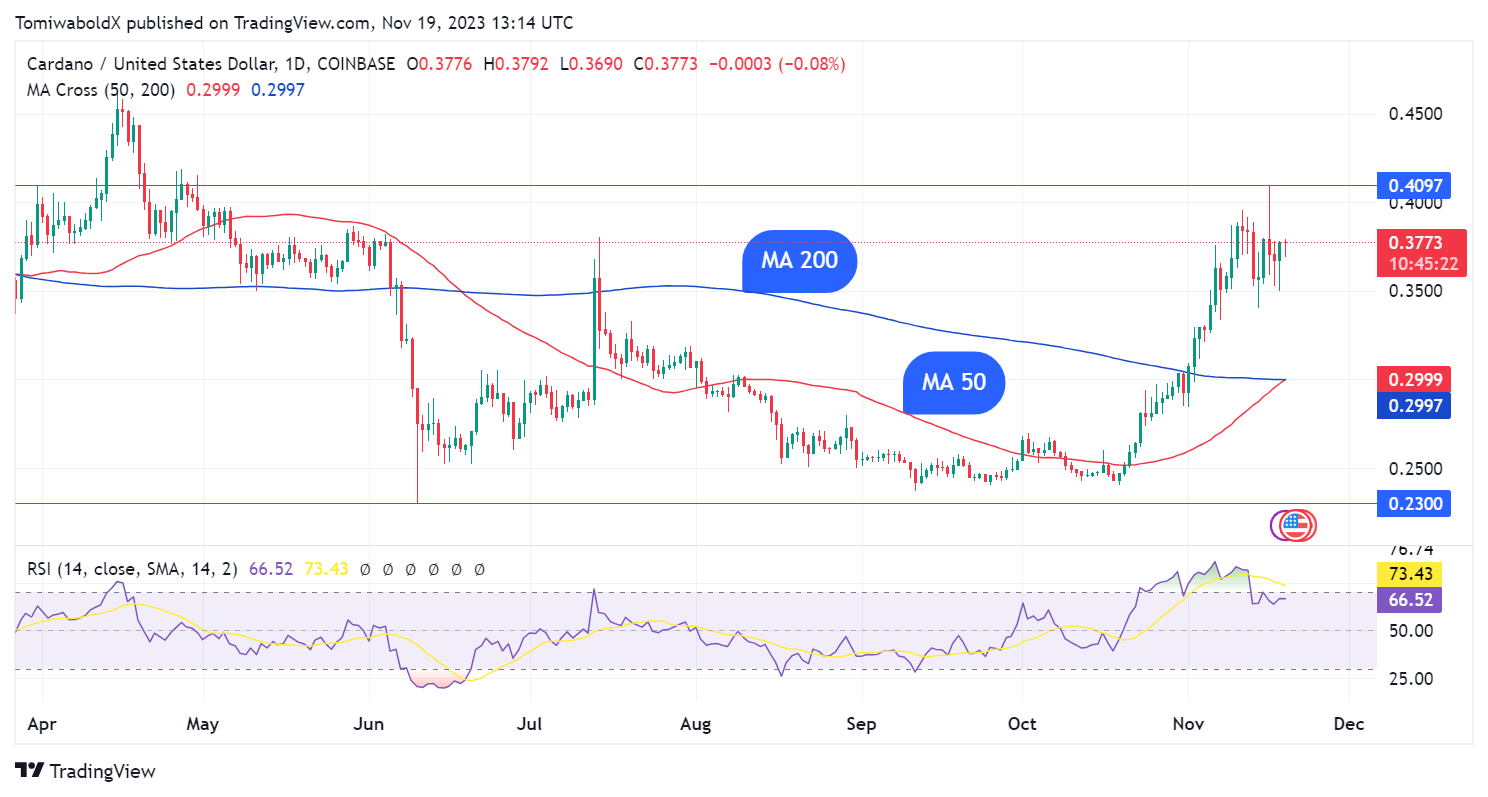 The death cross, despite its foreboding moniker, is not a market milestone to be feared. Based on market history, most death crosses tend to presage a near-term rebound with above-average returns.
At the time of writing, ADA was up 4.77% in the last 24 hours to $0.375. Cardano rose as much as 8% in Sunday's early trading as bulls consolidated on the prior day's rise, which saw ADA jump to $0.378.
Bulls drove the ADA price to intraday highs of $0.379 today before hitting a stumbling block. On the upside, Cardano faces a hurdle at $0.409, which, if overcome, will spark a new rise.
Ali, a crypto analyst, notes that Cardano's current consolidation trend eerily mirrors the 2018–2020 cycle. If this is the case, ADA could breach the $0.45 resistance level around the first week of December. Ali believes the upswing might send ADA to $0.75 by late December if this happens.
In a big milestone, the Cardano network has surpassed the 9 million mark in native assets. According to pool.pm data, the number of native tokens on the Cardano blockchain is currently 9,056,490, with 81,047 distinct minting policies.