Born in November 2018 from a contentious hard fork of Bitcoin Cash, Bitcoin SV or "Satoshi's Vision" is now facing backlash. The coin was supposed to take Bitcoin back to its original purpose, but openly hostile behavior exhibited by its most prominent proponents has tainted the "vision".
So far at least two major exchanges, Binance and Kraken, have decided to de-list Bitcoin SV. Both exchanges will cease BSV trading on April 22 with Kraken citing "behavior completely antithetical to everything we at Kraken and the wider crypto community stands for". Binance mentioned reasons like "Evidence of unethical/fraudulent conduct" and "Level and quality of development activity" among other things. This is not good.
The wider crypto community agrees with the decision. This is evidenced by a Twitter poll held by Kraken which showed that 72% of participants considered the coin "toxic" and 21% voted "don't care". Craig Wright – the star figure of Bitcoin SV – has been claiming for a while that he is Satoshi Nakamoto but has failed/refused countless times to provide evidence of this fact. Wright and other BSV top figures also tried to limit the free speech of some of their opponents by threatening legal action – a deed frowned upon by the vast majority of the crypto community.
Bitcoin SV (BSV) Price Analysis - The Big Picture
BSV wasn't doing that great even before the de-listing announcements. Once those hit the wire price started crumbling and it looks like it will keep moving down. It is currently trading around $55, a major drop from $93 where the coin was trading at the beginning of April and could easily hit its all-time low of $40 in the next few days.
The weekly chart looks like a disaster in the making. After a failed attempt to break the $100 resistance (last strong green candle) the coin printed two red candles (each representing one week) and broke the long-term support located at $61 ($60).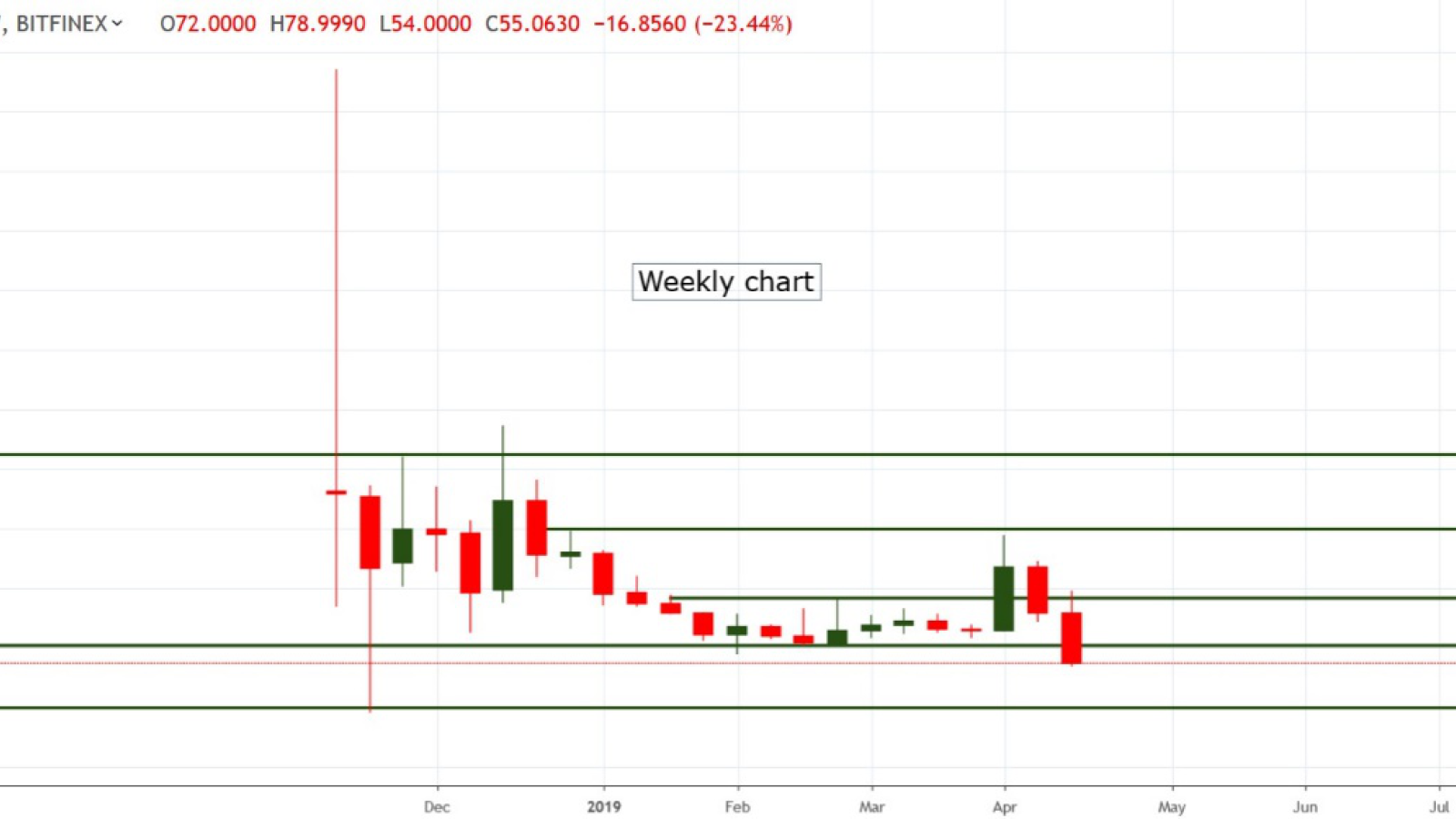 Although the current week is not over, we are most likely dealing with a true break of support. Combined with the happenings on the fundamental scene (delisting, wide community backlash, etc.) this move should trigger an extended move to the downside. That being said, $40 looks like the next logical target with a possibility of moving all the way to $0.00.
Things don't look any better on a daily chart; support is broken, price is trading below the 100 days Exponential Moving Average and the MACD lines are widely spread apart, indicating bearish momentum.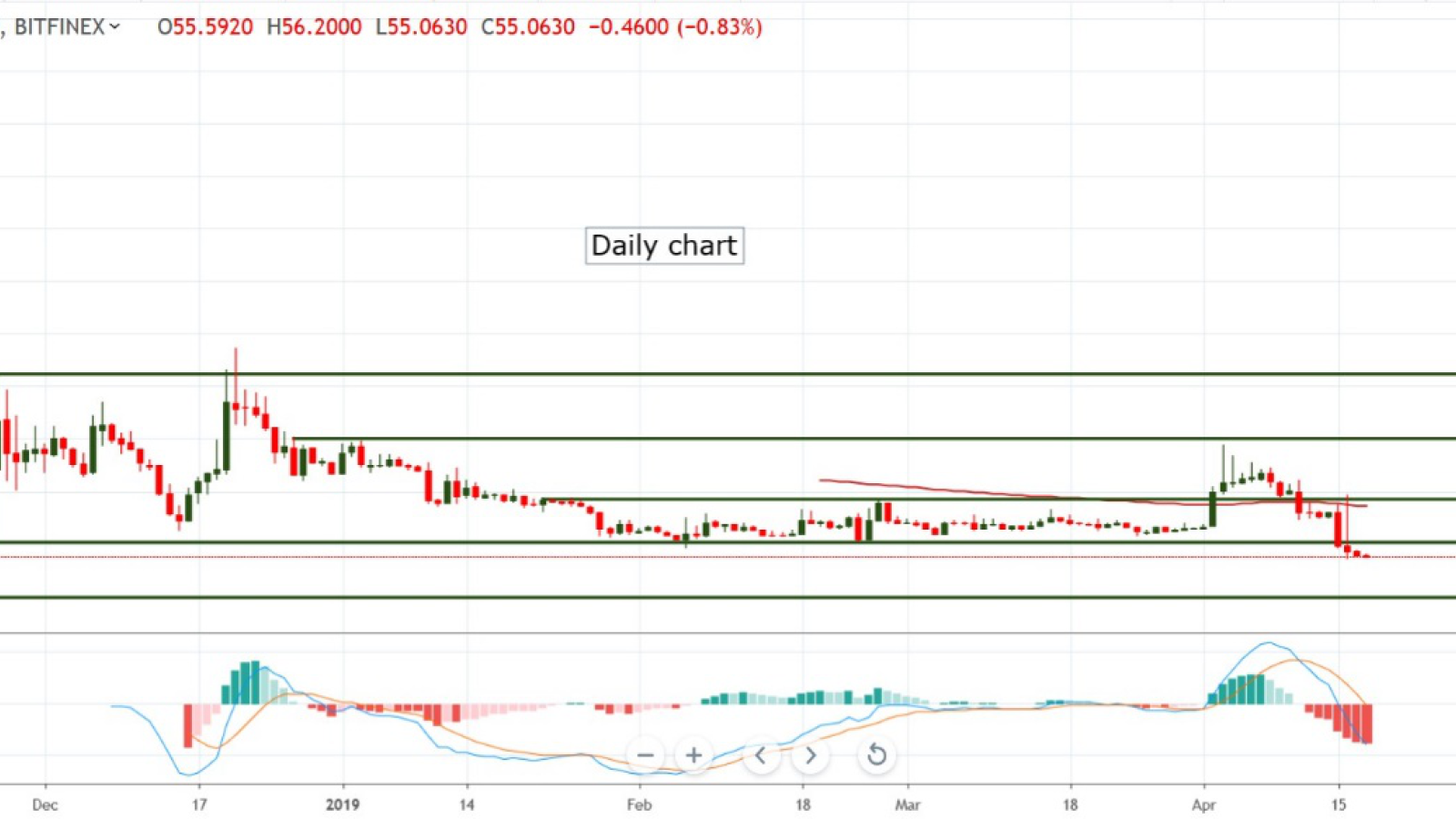 When price reaches oversold levels, we will probably see some limited upside swings fuelled by traders' appeal for a low price. Except for isolated climbs I don't expect to see a substantial recovery for BSV over the next 3 to 6 months but this depends on the number of exchanges that decide to delist or keep the coin on their platforms.
Daily Chart Support: $40
Weekly Chart Support: $40 and all-round numbers below
Daily Chart Resistance: $60 - $61; 100 days EMA
Weekly Chart Resistance: $77 (minor), $100
Most likely scenario: A continued drop with $40 as an initial target. The downside may continue from there, depending on the fundamental scene. All upside movements should be considered speculative in nature, at least for the time being.
Alternate scenario: Sideways movement with low volatility and an overall drop in interest for this coin.