After being rejected at $7,600 on May 11, Bitcoin went ballistic on May 13, breaking above several major resistance levels. At the time of writing this article, its price is sitting at $7,878.95, according to CoinMarketCap data, and the much-coveted $8,000 mark now seems to be a very easy target.
Stocks crashing. Bitcoin soaring. There goes another narrative. pic.twitter.com/uRI9TbMnbt

— Alex Krüger (@krugermacro) May 13, 2019
Trumping traditional assets
As reported by U.Today, Bitcoin is already the best-performing asset this year. Since the beginning of 2019, BTC has spiked by more than 107 percent, dwarfing the S&P 500. The gap is expected to get even bigger due to the escalating US-China trade war.
Bitcoin vs. the S&P 500 this year ? pic.twitter.com/B2e72E4HC9

— CNBC's Fast Money (@CNBCFastMoney) May 13, 2019
While the US stock market has experienced a sizeable decline (the S&P 500 is down 2.7 percent), cryptocurrencies are currently navigating a sea of green.


Should investors be fearful?
As Warren Buffett famously said, you should be fearful when everyone is greedy. The 'Fear and Greed' Index has recently reached 78 percent, which is the highest it's been since January 2018 when Bitcoin famously crashed after reaching its historic peak of $20,000.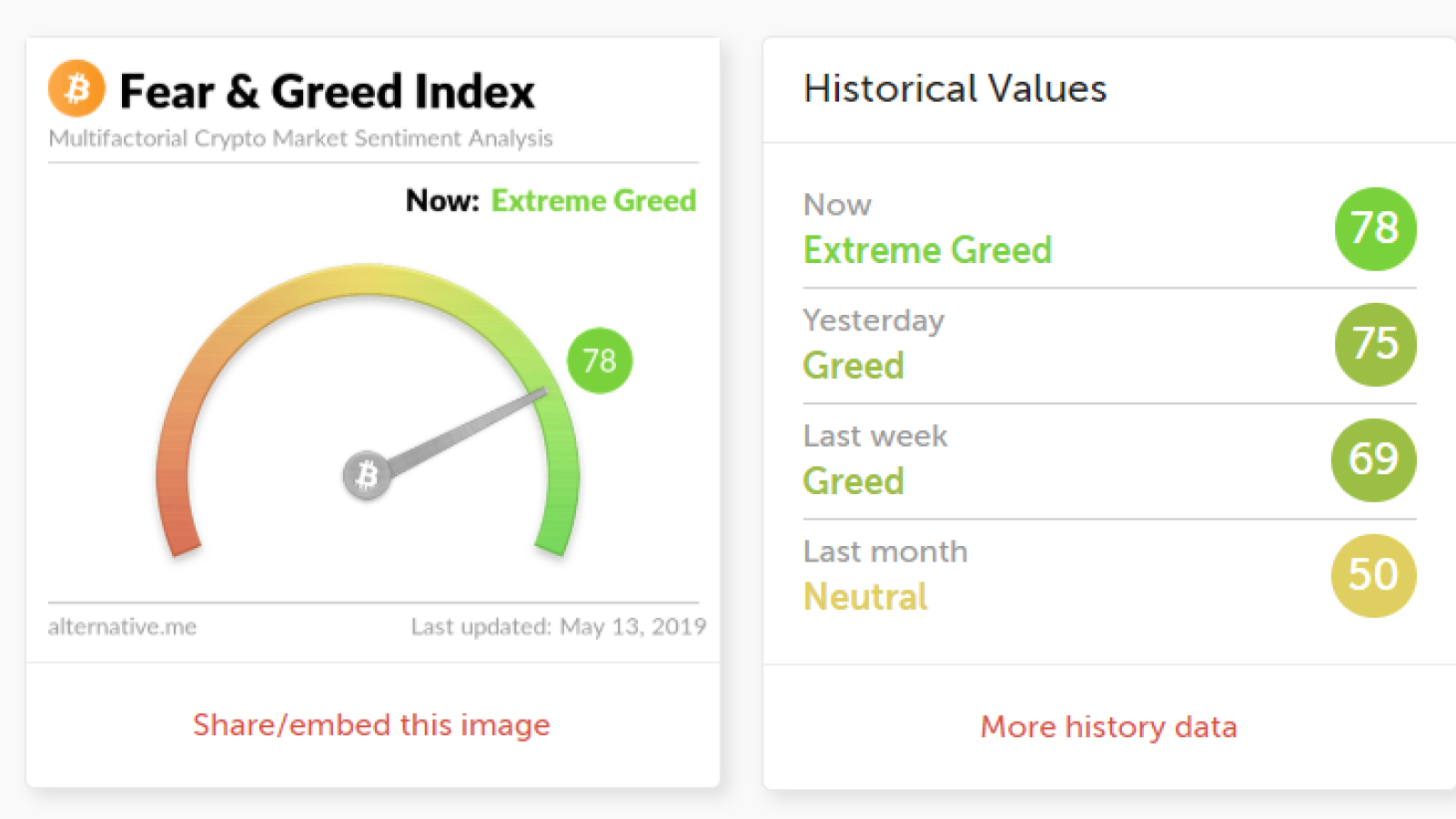 However, according to the poll, which was conducted by Fundstrat's Tom Lee, it is too early to FOMO. 45 percent of the poll respondents are certain that a new wave of investors who are afraid to miss the boat will come only after the Bitcoin price goes above $10,000.

Thanks for all those who voted in FOMO poll.

Less than 22% believe there is any FOMO as long as #bitcoin is below $10k

Anecdotally, that is spot on.

In meantime, global markets down sharply today and Bitcoin having one of its "10 best days" for 2019... https://t.co/G4AAj8HJjl

— Thomas Lee (@fundstrat) May 13, 2019